WarioWare: Smooth Moves
Buttery.
As I had chosen the (almost definitely incorrect, when it comes to the matter of time management) plan of playing the Wii games in the order they were presented when walking round the hall in the correct direction, I didn't actually get to this game until after I had played all of the Wii Sports games, and by then I'd become somewhat accustomed to playing using the Wii controller. Despite this, were Nintendo planning on recreating the glory days of consoles being released with a 'pack-in' title, I'd recommend above all it includes WarioWare: Smooth Moves in the box.
WarioWare: Smooth Moves was featured on a very small number of demo pods in an incredibly short demo of about five or so three second microgames, resulting in what was little more than 15 seconds of gaming. Even in that short space of time, it's clearly a title that does its best to show the many varied ways in which you can use the controller. After only one tiny snippet of gaming I'd been made to hold the controller sideways and use it as a bicycle pump; hold the controller above my head and perform squat thrusts; hell, I was forced to hold the controller at my side, before wobbling my midriff around in a lewd and entirely unsuitable representation of a hula dancer.
Now, it wasn't long after beginning to use the controller of the Nintendo Wii that I realised something about the system and its controller which should, I suppose, have been obvious - namely, that it doesn't have any understanding of where your body is, or what you're actually doing with it, at all. Using a combination of gyroscopes, an accelerometer, and an infrared triangulation, uh, thing, it can do a very good impression of spatially sensing where you're standing - but it doesn't really know what you're doing, only what the controller is doing. So, for example, I don't really have to hold the controller over my head and perform squat thrusts. I could just wave the controller up and down in the air. I don't have to hula dance... I could just wiggle the controller in the air. Indeed, the majority of the games on the Nintendo Wii, it seems, could be played comfortably with the controller in a hand lazily balanced on your knee.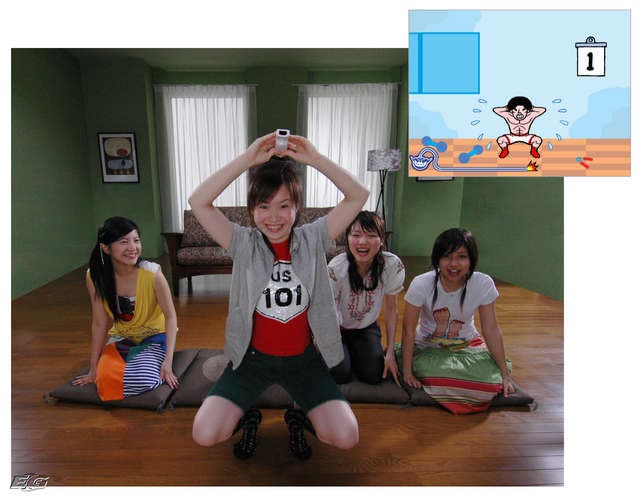 So while WarioWare: Smooth Moves trains you to use the controller in a variety of entirely stupid ways, and might in the end seem entirely pointless, the beauty of the system is that it's not only training you to use the controller, but training you to have fun with it. Compared to, say, the tragedy of Wii Music: Orchestra's drawn out hand waving simulator, being asked to perform any number of silly tasks that on their own would become repetitive is so immediate, and so consistently entertaining, that it's a joy to perform. More than that, it's a joy to watch.
While previous WarioWare titles were all excellent fun, they weren't exactly the greatest of spectator sports. Oh, sure, we've all probably engaged in half-hearted games of WarioWare Inc: Mega Party Games on the GameCube, but watching a competitor bashing buttons is absolutely nothing compared to trying to put someone off their stride while they try and skewer a watermelon with their Wii Remote. The game does it's best to facilitate this kind of pick up and play (with a group of friends) gaming by making it clear for each microgame what is expected of the player with a clear and simple diagram. So, for the 'Samurai' the graphic shows a human of indeterminate gender holding a Wii controller by his left side with his right arm. Once the microgame begins, it's obvious that you're supposed to slice diagonally out with the controller to win.
Not that every single game is so easily explained (or without challenge). Part of the joy of playing the game is the simple discovery of the next way you can use the controller, or the next way you'll be challenged to use it.
WarioWare: Smooth Moves is one of the most perfect ways to demonstrate the unique powers of the Wii, and it's surprising that Nintendo wasn't pushing it with greater gusto. But trust us, if the Wii Sports titles prove to be as simplistic as they threaten to be, this is far more likely to be holding pride of place in your Wii drive when relatives come round.
WarioWare: Smooth Moves release date is yet to be determined, but it'd make an ideal launch title (hint hint).