F1 2012 Preview: Title Challenge
This year's model sees Codies reaching deeper than before.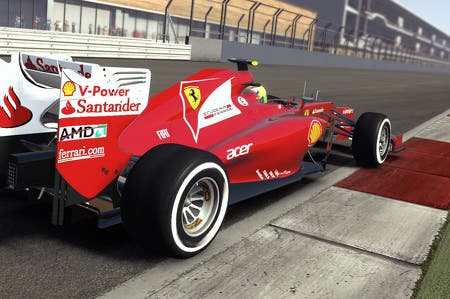 Four years into Codemasters' tenure on the F1 beat, and it's become easy to take these games for granted - and just as easy to forget that even before the sport's three-year-long hiatus, the games it produced were all tainted with a certain mediocrity.
Both F1 2010 and F1 2011 halted that decline in some fashion, but now, for the third instalment in the HD series, Codemasters' Birmingham studio has to dig deep to deliver a new game that can justify its existence. F1 2012, the team believes, presents a much bigger leap forward than that seen between the previous two games.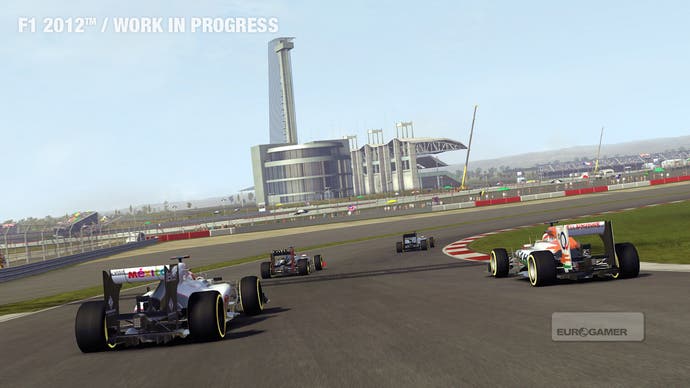 It helps, of course, that it's going to be replicating what's been one of the more bizarre and quite often outright thrilling seasons that the sport has ever seen. F1's not been short of classic championships these past few years, and Codemasters was lucky enough to pick up the sport just as it was breaking out of its noughties slumber, but 2012 has rarely been anything short of spectacular.
The opening seven races saw seven different winners which even included the erratic Venezuelan Pastor Maldonado - for my money, the worst driver to win an F1 race since Vittorio Brambilla, a man so excited by his one race win that he went hurtling off the track as soon as the chequered flag fell. There's been an element of unpredictability this year, down in no small part to the precocious tyre compounds offered up by Pirelli.
And so, quite naturally, that facet is going to be replicated to a degree by F1 2012. "We worked a lot on the tyres," says senior producer Paul Jeal. "It's obviously having a big effect this year. It's clear that a team like Sauber are really easy on their tyres but Mercedes aren't, and things like that are a factor now. Now you can come up against a Sauber or a Mercedes in a race and factor that into your strategy - if it's a Mercedes in front of you and it's just pitted, you know you can dial things back a little bit and wait, because those tyres are going to go away."
This detail has been enabled, to some extent, by a more nuanced physics system. "Because we've done a lot of work on the suspension, most of it just comes naturally," says Jeal. "As you improve those physics, you improve the ways the tyres interact with the tarmac. The game's definitely much more rewarding this year for people who are soft on their tyres."
And naturally that more nuanced physics system manifests itself in handling that runs deeper than previous F1 games. A certain balance has been struck for F1 2012. "It's more realistic than 2010 and 2011," Jeal explains.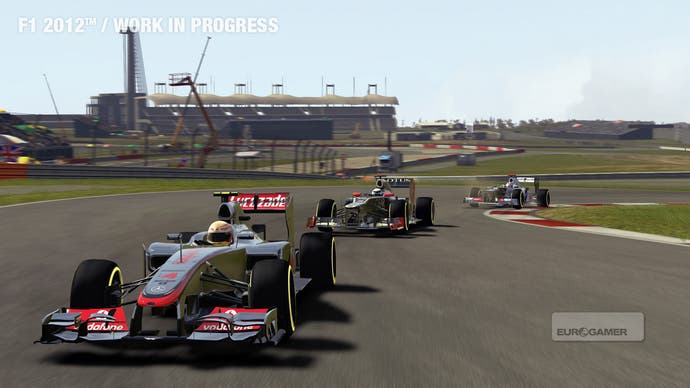 "In 2010, we'd nailed the high-speed direction change that you get in F1 and the super grip that the cars have. That felt good, but it was harder to lose control and when you did, it was hard to get the car back again. 2011 had a better handling model, and a more realistic one, but we think we had it just slightly the wrong way. It was really nice in the slow corners when you could scoop the back out, but in instances like Turkey's Turn 8, F1 cars don't really start losing the back end that easily in those conditions. 2012's kind of the best of both worlds, but it's not in the aim of making it more accessible - it's just taking the best of both worlds."
In hand, there's a defined difference to the way that F1 2012 feels. Coming off the back of the dramatic oversteer that F1 2011 dealt with, it's a little disconcerting at first - cars feel more on the nose, a new emphasis being placed on the extreme downforce that an F1 car generates at high speed. A little practice shows that F1 2012 is much more conducive to allowing players to find a rhythm, while still flexible enough to throw a handful of dramas your way - a couple of extended multiplayer races see many settling into the metronomic stints that define the sport, the handling predictable enough to let players work more comfortably towards the edges of their ability while being able to deploy any given strategy.
It's a balance that Codemasters seems happy with, even if it acknowledges that there's always room for improvement. "We were in one of the team's simulators this week," says Jeal. "The actual handling characteristics that we were experiencing there were really close to where our game is. We're kind of off with the braking - in an F1 car you slam on the pressure and then ease it off, and that's something that's quite difficult to get your head around but it's something that we're going to think about for next year."
Working in tandem with the improved handling is a weather system that, likewise, is deeper and more nuanced. Gone are the days when F1 used to chase the sun, and wet weather races are becoming much more frequent - when, that is, the powers that be let the cars out on a sodden track - and that's going to play a more tangible part in F1 2012's make-up.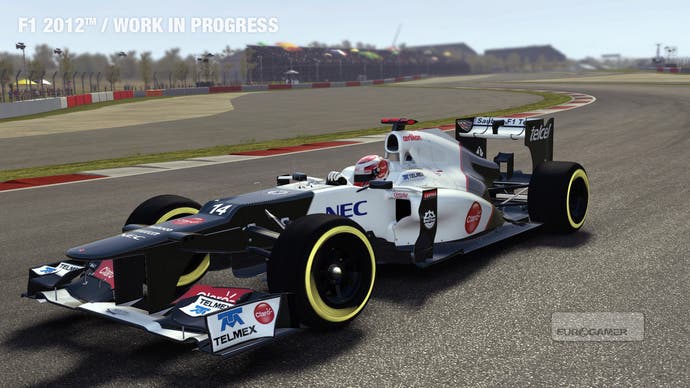 Localised weather makes an appearance for the first time - so, for example, it's possible to drive around Spa and into a shower that's sitting at the top of Les Combes before slithering your way round to a bone-dry stretch at the other side of the track. Tyre compounds are more sympathetic to accommodate this, meaning that it's now a little easier to deal with a damp track on the wrong tyres than it was in the past.
And when the heavens really open, there's a little more spectacle too. Get caught in the spray being kicked up by a car in front and the screen becomes a wet smear, leaving you to navigate using other drivers' tail-lights alone.
On the baseline, then, F1 2012 is a more tightly tuned experience than its predecessors, but Codemasters is also keen to challenge the perception last year that it hadn't added enough to warrant a repeat purchase. For the returning hardcore, there are a handful of additions that work towards authenticity - a new off-set on-board camera apes the traditional TV feed a little more closely, while the implementation of the pit-line rule on realistic settings is going to come as a nasty shock to anyone drifting over the white line whilst making an exit. Brake bias can now be adjusted on the fly, allowing you to drive, as Schumacher does, like a cabbie desperately searching for Magic on the FM dial.
Anthony Davidson of Sky F1 (and of sportscar fame, where he spent more time flying a Toyota at this year's Le Mans than he did driving one) lends his expertise to a series of hot lap videos that commentate on some in-game, on-board footage. As a primer to new circuits, it's a surprisingly valuable tool, as well as one that helps add to the authenticity of the package.
There are additions for those newer to the series as well. Qualifying's been broken down into smaller chunks for those who don't want to participate in the rigmarole of a full session, and it's now possible to jump straight into a hot lap that pits you against the ghosts of the entire field.
And in keeping with this more accessible way of engaging with the content, there are a couple of new modes that break an extensive season down into smaller, more manageable chunks - a move away from the hundreds of hours needed to see through a career into a game that can now be 'completed' in around 10 hours.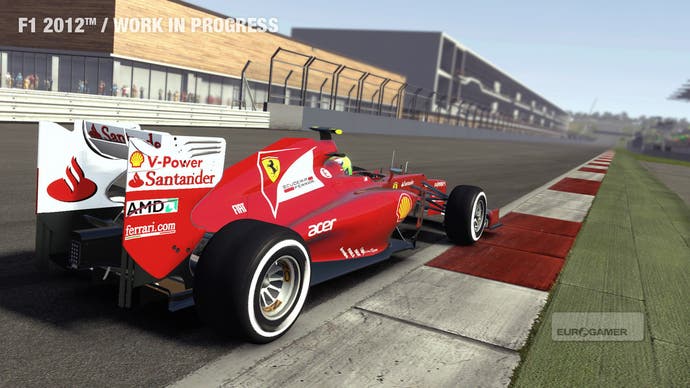 Season Challenge breaks an entire career down into 10 races, while Champions Mode takes advantage of the unprecedented amount of talent lined up on this year's grid. The six champions each have their own event where you have to take them on and beat them: Kimi Raikkonen's challenge, for example, sees the forthcoming Finn on a set of worn tyres while you've fresh boots on, and it's your task to hunt him down.
They're meaningful additions that work alongside a drastically overhauled menu system to make F1 2012 feel properly fresh. A large number of returning players, though, will want to know more than what's new this year; they'll want to know what's being done about the bugs that have blighted the F1 experience for many.
"We've had a totally different development process this year," Jeal explains. "It's something we're aware of, and I think it goes back to that point that each year the pressure's there to make more content, and the more you add the more you've got to fix.
"In previous years we've worked on milestones, and everyone's working on the same branch at the same time, chucking their work in. This year, everyone's been working on their own space and we only pull stuff across when it's ready. It's a new process and there are downsides to it, but one of the upsides is the bug number that we've got through, certainly in terms of the big spoilers, is much lower right now this year, so I think it's been a success in that regard."
It's shaping up to be a healthy outing for F1 this year, and one that expands on the past games whilst making some small steps in newer directions. Another potentially excellent take on the sport, then - a prospect that F1 fans should well be grateful for.