Anthem is a mess - so what would keep us playing?
We discuss BioWare's latest on the Eurogamer Podcast.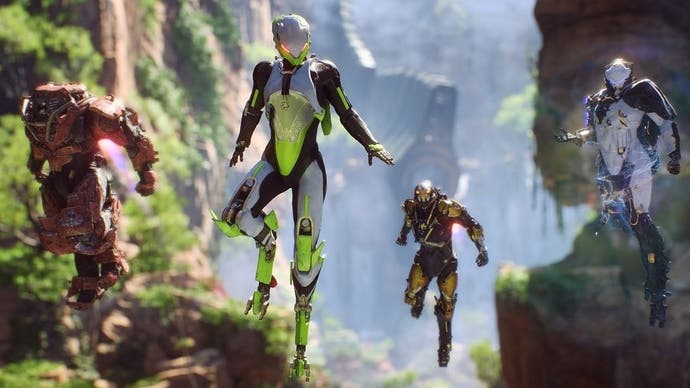 If you've played the demo or early access, it was clear Anthem - BioWare's new games-as-a-service loot shooter - would be a fascinating if flawed game, and unfortunately the full game only emphasises what a mess it is in places.
Guides editor Matthew Reynolds, news editor Tom Phillips and guides writer Chris Tapsell join Eurogamer's editor Oli Welsh (who wrote our Anthem review) to discuss the game's many foibles, but also what works and the things that could pull us back in again - all while we try to keep our food metaphors and Destiny comparisons to a minimum.
If you're after more Anthem coverage, you can read more Tom's Searching for BioWare in Fort Tarsis piece as mentioned in the podcast, Digital Foundry's analysis of Anthem's performance in the final game, and our Anthem walkthrough mission list from Chris.
You may have noticed this week's episode is just one week after our recent Apex Legends podcast, and it's because we wanted to discuss Anthem sooner than later. We'll now be back on our regular fortnightly schedule, so expect the next episode in a couple of weeks.
Remember if you subscribe to one of the following services, you'll get new episodes automatically:
If you've missed out on recent Eurogamer Podcast episodes, we offered a 2019 predictions and preview of the year ahead, how we chose 2018's game of the year, as well as episodes on Resident Evil 2 and an interview with the author of The Seven Deaths of Evelyn Hardcastle.
Thanks for listening!