Energy Hook a timed PS4 and Vita exclusive
What now for the Xbox One version?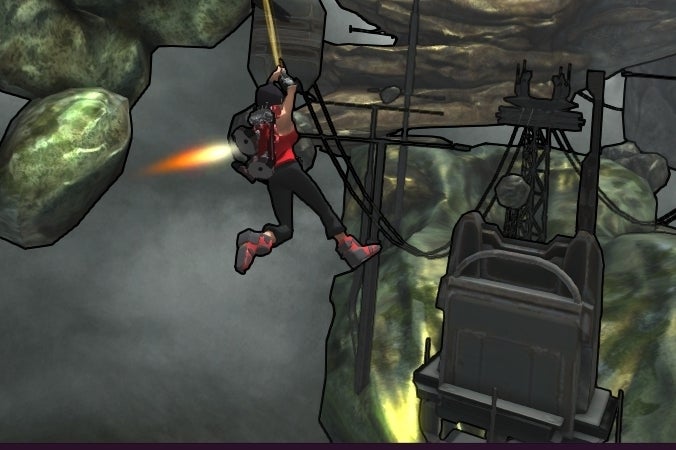 3D swinging and movement game Energy Hook is a timed PlayStation exclusive, developer Happion Laboratories has announced.
It launches on PlayStation 4 and PlayStation Vita soon and before on PC and Xbox One, Happion founder and creator of the swinging mechanic in Spider-Man 2 Jamie Fristrom revealed on the PlayStation blog.
It's a somewhat surprising move because Happion was one of the developers on the list of studios approved for Microsoft's Xbox One self-publishing program, ID@Xbox.
Fristrom told Eurogamer the PlayStation deal came about after a brief Twitter exchange with Sony Computer Entertainment Europe's Shahid Kamal Ahmad. Ahmad had asked developers what it would take for them to port to Vita before other platform. Fristrom's response was for Sony to cover the cost of licensing the Unity game development engine and front up a $20,000 "incentive".
"I can make something like that happen for you Jamie, like before," Ahmad replied. "Your work is the bomb."
"I knew Shahid from making Sixty Second Shooter Deluxe," Fristrom explained to Eurogamer, "and we liked working together, so it was easy to come to an agreement. And then we got SCEA involved and added PS4 into the mix. The contracts took a while to get signed because of the SCEE - SCEA crossover, but I've been through worse."
So, what now for the Xbox One version? Microsoft hit the headlines last year when its release parity clause emerged. It seems Microsoft has ditched its platform exclusivity requirement it had in place for Xbox 360, instead requiring release date parity with other platforms for Xbox One games.
"We do not require exclusivity agreements. However, we do ask for day one parity with other console game platforms," a Microsoft spokesperson said last year.
"In instances where games have signed a timed exclusive with another platform, we'll work with them on a case by case basis."
"I only started hearing the rumors about Microsoft's parity clause a few weeks ago and don't know if they're true or if they're going to apply to me," Fristrom said, "but I have a meeting with Chris Charla [ID@Xbox chief] next week so I'll find out soon..."