Microsoft's ID@Xbox policy means this indie twin-stick shooter can't launch on Xbox One
Assault Android Cactus dev falls foul of "day one parity" clause.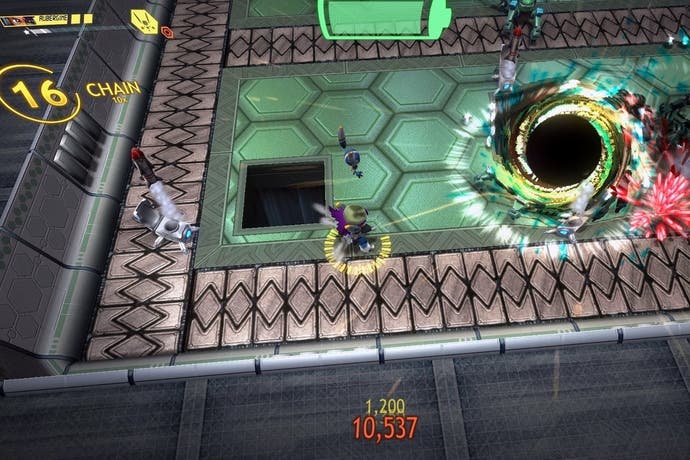 Microsoft's ID@Xbox program means - theoretically - anyone can self-publish on Xbox One. But there are strings attached.
Last week Microsoft announced a list of 32 developers that had been accepted onto the ID@Xbox program. It includes the likes of Double Fine, Slightly Mad Studio and even Crytek.
Interestingly, indie developer Iron Galaxy was on the list for two-button fighting game Divekick, which has already released on PlayStation consoles.
It turns out that Microsoft has ditched its platform exclusivity requirement for Xbox One. Microsoft required exclusivity, timed exclusivity or at the very least launch date parity for Xbox 360 games - but it has confirmed it is willing to work with developers on a case-by-case for games that have already released on other platforms when it comes to Xbox One.
"We do not require exclusivity agreements. However, we do ask for day one parity with other console game platforms," a Microsoft spokesperson said.
"In instances where games have signed a timed exclusive with another platform, we'll work with them on a case by case basis."
In short, you can self-publish on Xbox One if you do so at the same time as other platforms. So far, so (relatively) good.
Then, later last week, indie developer Vlambeer, also on the list, revealed the steps it took to get onto ID@Xbox - exposing a curious loophole in the process.
According to Vlambeer co-founder Rami Ismail, Vlambeer contacted Sony to set up launch exclusivity for Nuclear Throne on PlayStation 4 after it heard about Microsoft's launch parity clause. Why? Because it heard an exception would be made for games that were already signed to another platform before ID@Xbox was announced at Gamescom.
Ismail, as you'd expect, wants Microsoft to drop the platform parity clause, thus enabling developers to self-publish their games as various versions are complete.
For Vlambeer - and Xbox One owners - it should all work out in the end, with Nuclear Throne launching on Microsoft's console. But for others it's not so simple.
"It's also coming in late with a clause that punishes those who have been developing on other platforms that were readily available for the past year, and that's something they need to fix before it's a viable option."

Assault Android Cactus developer Sanatana Mishra
Australian developer Witch Beam's twin-stick shooter Assault Android Cactus will launch on PC at the end of January 2014, then shortly afterwards on PlayStation 4, Vita and Wii U - but it won't launch on Xbox One because, as co-creator Sanatana Mishra told Eurogamer, the tiny developer can't meet Microsoft's day one parity requirement.
"The simple answer is that our plans wouldn't meet the launch day parity requirement of the ID@Xbox program," Mishra said.
"We started development on our other console versions long before self-publishing was an option for Xbox One and the only way we could meet that requirement would be to delay the other versions of Cactus.
"We also didn't have an exclusivity agreement in place with another console platform before the ID@Xbox program was announced, which could have allowed us to get a waiver."
ID@Xbox is headed up by Chris Charla, who Eurogamer interviewed at Gamescom in August. Those accepted get two Xbox One dev kits as well as a special Xbox One Unity game engine license free of charge. Microsoft will eventually make all Xbox One retail units dev kits.
Witch Beam has spoken, briefly, with Charla about the problem, who suggested the indie dev send through an application.
"Overall I think think the ID program is very developer friendly and light years ahead of what Microsoft were doing even six months ago," Mishra concluded.
"But it's also coming in late with a clause that punishes those who have been developing on other platforms that were readily available for the past year, and that's something they need to fix before it's a viable option."
While it's clear Microsoft's self-publishing policies are much improved on the horror days of the Xbox 360, it still has some way to go before offering true self-publishing. And while we wait, it seems Xbox One owners will be deprived of some eye-catching games.