Elder Scrolls Online Dark Brotherhood DLC gets release date
Notorious assassin group offers new passive skill tree.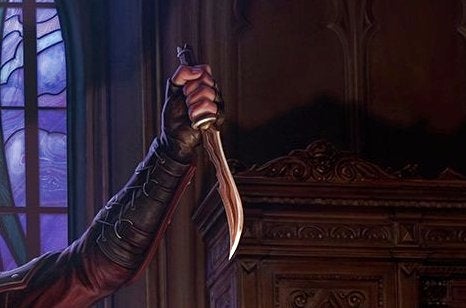 The Dark Brotherhood content for The Elder Scrolls Online will be released 31st May on PC and Mac, and 14th June on PS4 and Xbox One. Or, if you like, you can try it out on the Public Test Server from today.
The Dark Brotherhood assassin quests are beloved in the Elder Scrolls series. They're not about being good, not about saving the world - they're about killing people. Accessing them usually involves a following a shadowy trail.
In ESO the Dark Brotherhood is on the Gold Coast, and joining it unlocks a new and exclusive passive skill tree. There's an overriding story about a mysterious new foe killing Brotherhood agents, and there are also repeatable quests offering rewards.
The Dark Brotherhood content is included in an ESO Plus subscription or can be purchased from the game's Crown Store for 2000 crowns. Crowns are bought in bundles on consoles; 3000 crowns costs £14.99 on PS4, and £19.99 on Xbox One.
In addition, there will be a base-game patch for all owners of ESO. This adds, among other things, poison-making.