EGX Rezzed 2015 announces Valve developer session
Plus! Heat Signature! Prison Architect! The Banner Saga! More!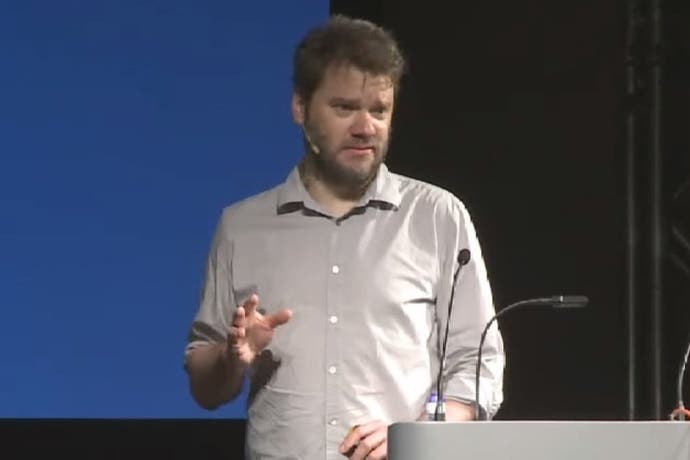 Valve stalwart Chet Faliszek will deliver a developer session at EGX Rezzed 2015, the UK event dedicated to PC, indie and console gaming.
Faliszek is one of the main writers at Valve, and has worked on the likes of Half-Life, Portal, Counter-Strike: Global Offensive and Left 4 Dead. (Hey, Chet, where's Left 4 Dead 3, eh?)
He's also no stranger to Gamer Network events - at the Eurogamer Expo 2012 he did a developer session on how to give yourself a job in the game industry. Check it out in the video below.
"The session's content is under wraps for now but we're as excited as you are to find out more so look out for further details in January," said the team behind EGX Rezzed. Those cryptic cads.
Elsewhere, exhibitors include Guild Wars 2 maker ArenaNet, cool beans publisher Devolver Digital and Versus Evil. More will be announced soon.
Here's the first batch of games confirmed for the show:
Adventure Box. City building multiplayer RPG.
Afro Samurai 2: Revenge of Kuma. Follow up to 2009's gory brawler.
Armikrog. Point and click adventure game from the makers of Earthworm Jim.
Big Pharma. Strategy game that puts you in charge of a pharmaceutical company.
Broforce. Chaotic side scrolling shooter with destructible environments.
CloneSpace. Epic space trading game with an Asteroids aesthetic.
Eternal Step. Rogue-like tower game with no end.
Gratuitous Space Battles 2. Strategy game featuring massive battles between huge fleets of spaceships.
Habitat. Save humankind by constructing space stations.
Heat Signature. A game where you can go inside the spaceships.
Kyn. RPG with team-based combat and a vast world to explore.
Not a Hero. 2D cover shooter from Roll7 the makers of Olli Olli.
Omega Agent. Strap on your nuclear powered jetpack and blast around a city filled with daring missions.
Prison Architect. Construction and management game that puts you in charge of a prison.
RPG Tycoon. Simulation game that puts you in control of a newly established kingdom.
The Banner Saga. Viking themed tactical RPG from Stoic.
The Room Three. Mind-bending puzzle game from Fireproof Games.
Titan Souls. Shadow of the Colossus meets Dark Souls.
Toren. Adventure game built around an epic poem and exploring ideas surrounding the meaning of life.
EGX Rezzed takes place 12-14th March 2015 at Tobacco Dock, London. Tickets are on sale now.