EGX 2014: Game of the Show
As voted for by visitors to the UK's biggest and best gaming event.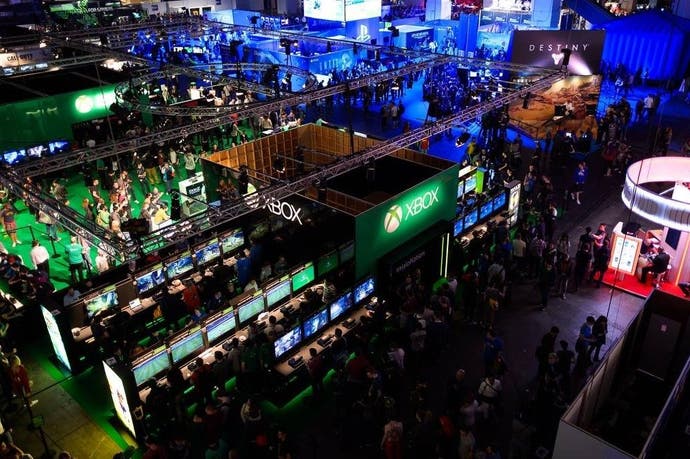 Farewell then, Earls Court. After many happy years in London's best and most spaceship-shaped exhibition space, EGX is moving on. Gamer Network (which also publishes this website, disclosure fans) wasn't keen to abandon the famous old venue, but unfortunately it is being demolished to make way for more houses no one can afford. If you were at EGX 2014, though, hopefully you will agree that the games industry gave Earls Court the send-off it deserved.
If you were there, you may also have completed the show's exit survey - thousands did - from which we have drawn out your favourite games of the event as tradition dictates. Just one year on from the launch of next-generation consoles, there was already a lot of fine work on display, and although the most popular genres are well-represented in the final counting, there was a ton of variety on display elsewhere, particularly in the indie-centric Rezzed and Leftfield Collection areas. (If you like that sort of thing, you might want to turn your attention to EGX Rezzed, taking place next March at Tobacco Dock in London.)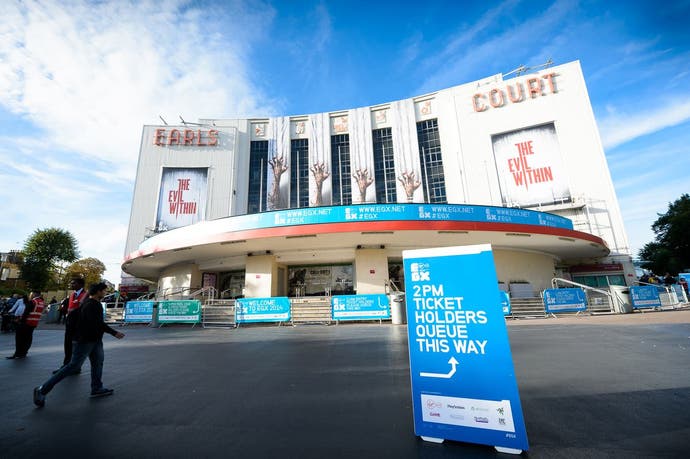 In years to come, though, scholars of early 21st century UK-based public video game shows will look back at EGX 2014, and they will note that these were your favourite games in ascending order of preference. And they will find much to agree with.
10. Mortal Kombat X
NetherRealm Studios / Warner Bros.
Release date: 14th April 2015
Having spent years enforcing Eurogamer's strict style guidance on numerals, which is to translate them into numbers on sight, it took me a surprisingly long time to comprehend that the "X" in the name of Ed Boon's new fighting game was pronounced X and not 10, even though there have been that many Mortal Kombat games. You seem to have had no such difficulty adapting to its wavelength, however, presumably embracing its highbrow new multi-discipline combat system and not simply glorying in the series' latest suite of disgustingly enjoyable fatalities.
9. Splatoon
Nintendo / Nintendo
Release date: Nintendo
Nintendo's latest gory action game is an unlikely prequel to Oliver Stone's famous Vietnam epic, in which Tom Berenger, Willem Dafoe and Charlie Sheen compete to shower Khe San, Lan Doc and Hill 364 in brightly coloured paint. Whereas Stone would later suggest that the first casualty of war is innocence, Splatoon suggests that it is squid.
8. Destiny
Bungie / Activision
Release date: Out now
Given that these votes are usually about how hyped people feel about stuff, how do we explain the presence of a game like Destiny, which came out weeks ago, on a list like this? Perhaps there was some other attraction that entertained visitors? I honestly don't know.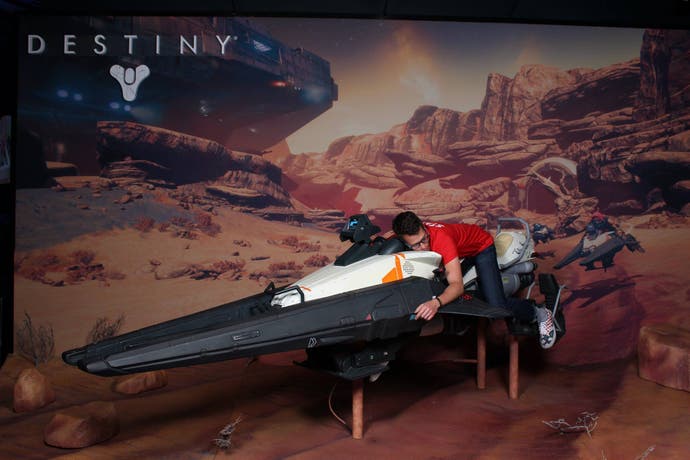 7. Bloodborne
From Software / Sony
Release date: 6th February 2015
Hidetaka Miyazaki's first game as director since Dark Souls looks absolutely terrifying. Not because it's set in some ghastly, gothic ruin in the grip of a filthy plague. Not because that city is filled with violently deranged people and monsters. Not even because the Souls games were as fiercely difficult as they were compulsive, driving players spare. No - it's because they've taken away the shields. The one thing semi-crap players like me could always rely on for a quantum of solace: gone. Judging by your appreciation of the EGX demo, it's going to be worth fighting through the fear.
6. Far Cry 4
Ubisoft Montreal / Ubisoft
Release date: 18th November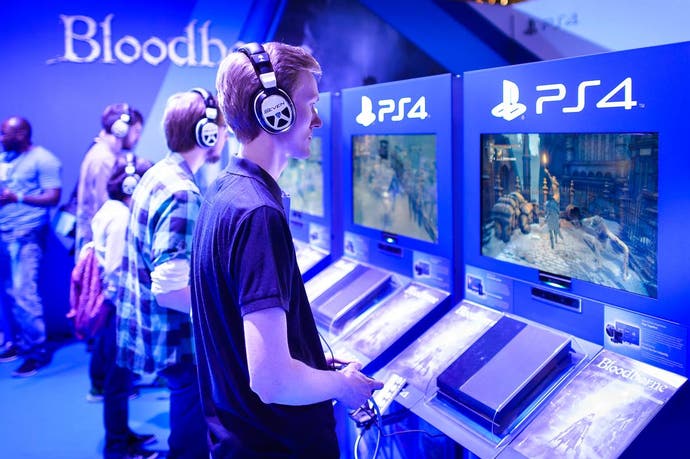 For many people, Far Cry 3 was a game about sneaking up on enemy outposts and then sowing carnage using a mixture of ultraviolent stealth moves and wild animals. Far Cry 4 shifts things to a new mountainous location and ships in a bunch of new enemies, but given that one of this sequel's most exciting new features is "elephants", the developers seems to understand the previous game's appeal. We're also told to expect less "ludonarrative dissonance", which is good because kill me now.
5. Middle-earth: Shadow of Mordor
Monolith Productions / Warner Bros.
Release date: Out now
Poised for release just days after EGX, Shadow of Mordor was obviously ripe for a public showing and already critically acclaimed, which explains why so many people flocked to play it. The fact it's so high up your list of games of the show suggests it continues to make a good first impression, despite mounting criticism of its apparent love of torture and terrorism. It's out today, so if you're inclined you can already take a longer look for yourself.
4. Call of Duty: Advanced Warfare
Sledgehammer Games / Activision
Release date: 4th November
It wouldn't be EGX without a new Call of Duty, or at least a Call of Duty, and judging by your reaction it looks as though Sledgehammer already has a firm grip on the billion-dollar baton it will now heave back and forth with Infinity Ward and Treyarch on a three-yearly basis. Advanced Warfare kicks things into the future, but a pointedly more grounded one than most sci-fi shooters, with technology military planners have genuinely conceived, even if they don't yet have the means to deploy it. Innovations include rechargeable weapons, swift vertical movement and Kevin Spacey.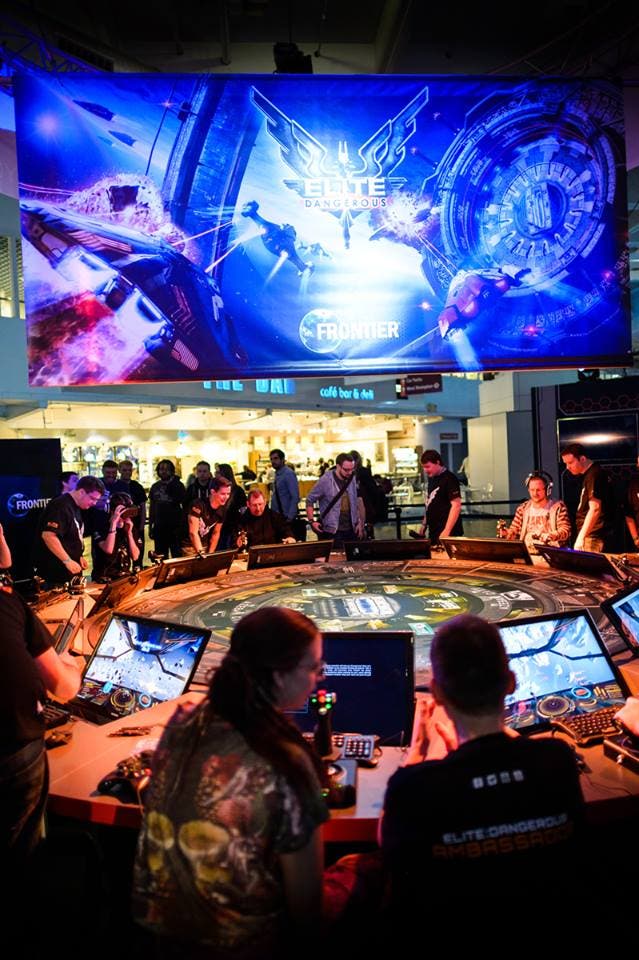 3. Elite: Dangerous
Frontier Developments
Release date: Q4 2014
Who needs a publisher? The game that David Braben wondered if he would ever get to make was one of the stars of EGX, the basis of one of the most popular developer sessions and a show floor favourite. Flying through infinite space surviving and trading was evocative enough when it was all jagged lines and BBC Micros, but in its glorious new 3D guise - immersive enough to become an early poster child for Oculus Rift - it already looks like the ideal game for anyone who has ever looked up at the stars and wondered what's out there.
2. Evolve
Turtle Rock / 2K Games
Release date: 10th February 2015
They had us at "asymmetrical multiplayer game". Evolve sees Turtle Rock working on its own again (because Valve is too busy making Half-Life 3 confirmed), but this weird four-versus-one shooter already bears Left 4 Dead's hallmarks: the tightknit group of survivors working together to deal with a much greater threat, the opposing force stalking and plotting the best way to bring down a theoretically weaker foe. Left 4 Dead was an easier game to understand at a glance, but Evolve's lofty position on your list suggests it gets its point across succinctly enough in limited time. Promising.
1. Alien: Isolation - Game of the Show
Creative Assembly / Sega
Release date: 7th October
It is a little-known fact about the original Alien movie that Sigourney Weaver's character Ellen Ripley was originally going to be known as "Wrigley" as part of a subliminal advertising campaign for a popular brand of chewing gum. Wrigley would have behaved in much the same way as Ripley, but circumstances would have been contrived on a few scattered occasions that led her to restore the freshness of her breath through the mastication of synthetic polymer. The plan was eventually scrapped, but the Wrigley corporation liked the combination of its products and travelling through space so much that it launched the "Orbit" brand, before later diversifying into deep-space mining, android manufacture and biological weapons.
And if you think that's an unlikely story, have you heard the one about the multi-award-winning new Alien game? It's out on Tuesday.