EA Sports Active More Workouts
Second wind.
I gave a talk on videogames at a conference a couple of months back. Only, it wasn't a games event. It was the annual conference of the National Obesity Forum at the Royal College of Physicians, and I was blathering on about active gaming.
That I was invited as a gamer to present to an audience of medical experts is palpable evidence of the impact Wii specifically has had beyond gaming itself. One in four British adults is classified as obese, and with reports suggesting fully half of the population will look like professional darts players by 2050, suddenly some very important people outside of gaming are starting to see it as part of the solution, rather than the problem.
One particular moment in my session stood out. I asked for a show of hands: "Who owns a Wii?" Roughly 75 percent of the audience raised an arm. "And Wii Fit?" Only a small number dropped. "How about EA Sports Active?" One solitary hand remained aloft.
This is both predictable and revealing, and gets to the nub of whether, as a console owner, you are a Wii Fit or an EA Sports Active person. Some stats: Wii Fit was the biggest-selling game on any system in 2008; it was the biggest seller for the first six months on 2009, shifting over 2.5m units in the 18 months since launch. That's not far off one Wii Fit for every Wii sold in the UK, an astonishing achievement for an exercise title. Presumably Nintendo execs keep fit by rolling around in all the money.
EA Sports Active, released very deliberately into Nintendo's slipstream back in June, also got off to a flyer, shifting close to two million copies worldwide in its first few weeks on sale. More Workouts, out last Friday, limped in at 35 in the Wii chart, however, 13 places behind the original, while Wii Fit Plus rides high at number five in the all-formats listings.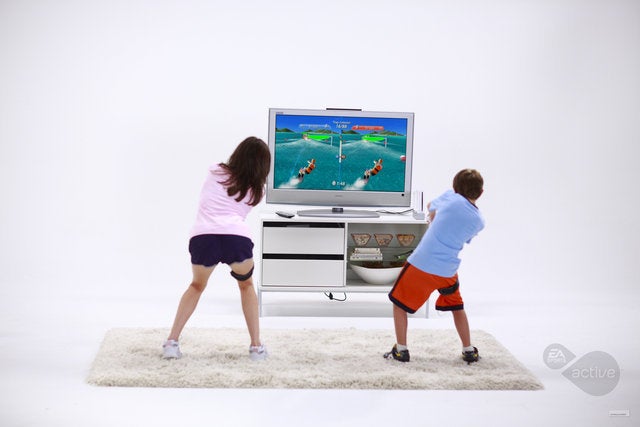 There are many reasons why Wii Fit is more popular: brilliant, blanket marketing; first to market; tied in with the purchase of a balance board. But the key difference is that it's fun first, fitness second. In the same way that Brain Training made maths fun (it's my six-year-old niece's favourite game), Nintendo has done the same with certain forms of physical activity: it's stealth exercise.
With that in mind, if you want a game that will improve measurably your fitness through punishing, structured workouts, EA's offerings are streets ahead of Nintendo's. That was true of the original Active next to Wii Fit, and it remains the case with More Workouts up against the recently released Wii Fit Plus. Put simply, Wii Fit won't make you fit by itself, whereas Active actually might.
So let's look at what's changed in More Workouts (rather than regurgitate the basics, it's all there in my original review ). The first thing to note is, it's only five months since Active: as the name implies, this is very much an expansion of what came before, rather than any kind of major overhaul.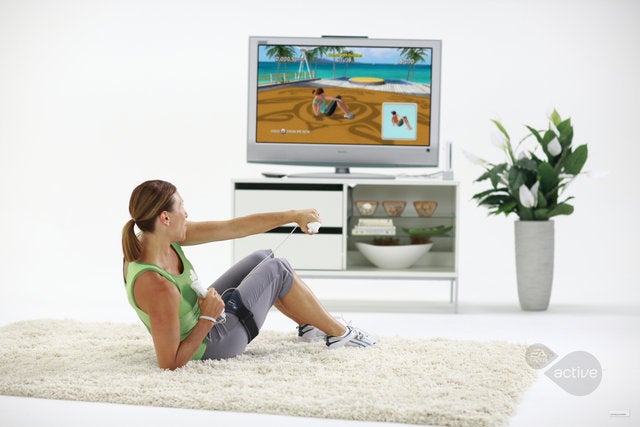 Holes have been filled. Each workout session is now bookended by warm-up/cool-down exercises. This is sensible as the high-intensity workouts in Active can be taxing, so structuring in a little stretching out is responsible - and all too easy to ignore unless you're being told to do it.
More variety here would have been welcome, but the primary purpose is to get the user into the general habit of easing into and winding down from a workout.
Taking half a step in the direction of Wii Sports Resort, EA has tried to 'theme' More Workouts, setting it in a "luxurious tropical location". The art style is so joylessly functional you won't care, but this allows EA to add in new watersports events like paddling and waterskiing, plus a resort-based obstacle course.