EA details promising new indie games RustHeart, Lost in Random, more
Frostpunk and Moonlighter headed to Origin Access.
As well as showing off its big budget games like Star Wars: Jedi Fallen Order, EA has today doubled down on its indie publishing side.
Upcoming titles include Lost in Random, from Fe studio Zoink Games, an untitled co-op project from A Way Out developer Hazelight Studios, and RustHeart, made by British developer Glowmade - a studio founded by ex-Lionhead veterans.
All will be released under the EA Originals publishing label, EA said in a press event today attended by Eurogamer.
Lost in Random is described as a "stand out fantasy action adventure" from the team behind Fe. It'll feature strategy and action "that explore the notion of chance and possibility, set within a beautifully dark and vivid world".
Hazelight Studios' next project, which remains untitled, is being led once again by the exuberant Josef Fares. In a pre-recorded video message (perhaps wisely, he was not actually present), Fares revealed the game would be another co-op experience - but very different to A Way Out. He also said it would be "f***ing fun".
RustHeart, meanwhile, was showed off via a snippet of footage that featured the game's young main character riding a hulking robot. It all looks very Iron Giant-esque.
"We went to the pub and started talking about the things we love - like Iron Giant, 80s movies, Rick and Morty," Glowmade's Johnny Hopper said. "We brought these influences together and slowly pieced the blocks together."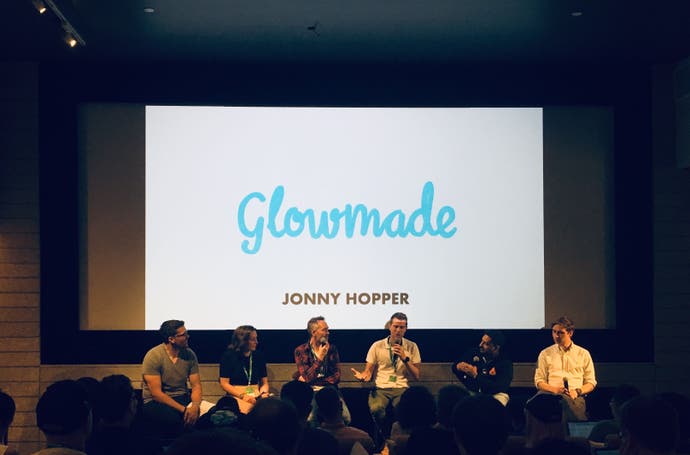 At the same event, Velan Studios (the new outfit founded by former Vicarious Visions head honchos Guha and Karthik Bala) talked more about its untitled, upcoming game. Earlier this year, the project was announced as having been picked up for release as an EA Partner game - similar to how Titanfall 2 was launched by EA before Respawn was fully acquired.
Velan's game impressed EA execs at last year's E3 and was snapped up quickly.
"I know - EA, really?!" Karthik Bala joked, talking about jumping in to bed with a new triple-AAA publisher after years spent working on Skylanders for Activision. "But they understood what the team was trying to do, the creative vision, and they appreciated what we'd done the past 18 months trying to figure it out.
"It's an online competitive game with a new set of core mechanics and play patterns," he continued. "It needs a lot of players to build a community, and it's a live game... I'm saying more than I was planning on saying..."
And finally, Frostpunk and Moonlighter developer 11 bit Studios confirmed both those games would join EA's Origin Access subscription later this year.
Speaking about the decision, 11 bit Studios Piotr Bajraszewski explained why releasing indies game into a subscription service made sense:
"The problem is there are games which five, six years ago would be games of the year, which now only sell 10, 20 thousand copies," he said. "Some people are scared into going to subscriptions. This War of Mine was super popular but it was everywhere - only on fridges was it not available. You have to use every partner you have.
Subscriptions were good for discoverability, he added, and a game's inclusion was a sign it had passed a quality bar which made it stand out from others. And, after trying it via EA Access, there's the possibility some people might also pick it up elsewhere, such as on Switch.
For more on what's next for the Frostpunk studio, Bertie recently picked 11 bit's brains on its upcoming unannounced Project 8.