EA backtracks on putting micro-transactions in all future games
"That's really not true."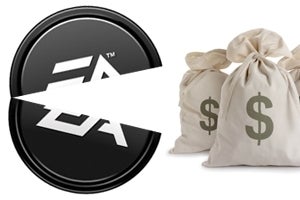 EA has backtracked on an earlier statement that all of the publisher's future games will include micro-transactions.
The company's chief financial officer Blake Jorgensen made the remark last month, but has since claimed it was "really not true".
"I made a statement in the conference along the lines of 'We'll have micro-transactions in our games' and the community read that to mean all our games, and that's really not true," Jorgensen said today at the Wedbush Technology Conference (thanks, Gamasutra).

"All of our mobile games will have micro-transactions in them, because almost all of them are going to a world where they are play-for-free."
Other charges for console and PC games were separate, he argued, despite the existence of some micro-transactions already in games such as Mass Effect 3's multiplayer.
"You are going to see extensions off of products like Battlefield Premium which are simply not micro-transactions," he continued. "They are premium services, or additional add-on products or downloads that we're doing... it is essentially an extension of the gameplay that allows someone to take a game that they might have played for a thousand hours, and play it for two thousand hours. We want to ensure that consumers are getting value."
Jorgensen's previous comments suggested that all console and PC games would have micro-transactions in them.
"We're building into all of our games the ability to pay for things along the way, either to get to a higher level to buy a new character, to buy a truck, a gun, whatever it might be," Jorgensen previously claimed.
"Consumers are enjoying and embracing that way of the business."
The issue of micro-transactions has sparked gamers' ire, specifically in the wake of how they were implemented into console shooter Dead Space 3 and 3/10 mobile money-spinner Real Racing 3, "a good racing game utterly ruined by EA's micro-transactions".
Gears of War co-creator Cliff Bleszinski also waded into the debate last week, and suggested that gamers vote with their wallets to ignore the charges.
"If you don't like EA, don't buy their games," Bleszinski argued. "If you don't like their micro-transactions, don't spend money on them.
"I assure you there are teams of analysts studying the numbers behind consumer behaviour over there that are studying how you, the gamer, spends his hard earned cash."