The Insider
Review - Russell Crowe stars in a gripping film that's about as far from "Gladiator" as you can get
- Michael Mann Producer - Michael Mann / Pieter Jan Brugge Starring - Al Pacino Russell Crowe Christopher Plummer Filmed - America, 1999 DVD by - Touchstone Home Video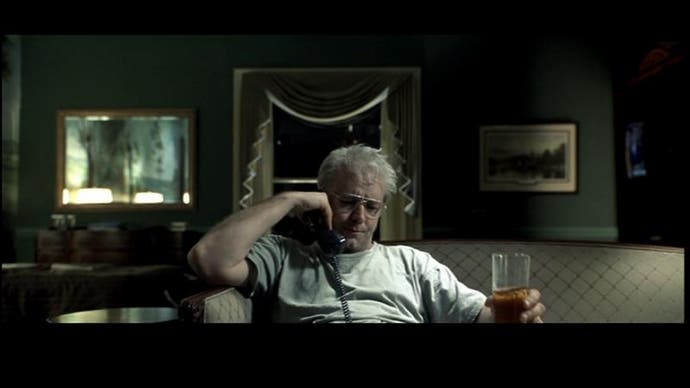 The $246 Billion Man
Ever year smoking kills around 120,000 people in the UK alone, while those who survive spend £12 billion on cigarettes. And yet until recently tobacco companies continued to deny the mounting evidence that smoking was a lethal and addictive habit.
That front of denial came crashing down when industry insider Jeffrey Wigand revealed that the company he had worked for not only knew that nicotine was addictive, but that they manipulated chemicals present in cigarettes to make it more effective - "we are in the nicotine delivery business". The admission helped to bring about a mammoth court case which ended with tobacco companies paying American state governments $246 billion to cover health care costs for diseases caused by their products.
It might seem a strange choice of topic for a big Hollywood film, especially coming from writer / director Michael Mann, who is better known for such gems as cult horror movie "The Keep" and stunning criminal drama "Heat". But in a year of great movies "The Insider" turned out to be one of the greatest, with man-of-the-moment Russell Crowe ("Gladiator", "LA Confidential") earning a well-deserved Oscar nomination for his restrained but powerful performance as Dr Wigand. Meanwhile Al Pacino launched himself into the role of maverick "60 Minutes" producer Lowell Bergman, the man who broke the story and encouraged Wigand to testify against his former employers.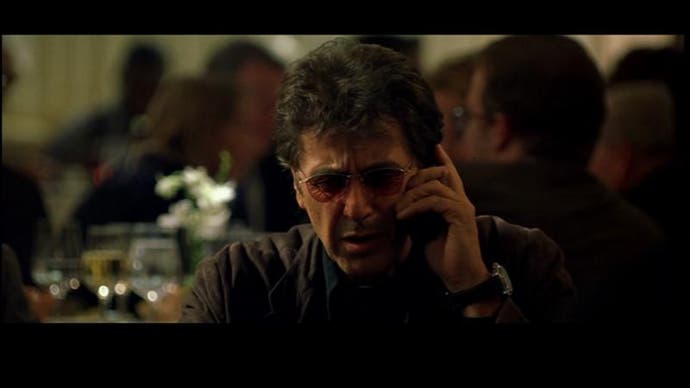 Big Business
The result is a moving dramatization of one man's struggle against big business and the American legal system, with the tobacco industry going to extraordinary lengths to discredit Wigand and prevent him from telling his story to either the courts or CBS News.
At two and a half hours long it's something of a sprawling epic, and there is little real action, just hour after hour of dialogue. But after a rather slow start the film soon works up an impressive head of steam, and the story will keep you gripped and surprised right to the end. What makes it so involving is that Jeffrey Wigand is an ordinary man under incredible stress, his family disintegrating around him as he struggles to maintain his sanity in the face of death threats, smear campaigns and legal injunctions.
The film is also an eye-opening look into the mirky world of big business and mass media, from the callous way in which the tobacco companies manipulate their customers to the ethical dilemma which the CBS team faces as Wigand's former employers threaten potentially crippling legal action if they air the interview with him. Which makes for a rather depressing indictment of the way in which government, industry, the media and the legal system interact in America...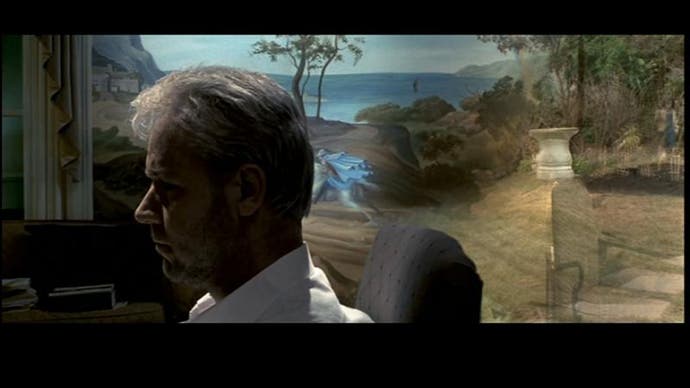 Sound And Vision
Michael Mann has gained something of a reputation over the last decade from movies like "Heat" and "Last Of The Mohicans", and it's a well deserved one. He has an excellent eye for detail and puts it to great use in The Insider, with a mixture of long lingering close-ups and intimate hand-held camera shots adding to the drama and tension.
There are some truly stunning sequences, most notably the scene in which Wigand sits in silence as a mural on the wall of his hotel room morphs seemlessly into a vision of his children playing in the garden of his old home. Meanwhile looking out of the window he can see the offices of the company that he used to work for, the only lights in the building shining from the tenth floor, home of the legal department which has turned his life upside down and seperated him from his family.
The icing on the cake is a haunting score from a team which includes Graeme Revell ("The Crow") and Lisa Gerrard ("Gladiator"). The superb soundtrack also features Massive Attack's classic "Safe From Harm", and the sinister "Armenia" from German industrial band Einsturzende Neubauten, a song which also appeared in Heat and is again used to great effect by Michael Mann and friends.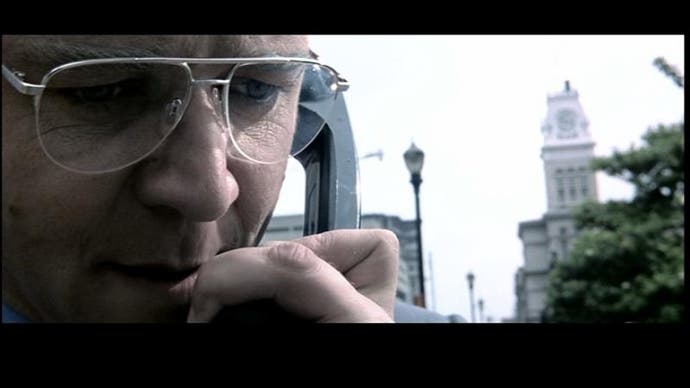 The Disc
The British Region 2 DVD is a high quality if rather spartan affair. The film itself is presented in the original cinematic 2.35:1 aspect ratio, with near faultless sound and visual quality.
Also included is a seven minute featurette including clips from the film and a few behind the scenes shots. Probably the most interesting part of this featurette though are brief interviews with not only the cast and crew of the film, but also the real people behind the story. Participants include Jeffrey Wigand, Lowell Bergman, and even members of the Mississippi legal team which heard Wigand's testimony against the tobacco companies. It's a nice touch and reminds you that this is based on a true story.
Sadly there is nothing else on offer though, not even a trailer. All too many European distributors still seem to be labouring under the misapprehension that interactive menus, scene access and subtitles somehow class as "special features". No they don't. These are standard features which every DVD should have. As far as it goes then this is a great disc of a great movie, but it's something of a disappointment that there is so little there beyond the film itself. Film - 9/10 Disc - 7/10 Availability -
Amazon UK - £14.99
DVD Street - £18.99
DVD World - £17.99
Note - All information is correct at time of writing, but prices and availability may change. If you find any broken links or other problems, please let us know.