Doom Eternal's next update invites you to take on "empowered demons"
We're doomed.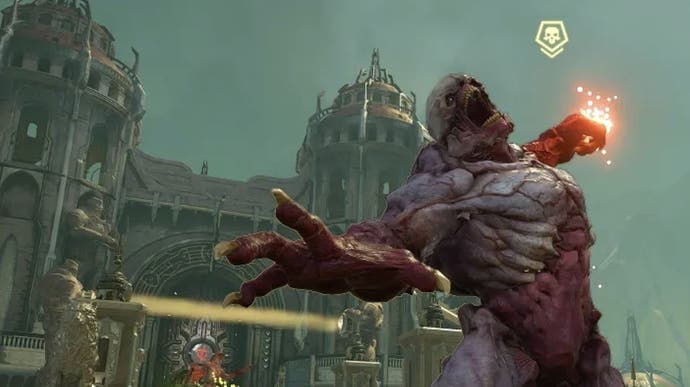 Doom Eternal's Update 1 will bring empowered demons to the game, as well as new content, bug fixes, and a "host of optimisations".
"It's been an amazing turnout for Doom Eternal," wrote Parker Wilhelm on the official website. "The community of longtime fans and newcomers alike wowed us once again with their overwhelming support and impressive demon slaying skills. Things are only heating up, however, as Update 1 is almost here to bring a ton of features, fixes and enhancements to the game!"
Wilhelm goes on to explain that when a player is killed in the singleplayer campaign, "the demon that felled them is beefed up and transported to another player's game to fight again". Take them out, however, and "you'll not only be rewarded with tons of health and ammo, but also bonus XP to progress in-game events".
The team has also added a "suite of features" to improve Battlemode, too, including "Denuvo Anticheat features, changes to the tutorial walkthrough, poor network connection indicators, Echelon Leveling for players at the maximum level and a Death Report screen to offer players more combat insight mid-match".
Singleplayer quality-of-life improvements, on the other hand, include balance fixes, expanded demon tutorials, "dashing vertically in water and adjusting toxic damage while swimming".
For the full details, head on over to Bethesda's website.
In related news, after several weeks of silence, id Software recently addressed the controversy surrounding the quality of its official Doom Eternal soundtrack and, in particular, the comments made by original composer Mick Gordon in light of fan complaints, confirming Gordon will not be returning to work on the music for Doom Eternal's DLC.
As Matt summarised recently, issues around the soundtrack first came to light at the end of April, when audio blogger and Ruff Audio founder Reace "thatACDCguy" Niles noted dramatically variable differences in quality across the recording, which he attributed to reduced dynamic range on certain tracks.
Doom Eternal executive producer Marty Stratton addressed the "speculation and criticism" surrounding the soundtrack's release, saying that while some "have speculated that [Gordon] wasn't given the time or creative freedom to deliver something different or better", "none of that is true".