Dontnod says Life is Strange 2's second episode will arrive in January
UPDATE: Release date revealed.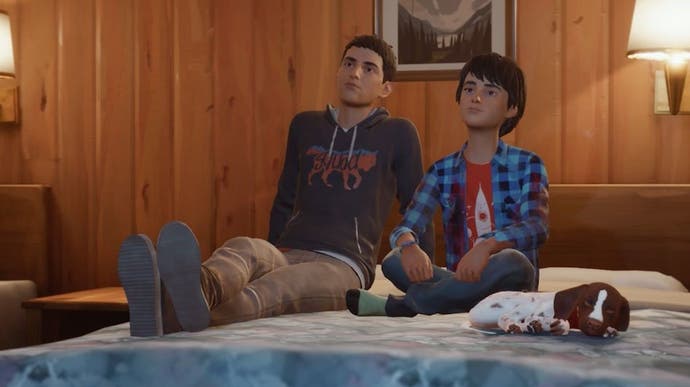 UPDATE 18TH DECEMBER: The release date for Episode 2 has been revealed: 24th January 2019.
Accompanying the date announcement is an all-new live-action "visualisation of a pivotal moment" starring Gonzalo Martin, who voices protagonist Sean Diaz.
ORIGINAL STORY 29TH NOVEMBER: Developer Dontnod has revealed that Life is Strange 2's long-awaited second episode will launch in January 2019.
Life is Strange 2 - which introduced new series protagonists Sean and Daniel Diaz, two brothers forced to go on the run following a tragic accident - debuted on PC, Xbox One, and PS4 in September this year. As such, the gap between episodes will be edging toward four months by the time the story continues in 2019 - certainly not ideal for a narrative-focussed experience.
Writing in a new blog post, Dontnod explained that while it understands "there are certain expectations that episodes will be released at a similar cadence as previous Life is Strange games", that simply hasn't been possible this time around. "The ambition of Life is Strange 2," it said, "means that the previous frameworks no longer apply if we are to meet the quality of play and storytelling that our vision for a game like this demands and that you deserve."
"The Life is Strange series is a project close to all of our hearts," the studio continued, "and one for which we do not want to rush development and thereby fail to meet the benchmark of quality and emotional impact that you, our players, deserve."
While Dontnod isn't yet ready to offer a more specific release date for Episode 2 (to be titled Rules), it did note that more details are due in mid-December. "We're truly very excited to show you what we've been working on and what's in store for Sean and Daniel", it concluded.
Despite shifting focus away from Life is Strange 1's fan favourite characters Chloe and Max, Dontnod's standalone sequel has garnered plenty of praise. Eurogamer's Johnny Chiodini was impressed by its first episode, noting that while it was "oppressive in a way we've not seen from the series up to this point", it "certainly put my fears to rest - and it's left me hungry for more."