Don't expect games to be cheaper on Google Stadia
Screen if you wanna go faster.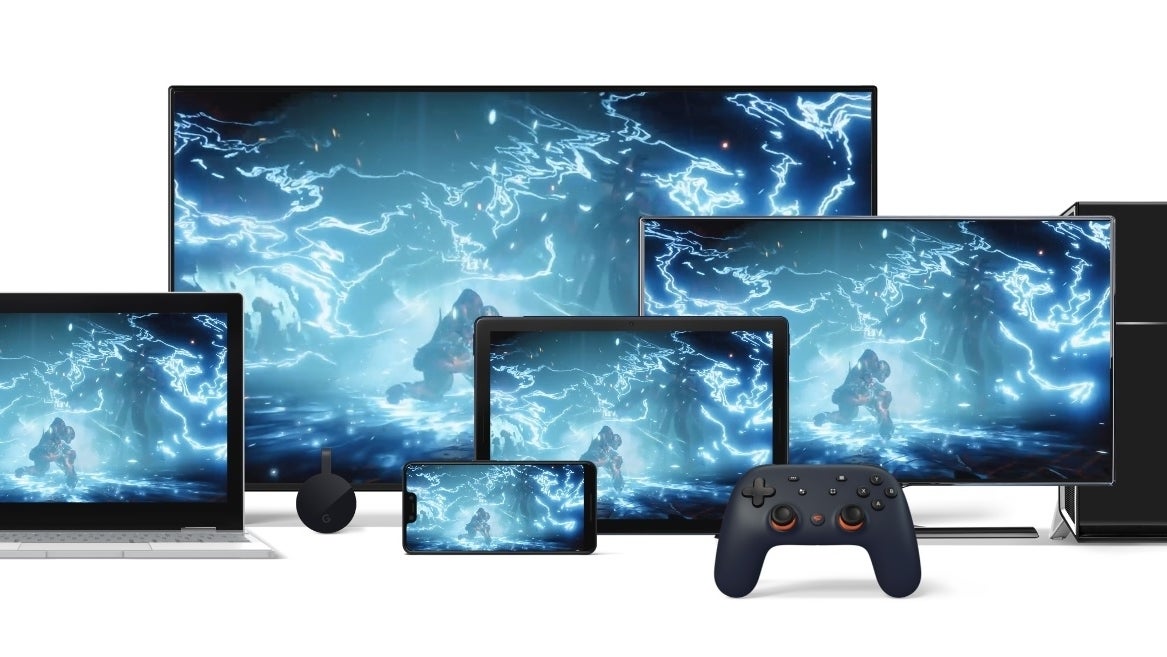 As Google Stadia nears its November launch, answers about its business model are slowly coming into focus.
Two options are available for those interested in the video game streaming service: an £8.99 a month subscription, due out this November, or a free version, due out in 2020.
Stadia Pro gets you up to 4K resolution and access to a growing library of games (including Destiny 2). Stadia Base gets you up to 1080p resolution, but there's no access to the library of games.
With both options, however, you have to buy new games outright. In fact, that's how you get access to most games available on Stadia. If you have a Pro subscription, you have to pay for the game on top. If you have the free version, you're just paying for the game.
The list of games Google has confirmed as coming to Stadia include Doom Eternal, Wolfenstein: Youngblood, Baldur's Gate 3, Final Fantasy 15, Rage 2, Football Manager 2020, Borderlands 3, Assassin's Creed Odyssey, Ghost Recon Breakpoint and Mortal Kombat 11.
It had been unclear whether these games would cost full-price on Stadia, given you're simply streaming them as opposed to buying a disc or downloading the game onto a hard-drive. But in a roundtable interview with UK games press this morning, attended by Eurogamer, Stadia chief Phil Harrison indicated Stadia games will cost the same as they do on other platforms such as the PlayStation 4 and Xbox One - that is, they won't be cheaper.
"I don't know why it would be cheaper," Harrison replied when Eurogamer asked.
So, how does Stadia justify charging full-price for a video game you can only stream? By making it available to play on any screen, Harrison said.
"The value you get from the game on Stadia means you can play it on any screen in your life - TV, PC, laptop, tablet, phone," he said. "I think that is going to be valuable to players."
That, and, "In theory, the Stadia version of a game is going to be at the highest-possible quality of innovation and sophistication on the game engine side."
Harrison couldn't, however, confirm exactly how much Stadia games will cost. Instead, he directed us to the publishers of the games themselves. "The publisher or the developer is in as much control of the prices as we are, so it's a bit difficult for me to say what the prices will be right now," he said. "But, we're obviously going to be very aware of prevailing prices in the marketplace."
Google Stadia - like Microsoft's Xbox Game Pass and Sony's PS Now - is thought of by many as a potential "Netflix for games". With Netflix, of course, people pay a subscription fee and gain access to everything that's on the service. When a big new show or a new film is added to Netflix, customers don't have to pay again to access them.
But Stadia Pro subscribers will be asked to pay to access new games when they're made available on Stadia.
"We're definitely in a great moment of transition and inflection in the industry, going from an ownership consumption model," Harrison replied when this difference was pointed out.
"Around the world we're already way past the physical digital tipping point. Particularly in the UK, that's accelerating as time goes by."
Then, Harrison indicated offering a subscription and selling games full price on top was about offering customers choice. And, of course, you have to keep in mind that with Stadia you don't need to fork out as much cash as you would if you were buying a gaming PC or a new console.
"The industry is in transition," he said. "Not every developer and publisher is ready to move to subscription yet. Frankly, not every gamer is ready to move to subscription yet. So we wanted to give gamers a choice so they could engage in the games they wanted in the way they wanted - and in all cases, without the very high upfront cost of buying a sophisticated device to put under their TV or on their desk."
Stadia launches in November 2019 via The Founder's Edition, which costs £119. For that you get three months of Stadia Pro, one three-month Buddy Pass to give Stadia Pro to a friend, a controller, a Google Chromecast Ultra for streaming to your telly and a Founder's Stadia name.
Google has yet to confirm which games will be made available for free as part of the library of titles, except to say Destiny 2 will be a part of it at launch. This library of titles will grow over time, fuelled by Google's investment in the setting up of first-party studios charged with building Stadia exclusives, and from exclusives from external developers, such as Tequila Works' Gylt.
But, if you want to play the likes of Borderlands 3 or Doom Eternal on Stadia, you'll have to pay full price for them.