Intel debuts new tiny, modular gaming PCs
High spec PC power in a smaller form factor than the Xbox Series X.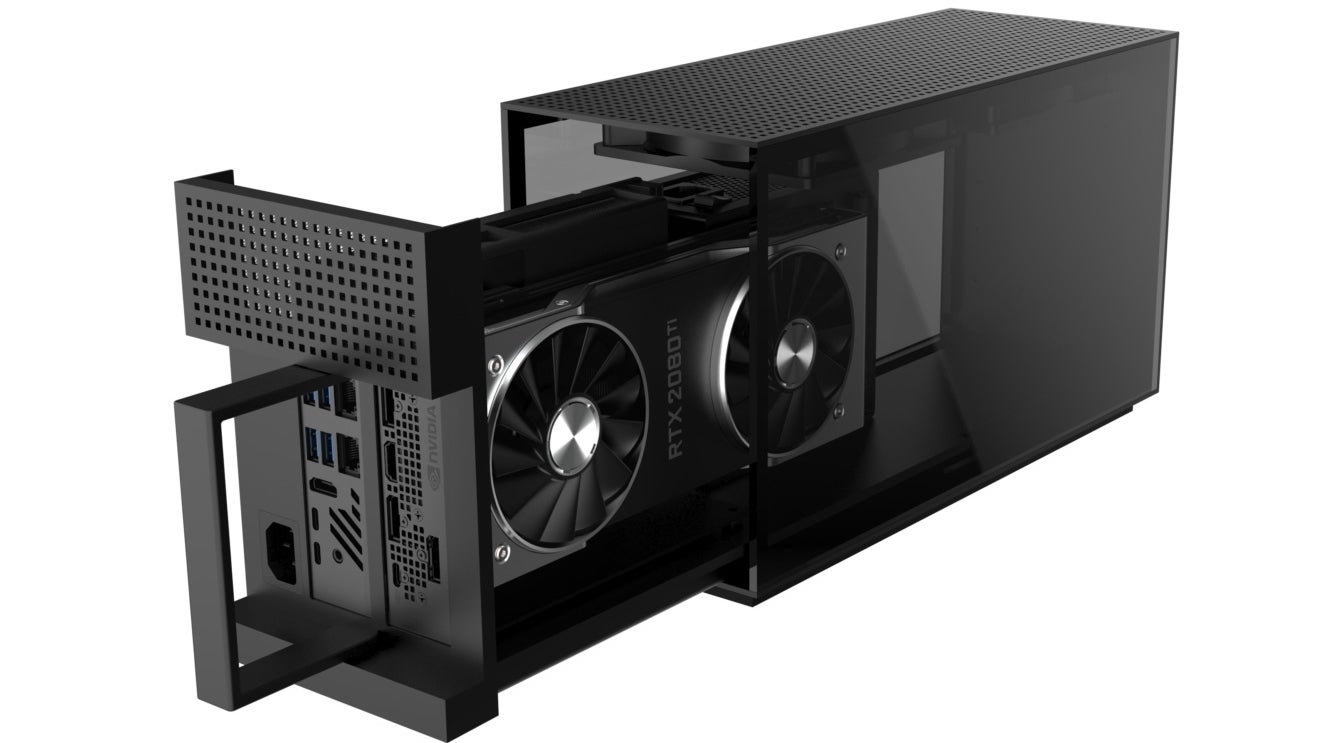 Apart from fake renders of the Xbox Series X and a seemingly endless parade of new gaming monitors, the first big tech event of 2020 was home to a very cool announcement from Intel. The company unveiled the NUC Compute Element, a new initiative to produce incredibly tiny PCs with the power of full-fat gaming desktops by moving the motherboard, processor, storage and RAM onto a single replaceable card. Combine that Element card with a full-size desktop graphics card and a svelte enclosure, and you've got the recipe for an incredibly powerful gaming PC that can be carried with one hand and upgraded in a matter of seconds.
Let's take a closer look at the NUC Compute Element card itself, before we look at the wider ecosystem. These will be sold with a selection of soldered-on Intel laptop processors, including 45W Core i5, i7 and i9 variants - if you want to change these down the line, you'll need a whole new NUC Element module. (Intel has promised at least two years of upgrades, and hopefully more.) Outside of the processor and board though, everything else on the small card is upgradeable, with slots for dual-channel laptop DDR4 RAM and two NVMe SSDs. A tiny 80mm fan linked to a small vapour chamber over the processor keeps the whole thing cool, and should allow for better sustained performance than you'd expect from similar components in a laptop.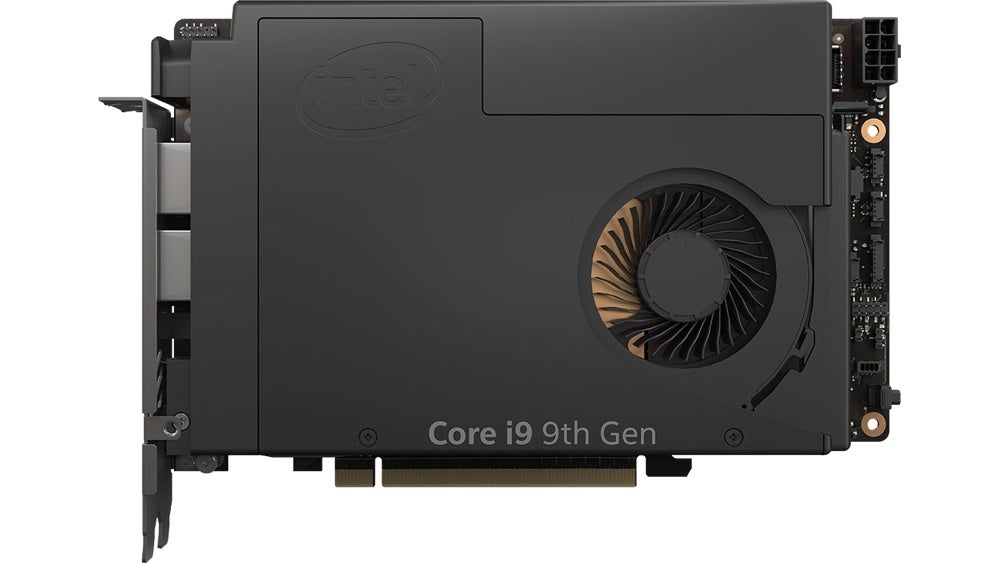 The whole Element is about the size of a mini graphics card, and slots into any NUC Element enclosure in much the same way. That means assembling the computer is just a case of slotting in the two cards, Element and graphics, connecting up any PCIe power required for either card and then closing up the case, no tools or know-how required. Thanks to that ease of assembly, the enclosure itself is also easy for companies to build - it's just a small form factor case with a power supply, a standardised base board and maybe some fans or front I/O.
Right now, five companies have announced NUC Element enclosures of various sizes, with larger enclosures allowing for longer graphics cards to be installed at the expense of portability. Intel's own NUC 9 Extreme is the smallest of the bunch with a capacity of five litres, thanks to its use of a miniature Flex ATX power supply. It'll accommodate graphics cards up to 203mm in length. The Cooler Master NC100 and Razer's Tomahawk N1 are roomier, allowing the use of slightly larger SFX power supplies and full-size graphics cards, with volumes of 7.5 litres and 10 litres, respectively. Smaller manufactures are also getting into the game, with the 5-litre Adata XPG Gaia and 17.5-litre Akasa Venom QX.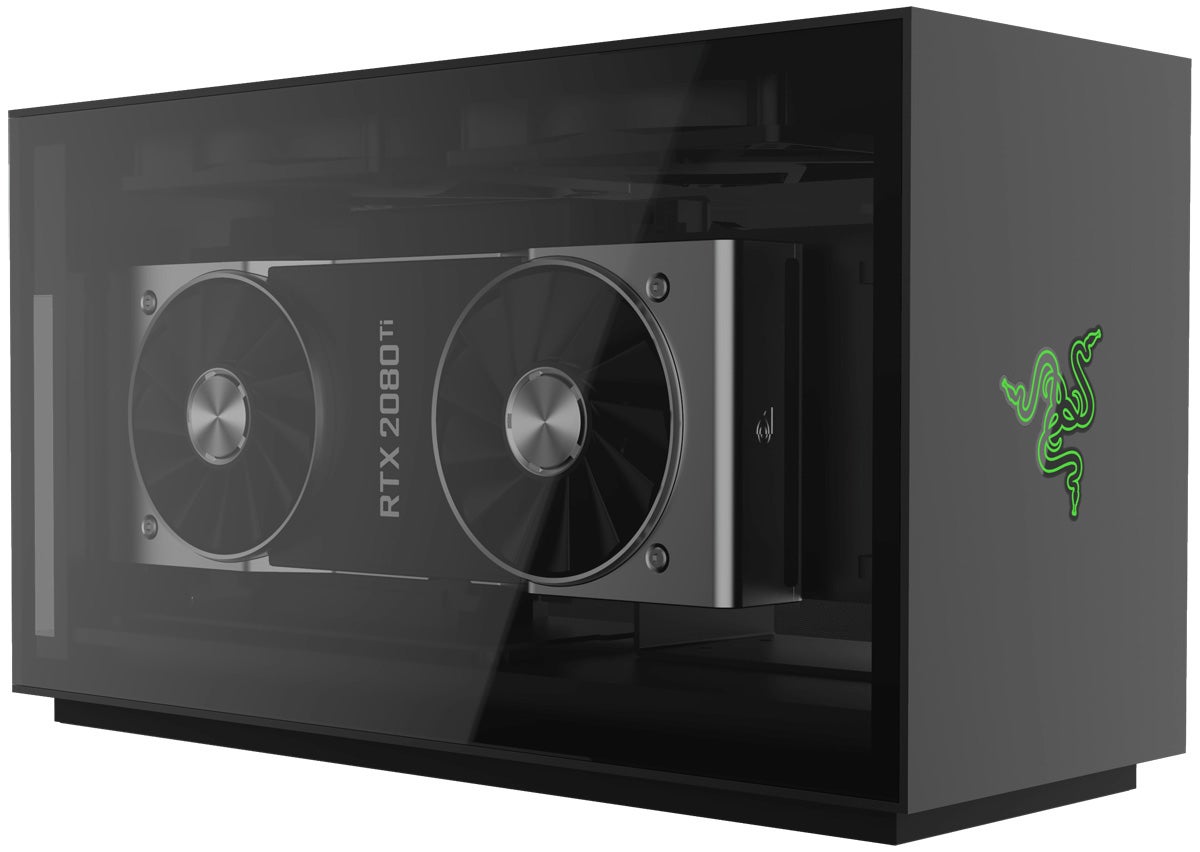 To put these sizes into perspective, the PlayStation 4 Pro has a volume of 5.3 litres, the Xbox Series X has an estimated volume of around 8 litres and the popular Fractical Design Node 202 case has a volume of 10 litres, making the relatively large Razer Tomahawk the same size as one of the smallest PC cases on the market.
All five of the enclosures announced so far will be available as both standalone units for a few hundred dollars - with NUC Element cards and graphics cards sold separately at major retailers - and a few will also be available as complete systems. A range of configurations will be offered in the latter case, with Razer hinting at a price of around $2,000 for a high-end system ready to go out of the box. That should include recent Core i7 processor, 16GB of RAM, 512GB of NVMe storage and a mid-range or better RTX graphics card. Mocking up a similar system on PCPartPicker with a Core i7 9700K, RTX 2070 Super and Z390 motherboard results in a price of around $1450, hardly worlds away. Meanwhile, Intel's NUC 9 Extreme will start at around $1050 for a Core i5 model, but you'll need to provide your own memory, storage, GPU and OS.

Even if there's a bit of a performance penalty due to the laptop-grade CPU and running high-end components in such a constrained form factor, I could see these tiny gaming PCs becoming a popular choice amongst the LAN gaming crowd and PC enthusiasts - especially as users get to opt out of the fiddly assembly process of traditional small form factor builds. It will be fascinating to see how these NUC Element PCs perform compared to a traditional desktop once they launch in late spring to early summer - and how they fare against the Xbox Series X and PlayStation 5 later this year.
As well as being a very cool piece of tech in its own right, the NUC Element is also a nice illustration of Intel's lumbering trajectory through the PC space. Sure, being as big as Intel means you can't react to changes quickly - think about that long transition to 10nm processors - but it also means that if you put your weight behind something, even a relatively niche product, you have the resources and the stature to make sure that project is taken seriously by the media, its hardware partners and the public.
After all, it's been almost eight years since the first compact NUC was developed and three years since Intel announced its first take on the system-on-a-card concept, the Compute Card. These projects haven't been big sellers by any stretch of the imagination, but the company has kept working at them. The unholy union of Intel processor and AMD graphics produced a surprisingly powerful mini PC in 2018, and the NUC Element looks likely to bring things to a whole new level. Even if this latest iteration doesn't become a mainstream success, you've got to respect Intel's persistence in pushing the boundaries of PC form factors.
Will you support the Digital Foundry team?
Digital Foundry specialises in technical analysis of gaming hardware and software, using state-of-the-art capture systems and bespoke software to show you how well games and hardware run, visualising precisely what they're capable of. In order to show you what 4K gaming actually looks like we needed to build our own platform to supply high quality 4K video for offline viewing. So we did.
Our videos are multi-gigabyte files and we've chosen a high quality provider to ensure fast downloads. However, that bandwidth isn't free and so we charge a small monthly subscription fee of £4.50. We think it's a small price to pay for unlimited access to top-tier quality encodes of our content. Thank you.
Support Digital Foundry