CES 2020 PC highlights: 360Hz and Mini LED monitors, new G-Sync OLEDs and a killer feature for VR
Our first look at the PC hardware industry trends of 2020.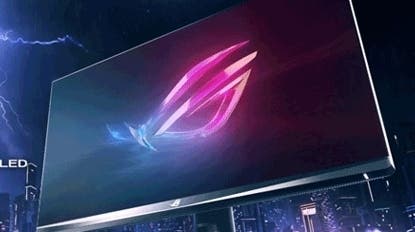 CES 2020 kicks off today, bringing with it a host of PC gaming announcements from Asus, Nvidia, Lenovo and LG. While most of the news is pretty standard, there are a few surprises too - including the first 360Hz gaming monitor, ray tracing and DLSS support for a popular recent game and a truly impressive 4K Mini LED monitor. While most of the hardware announced today is high-end, you can expect the features that debut here to trickle down to more affordable models in the months to come, making this a good chance to see how the PC gaming industry will progress in 2020. Here are the highlights thus far.
Let's start with that 360Hz monitor. It's called the Asus ROG Swift 360Hz, and unsurprisingly it can draw 50 per cent more frames per second than a 240Hz monitor, making for a more fluid experience. Of course, generating that many frames requires both a high-end PC and a relatively old game - think esports titles like Counter-Strike, Overwatch or League of Legends. The monitor runs at 1080p - no surprises there - and supports full-fat G-Sync all the way up to 360Hz. Other specifications are missing at present, including the panel type, pixel response times and so on, suggesting that this is some distance away from being a finished retail product.
Former Counter-Strike professional Jordan 'n0thing' Gilbert is one of the few outside Nvidia to have gone hands-on with the monitor. He appears in a promotional video released by the company, espousing the increase in visual clarity the higher refresh rate provides and how that can translate into a competitive advantage - something that we've also demonstrated at 144 and 240Hz. A lot of questions still remain, especially with no release date or price available, but we look forward to seeing whether 360Hz makes sense even for the small proportion of gamers that play competitive games at a high level and how Asus and Nvidia have achieved this higher refresh rate without visual artefacts like ghosting. This is definitely one we'll look forward to testing - and perhaps it'll earn a coveted spot in our round-up of the best gaming monitors.
Another interesting high-end option also comes from Asus, and it's the ROG Swift PG32UQX. The first Mini LED monitors debuted just a few months ago, and this looks to be one of the first gaming-focused examples (alongside the Acer Predator X32 which uses the same panel). Mini LEDs are, as the name suggests, miniaturised versions of the normal LEDs that provide the backlighting for most monitors. The smaller size allows the screen's brightness to be adjusted in a larger number of zones, increasing contrast across an image and ameliorating the halo effect you can sometimes spot in screens with local dimming.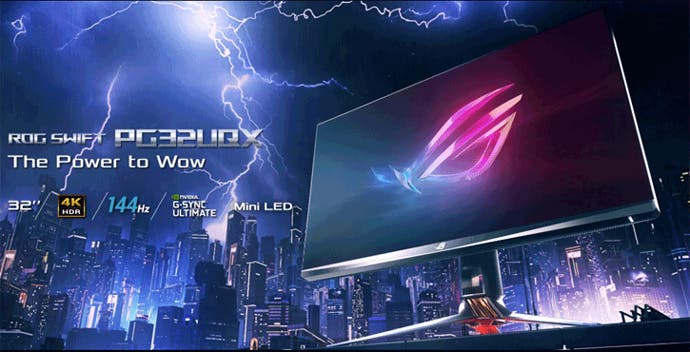 The use of Mini LEDs means that the PG32UQX is able to have three times as many backlight zones as its predecessor, the (admittedly smaller) PG27UQ, with the total count reaching 1152. Peak brightness has also been raised substantially, to 1400 nits, meaning the display is able to grab the rare DisplayHDR 1400 certification. That should result in an excellent HDR experience, whether you're watching video or playing games. The latter will be aided by the monitor's 144Hz refresh rate, which is a must-have for fast-paced and competitive games. Of course, all of this tech is sure to cost a pretty penny, so expect a price point in excess of £3000/$3000 once the display is released later this year.
Lenovo also announced a new monitor, the Legion Y25-25. The interesting this here is the 240Hz Nano IPS panel, making this monitor suitable for both high refresh rate competitive gaming and colour-critical content creation. Previously, 240Hz has been restricted to TN panels, which typically offer poor viewing angles and subpar colour handling, so this could be a nice choice for mixed use environments. Apart from the standout display, it's pretty standard stuff elsewhere - including a DisplayHDR 400 rating, FreeSync, a highly adjustable stand and thin bezels. Unlike most other monitors announced today, the Y25-25 actually has a price and release date: $320 in June 2020.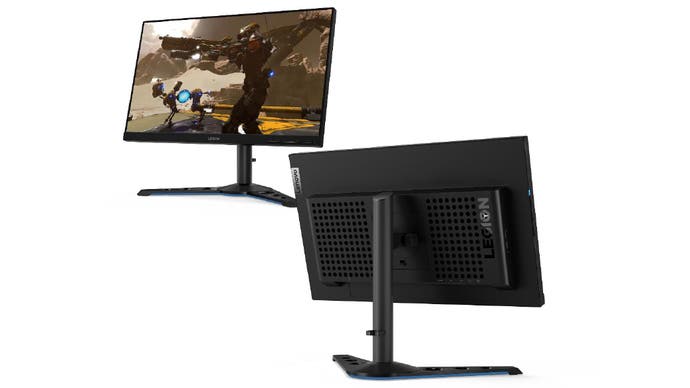 The final monitor we'll talk about today is more of a TV, really. It's the 55-inch Predator CG552K from Acer, and surprisingly it's an OLED. The monitor is capable of running at 4K 120Hz, making it suitable for games of all kinds, and of course includes the perfect blacks and seriously fast pixel response times of any OLED panel. Support for adaptive sync is also included, which should allow variable refresh rates on both AMD and Nvidia graphics cards. However, brightness is severely limited, at around 400 nits, which may explain why this display doesn't support HDR. The CG552K will debut later this year for $3000. It's a bit of a curious proposition, when cheaper HDR-capable OLEDs exist that are technically capable of running at 4K 144Hz with an HDMI 2.1 source, but perhaps there's a market here we're not seeing.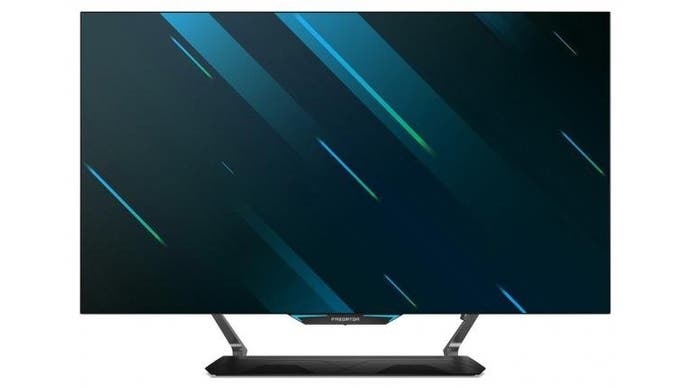 The other big news from CES 2020 has come from Nvidia, who announced a new CES 2020 GeForce driver. The big highlight here is the addition of ray-traced reflections and DLSS to Wolfenstein Youngblood, the co-op friendly shooter released last summer. According to the company, the ray-traced version of the game runs around 40 per cent faster with DLSS enabled, allowing a system with a 1440p monitor and RTX 2060 to run the game at triple-digit frame-rates. RTX and DLSS will become available in Wolfenstein once the game has been updated later this week, so stay tuned for that.
Update: the 441.87 GeForce driver is now available.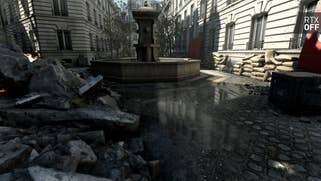 The driver also includes a long-requested feature: the ability to limit your frame-rate on a per-app or global basis from the Nvidia control panel (without resorting to the unofficial Nvidia Inspector tool). If you're using G-Sync, it's recommended to keep your frame-rate below the monitor's maximum refresh rate to reduce input lag, and this is a convenient way to do just that. Setting a maximum frame-rate also means that your graphics card and processor don't work harder than they need to, keeping temperatures and power usage lower in less demanding games. That's a massive boon for laptop users in particular, where greater power usage translates directly into battery life woes as well as just higher monthly energy bills.
The driver also includes support for what could be a big boon to VR gamers: variable rate super sampling (VRSS). This clever feature focuses resolution and shading rates at areas of the screen you're looking at in VR, with shading rates of up to eight times normal in the centre of your field of view. This should make games that support the feature look better than ever before, while reduced detail elsewhere ensures that frame-rates remain high to increase fluidity and prevent nausea. Around two dozen DX11 VR titles work with VRSS, including recent standout Boneworks, with the full list below. All Turing graphics cards support the feature, including GTX 16-series and RTX 20-series models.
The CES driver also adds support for eight more G-Sync compatible displays, bringing the total to 90, with 12 more G-Sync Compatible OLEDs from LG to be announced later at CES 2020. These LG TVs include the BX, CX, GX and ZX ranges, which vary in size from 48 to 88 inches and follow on from the company's industry-leading B9, C9 and E9 models. Interestingly, these TVs will also support FreeSync, meaning they'll pair well with AMD graphics cards as well. We'll update our list of the best G-Sync compatible monitors once the full details are available.
That's it for now, but we expect to have more news for you very soon. For example, AMD are set to hold a press conference at 10PM UK time, which should include at least one big announcement for 2020. We'll be tuning in live, so if there's anything worth shouting about we'll do so later tonight or early tomorrow morning. We'll catch you then!