Nvidia GeForce RTX 2080 Super benchmarks: all systems nominal
An up-gunned RTX 2080 does not an RTX 2080 Ti make.
A new high-end RTX graphics card has arrived: the RTX 2080 Super. Super and Ti are almost analogous in Nvidia's current naming structure, so does that mean this is a flagship card in line with the RTX 2080 Ti? Not quite - Nvidia isn't going to follow on from the RTX 2080 Ti without any pressure from AMD, so this card takes a different tack: moving the goalposts. Using lessons learned from a year of RTX 2080 production, Nvidia is able to create a souped-up RTX 2080 card at the same price point as earlier reference designs. That keeps things tough for AMD, while the RTX 2080 Ti remains uncontested at the upper echelons of the GPU power ladder.
As before, the RTX 2080 Super comes in both Founders Edition and custom designs, and as before we've got Nvidia's own-brand card in to test. There are some differences though - rather than creating an overclocked card and charging a $100 premium for the experience, as Nvidia did last year, the RTX 2080 Super Founders Edition we're testing operates at reference clocks and is available at the same price point (£669/$699) as entry-level custom designs. Essentially then, you're getting a faster reference design at the same price - not bad. But how much faster is the RTX 2080 Super than the standard RTX 2080 - and does it come anywhere near the performance of the RTX 2080 Ti?
You can get a clue from looking at the actual graphics processing units that lie at the heart of these graphics cards. The most critical piece of information here is that the RTX 2080 Super isn't a scaled-back version of the TU102 GPU used in the RTX 2080 Ti. Instead, the 2080 Super uses the same TU104 GPU as the standard RTX 2080, so Nvidia is somewhat hamstrung in the amount of extra performance it can unlock. Looking at the specs below, you can see that there's only a small increase in core count - 3072 in the fully-enabled Super design versus 2944 for the standard 2080 - and while memory bandwidth sees a modest upgrade, the 8GB capacity of the original design remains intact.
So how much performance can Nvidia wring out of these relatively small changes? We're going to find out with our usual swathe of benchmarks, designed to test this new card to its limits against some of its closest competitors. As well as the obvious RTX inclusions, we'll also be comparing the 2080 Super against two AMD flagships - the Radeon 7, Team Red's nominal standard carrier, plus the fastest card AMD is still actively producing, the Radeon RX 5700 XT.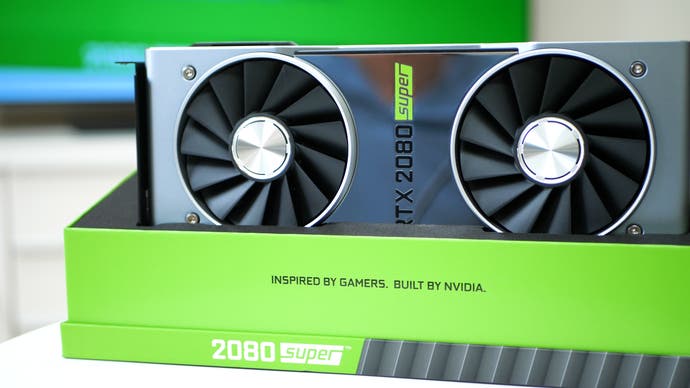 | | 2060 Super | 2070 Super | RTX 2080 | 2080 Super | RTX 2080 Ti |
| --- | --- | --- | --- | --- | --- |
| CUDA cores | 2176 | 2560 | 2944 | 3072 | 4352 |
| Giga Rays/sec | 6 | 7 | 8 | 8 | 10 |
| VRAM | 8GB GDDR6 | 8GB GDDR6 | 8GB GDDR6 | 8GB GDDR6 | 11GB GDDR6 |
| Memory Bus | 256-bit | 256-bit | 256-bit | 256-bit | 352-bit |
| Bandwidth | 448GB/s | 448GB/s | 448GB/s | 496GB/s | 616GB/s |
| Boost Clock (FE) | 1650MHz | 1770MHz | 1800MHz | 1815MHz | 1635MHz |
| Processor | TU106 | TU104 | TU104 | TU104 | TU102 |
| TDP | 160W | 175W | 225W | 250W | 260W |
The RTX 2080 Super is available as a reference Founders Edition card direct from Nvidia, but most people will opt for a custom card made by Nvidia's partners. These cards don't always have the best overclocking performance, but they often offer a more robust cooling solution and are available in a wider variety of form factors. RTX 2080 Super cards in both the US and UK are trending just above their recommended retail prices of £669/$699, but you can see live price data in the widget below.
It's probably worth mentioning our test setup so you can put these results into context, too. We're using a Core i7 8700K CPU here, overclocked with all cores pinned to 4.7GHz and liquid cooled by a Corsair H110i AiO. This is backed by 16GB of 3400MHz RAM, running in dual channel mode and solid state storage for all titles.
One final thing: if you're on a desktop browser, you'll get the full-fat Digital Foundry benchmarking experience. Hit play on the YouTube embed for each game, and you'll see the exact scene we use to test each card play out. You can add or subtract the cards and resolutions you're interested in using the controls to the right of the video. Below the video is a bar chart, where you can hover to see different metrics like the worst one per cent or average frame-rate, and click to toggle between absolute frame-rate measurements and percentages. Now, let's get started with the results!
Assassin's Creed Odyssey
We begin with Assassin's Creed Odyssey, a game that challenges both CPU and GPU. At 1080p, even high-end systems are likely to be CPU-bound, and that's what we see here - the similarly-specced RTX 2080 and RTX 2080 Super are nearly indistinguishable, with only the superior power of the RTX 2080 Ti allowing it to jet ahead. Moving to higher resolutions, the 2080 Super's additional shaders and faster memory provides about five per cent faster frame-rates - in line with what Nvidia promised in its reviewer's guide.
AC Odyssey: Ultra High, TAA
Assassin's Creed Unity
Another Assassin's Creed title now, and this time it's the one set in Revolution-era France: Unity. The RTX 2080 Super again manages a five per cent lead at 1080p, rising to six per cent at 1440p and nine at 4K. The comparison against AMD's RX 5700 XT is also meaningful, as better handling of the depth of field effects allows the XT to surprisingly draw level with the Radeon 7. However, both cards remain about 25 per cent behind the 2080 Super at 1440p and 4K. Meanwhile, the RTX 2080 Ti is the only card that comes close to delivering a perfect experience at 4K, with a solid 60fps average here.
Assassin's Creed Unity: Ultra High, FXAA
Battlefield 1
Battlefield 1 is a DirectX 12 title that we always expect to see Radeon cards to well in, but at the upper end of the stack Team Red just don't have a viable high-end card to challenge Nvidia's best. The 2080 Super eclipses both the Radeon RX 5700 XT and the Radeon 7 at 1080p, by 11 and six per cent, respectively, with the XT becoming less competitive as resolution increases but the Radeon 7 becoming more of a match for the 2080 Super. Comparing the 2080 and 2080 Super, the latter card holds about a 10 per cent lead at 1440p and 4K - double the advantage we saw in the Assassins Creed tests.
Battlefield 1: Ultra, TAA
Crysis 3
Crysis 3's Welcome to the Jungle mission is one of the few levels that remains enjoyable to play even after dozens of benchmark runs, thanks to an action-packed train ride setpiece at the end. Here newer graphics cards aren't able to rely on the optimisations built into newer engines, so raw horsepower becomes more of a determining factor. The difference between the overclocked RTX 2080 Founders Edition and the reference clocked RTX 2080 Super Founders Edition measures six per cent at 1440p, rising slightly to seven per cent at 4K. We'd likely see a slightly larger difference, perhaps in the realm of 10 per cent, if we were able to test reference against reference. Finally, the 2080 Super leads the Radeon 7 by 14 per cent at 1440p and seven per cent at 4K.
Crysis 3: Very High, SMAA T2X
Far Cry 5
Fast forward a few years and one major offshoot, and Far Cry 5 takes what was once the CryEngine to new heights. This game uses a fair amount of CPU horsepower, so we see only margin-of-error differences between the 2080, 2080 Super and 2080 Ti at 1080p, even with a test rig based around a Core i7-8700K clocked at 4.7GHz on all cores and 3400MHz RAM. Moving to 1440p, the differences between these cards become more apparent - the 2080 Super is four per cent ahead of the 2080 at 1440p, with the 2080 Ti holding a twelve per cent advantage over the Super. These gaps widen again at 4K, with the 2080 Super beating the standard card by six per cent and the Ti extending its lead over the Super model to 18 per cent.
Ghost Recon Wildlands
Ghost Recon Wildlands is a generally easy game to run on average PC hardware, unless you accidentally turn everything up to ultra. This preset is incredibly punishing, so much so that this 2017 title remains the hardest test in our arsenal. At 1440p, the 2080 Super holds a five per cent lead over the 2080, with the Ti a further 14 percentage points ahead. Things are broadly similar at 4K, with the gap widening on both counts by one or two per cent. Meanwhile, the 2080 Super leads the 5700 XT and Radeon 7 at 4K by about 15 and 10 per cent, respectively.
Ghost Recon Wildlands: Ultra, TAA
Rise of the Tomb Raider
Rise of the Tomb Raider isn't the graphical tour-de-force it once was, but its predictable scenes make it a good benchmarking tool even in 2019. The RTX 2080 and RTX 2080 Super are very stable in this test, differing by five per cent at every resolution we tested. Meanwhile, the 2080 Ti remains ahead by around 20 to 30 per cent.
Rise of the Tomb Raider: Very High, SMAA
Shadow of the Tomb Raider
Compared to its predecessor, Shadow of the Tomb Raider runs on a more modern iteration of Crystal Dynamics/Nixxes' Foundation Engine and includes a number of DirectX 12 features (plus ray traced shadows, not used in our test). However, the 2080 Super shows relatively small gains against the 2080 at 1080p. At 1440p and 4K, the advantage comes closer to that five per cent figure we expected.
Shadow of the Tomb Raider: Highest, TAA
The Witcher 3
The Witcher 3 is one of the older games in our benchmark suite, and unfortunately that means modern graphics cards are getting so powerful that we're running into CPU limitations at 1080p and even 1440p. That manifests in random stutter, which largely invalidates the lowest one per cent scores we like to look at. The CPU bottleneck explains why a 2080 Super is nearly dead on the 2080 Ti at 1080p, when results at 1440p and 4K show the Nvidia flagship running 18 to 22 per cent faster.
Witcher 3: Ultra, Post-AA, No Hairworks
Strange Brigade
While we've come to the end of our usual test suite, this page will keep going with a trio of modern games we recently added. We don't have quite as many cards tested here, but it still makes interesting reading. First is Strange Brigade, an AMD favourite thanks to its excellent DX12 and Vulkan implementations that minimise CPU usage and allow graphics cards to deliver very stable results. We've chosen to include some overclocked results here at 1440p and 4K, marked as '2080 OC', showing the result of a modest +100Mhz core clock boost and a larger +1250MHz tweak to VRAM frequency. As you can see below, the overclocked card cuts the 2080 Ti FE's lead over the 2080 Super in half.
Strange Brigade: Ultra, DX12
Metro Exodus
Metro Exodus is a new and notable title, but the performance differential here is well in line with our expectations - relatively little difference at 1080p, then around a five per cent difference at the upper resolutions. The 2080 Ti remains extremely strong here, even against our overclocked RTX 2080 Super card.
Metro Exodus, Ultra, DX12
Battlefield 5
We'll conclude with another recent DirectX 12 release, Battlefield 5. The RX 5700 XT performs amazingly here, proving surprisingly competitive with cards like the 2080 and 2080 Super that are far outside of its pay grade. Meanwhile, the RTX 2080 Super is relatively poor in its overclocked showing outside of 4K, where the memory overclock is finally put to good use.
Battlefield 5, Ultra, DX12