Nvidia GeForce RTX 2080 Super review: evolution, not revolution
More cores, more frequency and improved RAM - but just how much faster is it overall?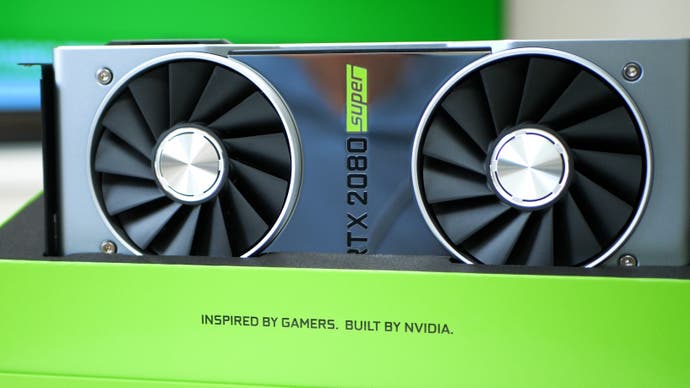 After two Super launches in early July, today Nvidia completes the trio with the release of the RTX 2080 Super. The 2060 Super and 2070 Super have more-or-less replaced the original RTX 2070 and 2080 respectively, so does the 2080 Super challenge the next card in Nvidia's stack, the almighty 2080 Ti? In a word, no - but the new card does maintain a conservative performance advantage over the original 2080 while costing $100 less than the RTX 2080 Founders Edition that debuted in 2018. That should make the 2080 Super the obvious number two graphics card on the market, ahead of the original RTX 2080 and AMD's Radeon 7, but how close is the race?
As with the earlier Super cards, the 2080 Super's improved horsepower is provided by upgrades to a few key specifications. For starters, the 2080 Super is the first fully-enabled TU104 GPU with all 3072 CUDA cores to be launched into the consumer space, an increase of 128 CUDA cores over the standard RTX 2080 - which provides a small improvement to compute, aided by a small increase to boost clock. Its memory data rate has been raised from 14Gbps to 15.5Gbps too, providing a corresponding boost in memory bandwidth from 448GB/s to 496GB/s - and in our testing, that's only the beginning of the memory bandwidth increase that's possible with this card. All of these changes are reflected in a moderately higher TDP for the 2080 Super, which is rated at 250W compared to the 215W of the original 2080.
Despite the higher power usage, there are only cosmetic design changes between the RTX 2080 FE and the RTX 2080 Super FE cards. The new model has a reflective finish between its two axial fans and a green 'Super' wordmark plastered on, but it uses the same two-slot design as its predecessors and feels just as reassuringly solid in the hand. The port report also remains unchanged, with six-pin and eight-pin supplementary power connectors and an identical I/O quintet: three DisplayPort, one HDMI port and one USB-C VirtualLink port. We didn't expect changes here - except maybe the inclusion of a spoiler or some flame decals - but it's good to confirm everything is present and correct.
| | 2060 Super | RTX 2070 | 2070 Super | RTX 2080 | 2080 Super |
| --- | --- | --- | --- | --- | --- |
| CUDA cores | 2176 | 2304 | 2560 | 2944 | 3072 |
| Giga Rays/sec | 6 | 6 | 7 | 8 | 8 |
| VRAM | 8GB GDDR6 | 8GB GDDR6 | 8GB GDDR6 | 8GB GDDR6 | 8GB GDDR6 |
| Memory Bus | 256-bit | 256-bit | 256-bit | 256-bit | 256-bit |
| Bandwidth | 448GB/s | 448GB/s | 448GB/s | 448GB/s | 496GB/s |
| Boost Clock | 1650MHz | 1620MHz | 1770MHz | 1710MHz | 1815MHz |
| Processor | TU106 | TU106 | TU104 | TU104 | TU104 |
| TDP | 160W | 175W | 175W | 215W | 250W |
It's fascinating to see how Nvidia has used its three core RTX processor designs to reshuffle the stack with the Super range. The bottom end TU106 is used on RTX 2060 and its Super equivalent, while the 2070 Super gets an upgrade to a more powerful TU104. Not every chip that rolls off the production line is perfect, so the defective ones have CUDA cores disabled and are sent out of the factory as RTX 2070 Super. RTX 2080 always used a slightly pared back design, but now the fully unlocked chip is used to deliver the new RTX 2080 Super, backed by the fastest GDDR6 memory available to Nvidia.
These hardware upgrades should guarantee better performance for the new Super card, but how big of a boost are we talking about? It's a bit reductive to answer that question with a simple number, so we'll be taking a look at real-world performance across a dozen of our favourite recent (and not so recent) games to see where these upgrades will be felt - and just as importantly, where they won't.
As well as comparing Nvidia's RTX and RTX Super lineups, we have also included AMD's recent mid-range offerings, the Radeon RX 5700 and RX 5700 XT, plus the company's lone high-end card, the Radeon 7 - hotly rumoured to have been discontinued in the wake of the RX 5700 XT's disturbingly close performance. Don't expect too much in the way of scaling at 1080p resolutions - CPU power hasn't scaled with increases in GPU capabilities over the years, meaning that this class of GPU can even overwhelm the fastest gaming CPUs money can buy, sometimes even at 1440p too. When CPU-bound, random stutter intrudes, so you may see impacted lowest five per cent and one per cent scores on the higher end cards. For a true comparison of relative power, the 4K scores we have are most indicative...
Important note: We've tested Founders Edition RTX cards across the board here, and while the original RTX releases featured small factory overclocks, the Super FE cards do not. This gives the older cards a boost in the region of four to five per cent, but it doesn't seem to make too much difference to the actual gameplay experience. Furthermore, the spec table above shows the reference specifications only.
Nvidia GeForce RTX 2080 Super Analysis