AMD Radeon RX 5700 benchmarks: comfortably better than RTX 2060
Team Red's cheapest 7nm GPU is a worthy performer at 1440p.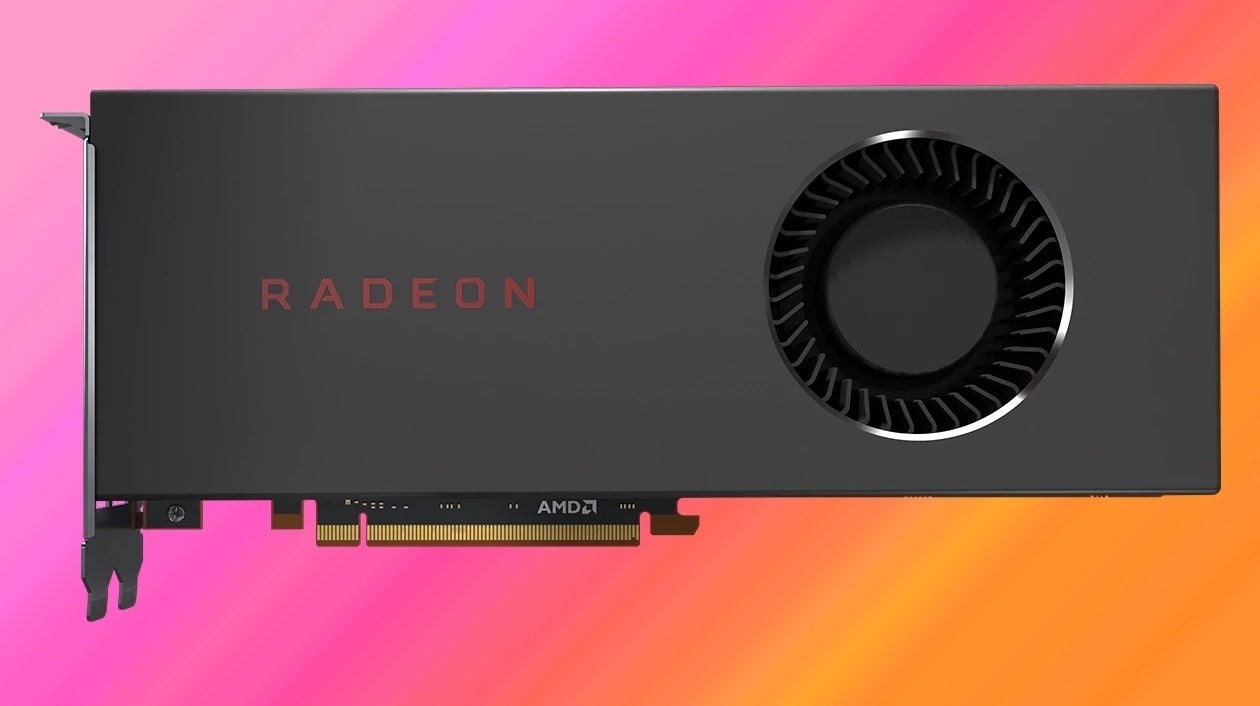 The cheaper of AMD's two long-awaited Navi graphics cards, the Radeon RX 5700 provides strong results at 1080p and 1440p for just $349/£339/€369. AMD's stated goal with this card was to outperform the RTX 2060 at the same price point, and it largely delivers on this promise, even in games where Team Red isn't normally competitive. The secret to these impressive results is the new 7nm process AMD is using, which allows the RX 5700 to generate greater performance from fewer compute units and less memory bandwidth with only a small bump to core clocks. While the RX 5700 XT offers more raw horsepower, the smaller card arguably offers better value for money - especially after it saw a pre-launch price drop of $30.
Of course, whether or not it's a good buy for you depends on a lot of factors, including the games you like to play, so looking at performance in greater detail can be helpful. In this article, we'll show you exactly how what this GPU can do in the context of its two closest rivals, the RTX 2060 and the recently released RTX 2060 Super. We'll also look at how the RX 5700 fits into the AMD graphics card stack as a whole, with performance comparisons to older AMD cards you might be using or considering like the Vega 56, Vega 64 or Radeon 7.
We tested the RX 5700 and its peers in some new games this time around, adding Strange Brigade, Metro Exodus and Battlefield 5 to bring our test suite to 12 recent titles. These later tests don't include data for some older cards, such as the Vega 56 and Vega 64, so we'll include them last. We tested each game at three resolutions, 1080p, 1440p and 4K, as this mid-range card can theoretically handle any of the above.
---
Which GPUs are worth buying? We've made our picks for the best graphics cards available, updated with the latest graphics cards as they're released. As well as an overall performance champ, we name the best value graphics card and best cheap graphics card to guide your next upgrade.
---
In order to minimise the impact of CPU bottlenecking, we opted for an open air test bed running a Core i7 8700K overclocked to 4.7GHz on all cores. This was paired with a Digital Storm 240mm AiO CPU cooler, 16GB of DDR4 memory running at 3400MHz in dual channel mode and an Asus Maximus XI motherboard. All games were run from SSD storage.
The RX 5700 and RX 5700 XT units we tested are reference models, operating at stock speeds with cooling duties handled by a single fan in a 'blower' configuration. That means these cards will work reliably even in cramped cases, but the side effect is more fan noise and less cooling potential than a more traditional dual or triple fan design. If you have good case airflow, it might be worth waiting for a custom design from one of AMD's partners, although overall performance should remain largely in line with our results here.
It's worth noting that the RTX 2060 and RTX 2070 in our charts are Founders Edition cards made by Nvidia. That means they operate at higher than reference clocks and come with a beefy cooling solution, but they also cost more than entry-level cards. The RTX 2060 Super and 2070 Super, on the other hand, are more traditional reference cards that should mirror other basic cards in performance.
The spec table below is interesting viewing, as we know the RX 5700 definitively outperforms the Vega 64 despite possessing fewer compute units and slower memory than its predecessor. This underscores the importance of looking at actual performance figures, as looking at just the specs in isolation can be misleading.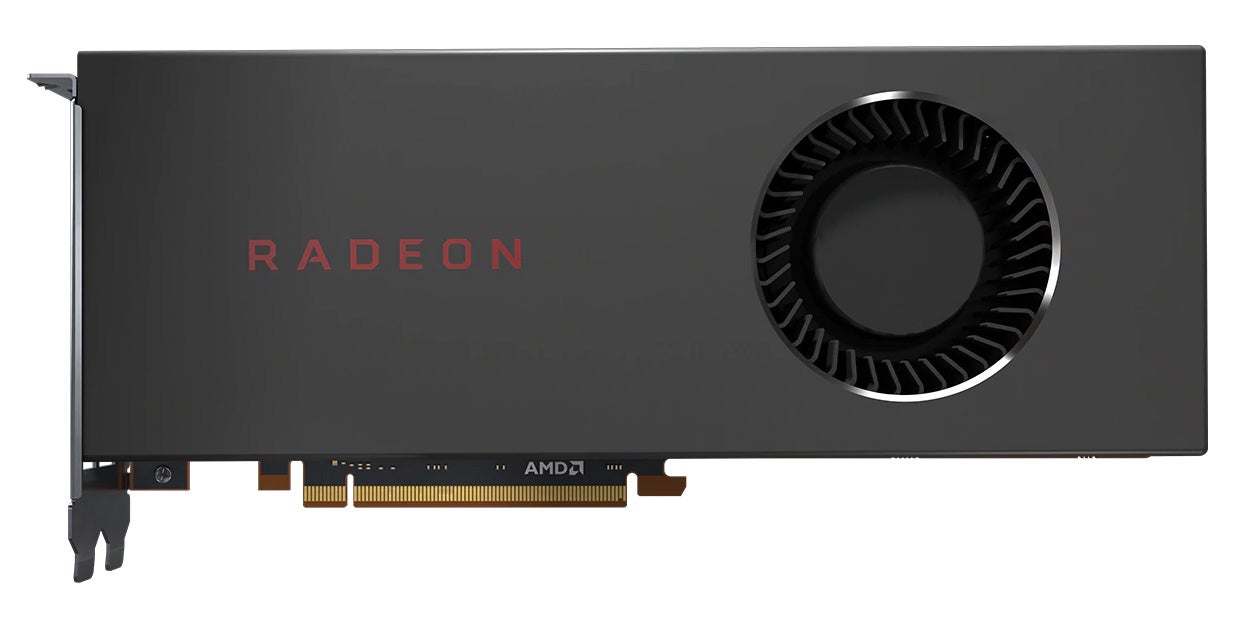 | AMD | GPU cores | Boost Clock | TFLOPs | Memory | Bandwidth | TDP |
| --- | --- | --- | --- | --- | --- | --- |
| Vega 56 | 3584 | 1474MHz | 10.6 | 8GB HBM2 | 410GB/s | 210W |
| Vega 64 | 4096 | 1546MHz | 12.7 | 8GB HBM2 | 484GB/s | 295W |
| RX 5700 | 2304 | 1725MHz | 7.5 | 8GB GDDR6 | 448GB/s | 185W |
| RX 5700 XT | 2560 | 1905MHz | 9.0 | 8GB GDDR6 | 448GB/s | 225W |
| Radeon 7 | 3840 | 1800MHz | 14.2 | 16GB HBM2 | 1024GB/s | 295W |
| Nvidia | GPU cores | Boost Clock | TFLOPs | Memory | Bandwidth | TDP |
| --- | --- | --- | --- | --- | --- | --- |
| RTX 2060 | 1920 | 1680MHz | 6.5 | 6GB GDDR6 | 336GB/s | 160W |
| 2060 Super | 2176 | 1650MHz | 7.2 | 8GB GDDR6 | 448GB/s | 175W |
| RTX 2070 | 2304 | 1620MHz | 7.5 | 8GB GDDR6 | 448GB/s | 175W |
| 2070 Super | 2560 | 1770MHz | 9.1 | 8GB GDDR6 | 448GB/s | 215W |
As AMD took the unusual step of changing their pricing before launch, it's also worth remembering how much the RX 5700 actually costs. In the US, the RRP is $349, precisely the same as the old RTX 2060 Founders Edition. The $399 slot occupied by the faster RX 5700 XT is challenged by the upgraded RTX 2060 Super. In the UK, the RX 5700's suggested pricing is £339, while the RX 5700 XT goes for £379. Elsewhere in Europe, expect to pay around €369 for the RX 5700 and €419 for the XT.
AMD Radeon
Nvidia GeForce
Suggested Pricing
Radeon RX 5700
RTX 2060 FE
$349/£339/€369
Radeon RX 5700 XT
RTX 2060 Super
$399/£379/€419
RTX 2070 FE (discontinued)
RTX 2070 Super
$499/£475/€559
Radeon 7
RTX 2080 FE
RTX 2080 Super (July 23rd)
$699/£669/€739
RTX 2080 Ti FE
$1199/£1099/€1259
To show you the results of our testing, we've stuck with our tried and true dynamic benchmarking system. On mobile, that means a simple table showing the average and one-percent worst frame-rates for each card and resolution. On a PC though, you'll get the full-blooded DF experience by clicking play on one of the YouTube videos embedded below. Live frame-time and frame-rate stats will be shown throughout the test scene, letting you see how each card handles 1080p, 1440p or 4K. You can select up to four data points to the live comparison using the controls to the right, so you could just look at the resolution that matches your monitor or remove graphics cards you're not considering.
Below the video section, we also have barcharts which are a more glanceable way to judge performance. Hover over the chart with your mouse to see how each card performs at its best and worst, and click on the chart to switch between raw frame-rate numbers and more convenient percentages. With that brief explainer out of the way, let's get into the results!
Assassin's Creed Odyssey
The AMD logo that appears when you boot up Assassin's Creed Odyssey might suggest that this game plays well on a Radeon card, but there are two major issues here: AMD's relatively high driver overhead and the game's substantial CPU utilisation. That means we get slightly worse performance here than we would otherwise expect, with the RX 5700 eclipsing the RTX 2060 as promised but falling seven per cent behind the RTX 2060 Super at 1080p. The advantage for the 2060 Super over the 5700 widens to 12 per cent at 1440p and 15 per cent at 4K.
AC Odyssey: Ultra High, TAA
Assassin's Creed Unity
Assassin's Creed Unity is another title that AMD hardware tends to have trouble with. Historically, the depth of field effect used liberally in our test scene has a calamitous effect on Radeon cards that isn't found on Nvidia models. However, the RX 5700 series is finally able to break the curse, edging out a small lead over the RTX 2060 at 1080p without the extreme frame-rate variation we would normally expect from AMD cards. If we look at the 1440p and 4K results, the Radeon 5700 does even better, gaining a four per cent lead over the RTX 2060 at 1440p and a five per cent lead at 4K. The Radeon 5700 XT is between 15 to 10 per cent faster than the regular 5700 card at all three resolutions.
Assassin's Creed Unity: Ultra High, FXAA
Battlefield 1
AMD's cards typically perform better under newer graphics APIs like DirectX 12 and Vulkan, and Battlefield 1 is a great example of this. The RX 5700 manages a comfortable 118fps average at 1440p, leading the RTX 2060 by a massive 16 per cent. In fact, the RX 5700 is even competitive with the $50 more expensive RTX 2060 Super, coming just a few points behind at most resolutions. If you're considering spending a little more, both the RTX 2070 Super and Radeon 5700 XT are about 10 per cent faster than the vanilla 5700 card at 1440p.
Battlefield 1: Ultra, TAA
Crysis 3
Cryis 3 is one of the oldest titles in our test suite, but it remains a stern challenge at higher resolutions given our highly explosive test scene. The RX 5700 acquits itself well, with a three percent lead over the RTX 2060 at 1080p that rises to six per cent at 1440p and 4K. The RX 5700 XT provides about 11 per cent faster frame-rates at 1440p, a little bit faster than the RTX 2060 Super at the same price.
Crysis 3: Very High, SMAA T2X
Far Cry 5
Far Cry 5 is another bright point for the Radeon RX 5700. If we look at 1440p results for this 2018 release, the RX 5700 manages to outperform both the RTX 2060 and the RTX 2060 Super, putting it on par with the RTX 2070 Founders Edition. The RX 5700 XT also performs well, with a 101fps average that effectively ties the RTX 2070 Super. Overall, an excellent result for AMD and one that speaks to their efforts towards improving performance in DirectX 11 titles, a traditional weakness.
Ghost Recon Wildlands
Ghost Recon Wildlands is another recent DirectX 11 title, but its maximum graphical fidelity preset is much more challenging than that of Far Cry 5, despite being released a year earlier. The RX 5700 is again competitive, delivering a 51fps average at 1440p that comes 11 per cent ahead of the vanilla RTX 2060 and ties the RTX 2060 Super. The same trend holds true for the RX 5700 XT, with a 12 per cent advantage over the RTX 2060 Super it equals in price.
Ghost Recon Wildlands: Ultra, TAA
Rise of the Tomb Raider
Returning once again to the all-important 1440p tests, we can see the RTX 2060 is handily outgunned by the Radeon RX 5700 in Rise of the Tomb Raider. The 5700 manages a 91fps average compared to just 82fps for the RTX 2060 at the same price, while nearly equally the 93fps average of the RTX 2060 at $50 more. The RX 5700 XT is less competitive here, coming in between the 92fps RTX 2060 Super and the 110fps RTX 2070 Super with an average of 102fps at 1440p. It's a similar story at 1080p and 4K, although AMD is marginally less competitive at these resolutions.
Rise of the Tomb Raider: Very High, SMAA
Shadow of the Tomb Raider
In the latest Lara Croft vehicle, Shadow of the Tomb Raider, the RX 5700 leads the RTX 2060 by 14 per cent to conclusively win its 1440p matchup. However, the RX 5700 doesn't manage to tie the RTX 2060 Super as we've seen in some other tests, instead falling four per cent behind the more expensive Nvidia card at the same resolution. The 5700 XT ties the RTX 2070 at 1440p, continuing the streak for AMD. If you're willing to pay an extra $100 for the RTX 2070 Super over the 5700 XT, you can expect just nine per cent faster frame-rates at 1440p.
Shadow of the Tomb Raider: Highest, TAA
The Witcher 3
The Witcher 3 is the final test in our customary game suite, as we hoof it around the streets of Novigrad in this 2015 release. The RX 5700 manages an 82fps average at 1440p, just ahead of the RTX 2060 but behind the RTX 2060 Super. Meanwhile, the RX 5700 XT manages 91fps in the same scene at the same resolution, an advantage over the RTX 2060 Super of five per cent. 4K gaming is also possible on both cards, with 45fps and 49fps averages for the RX 5700 and RX 5700 XT, respectively, but we'd recommend turning down a few graphical options (or sticking to more rural settings) to guarantee a solid 60fps average.
Witcher 3: Ultra, Post-AA, No Hairworks
Strange Brigade
AMD's frequent citations of Strange Brigade performance are something of an in-joke in the PC hardware community, but it turns out it's for good reason: Radeon hardware performs exceptionally in this underlooked game, with the RX 5700 achieving a 63fps average at 4K on max settings. By comparison, the RTX 2060 manages just 53fps in the same test, while the RTX 2060 Super hits 62fps - still slower than AMD's entry-level Navi card. The RX 5700 XT also performs well, with its 68fps average allowing it to pull ahead of the RTX 2060 Super and the vanilla RTX 2070.
Strange Brigade: Ultra, DX12
Metro Exodus
This opening scene from the Volga level of Metro Exodus is tricky to benchmark at the time of writing, thanks to the game's seemingly mandatory v-sync. However, a simple alt-tab later we're back in business with unlocked performance - and the RX 5700 does quite well in this challenging release. The 83fps average at 1440p is a solid 12 per cent faster than the RTX 2060 and just three per cent slower than the RTX 2060 Super card. Things look different at 1080p and 4K though, as the heavy CPU utilisation of this test scene stresses even the overclocked Core i7 8700K we use to measure performance. The RX 5700 is five per cent behind the RTX 2060 (non-Super) at 1080p and 22 per cent behind the RTX 2060 Super, disappointing results, while we measured a 10 per cent lead for the RTX 2060 over the RX 5700 at 4K. Clearly, work still needs to be done to improve AMD's results here.
Metro Exodus, Ultra, DX12
Battlefield 5
Our final test for today is Battlefield 5, another DirectX 12 title that we expect AMD hardware to positively scream in. Our benchmark, taken from the opening of the Tirailleur single-player war story, shows the RX 5700 just a hair below 60fps at 4K and ultra settings. That's 34 per cent faster than the RTX 2060, and even three per cent faster than the RTX 260 Super. Finally, the RX 5700 XT adds another 10 per cent to the average fps figure, allowing the game to run in excess of 60fps at 4K.
Battlefield 5, Ultra, DX12