Face-Off: Trials Fusion
RedLynx's cross-gen game compared on PS4, Xbox One, PC and 360.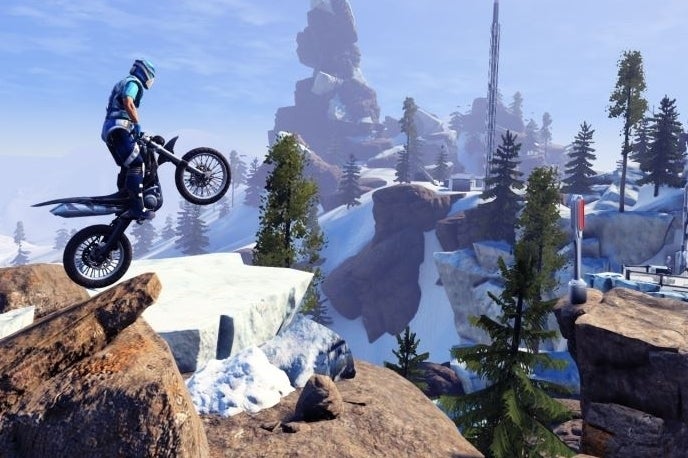 Trials Fusion is the most ambitious entry in RedLynx's physics-driven motorbike game to date, developed in tandem with other internal studios at Ubisoft and delivered on four platforms - PS4, Xbox One, PC and Xbox 360. The most exciting battleground is next-gen console, where Fusion shoots for full 1080p on PS4, while optimisation has clearly gone down to the wire on Xbox One, which arrived at 800p before being boosted to 900p in a day-one patch.
The Trials series has always had convincing physics, dynamic lighting, a bullish commitment to 60fps and material effects impacting control across the environment, and despite splitting its focus across more platforms we find Trials Fusion is much the same. It still uses a 2D plane for gameplay while flexing its technical might with outlandish, detailed 3D backdrops, and thankfully the team knows when to hold back eye candy for the sake of playability.
This goes for resolution, too, where the Xbox One version has made waves for a last-minute switch in specification. Inspecting captures before and after the patch, we're able to confirm the default resolution is 1408x800, rising impressively to 1600x900 post-patch to achieve a 30% increase in pixels. This still falls short of matching PS4 running at 1920x1080 (and of course PC running at that and more), but produces a marked boost in clarity that softens the blow.
Meanwhile, the Xbox 360 release operates at 1024x608 to produce the most garish stair-stepping artefacts of the bunch on the opening tutorial levels. Pixel crawl is also evident on Xbox One for bright, interior areas with bold lines - even with post-processing AA lavished over the top, matching the PC's high-quality implementation of FXAA3 - but the game's many outdoor stages avoid this problem, as you can see in our zoomer comparison showcasing the Xbox One version at 800p and 900p alongside the PS4 and 360 releases.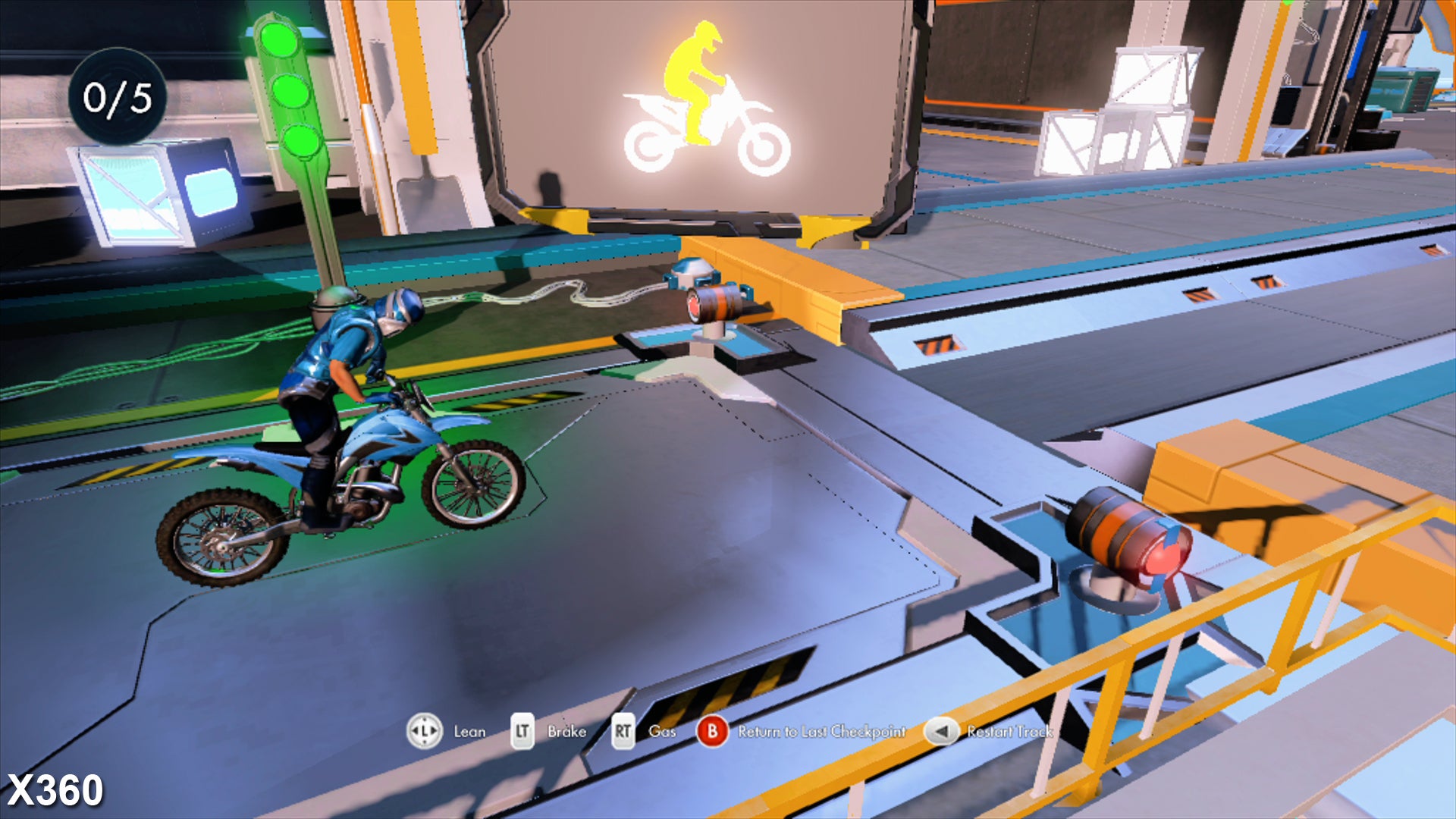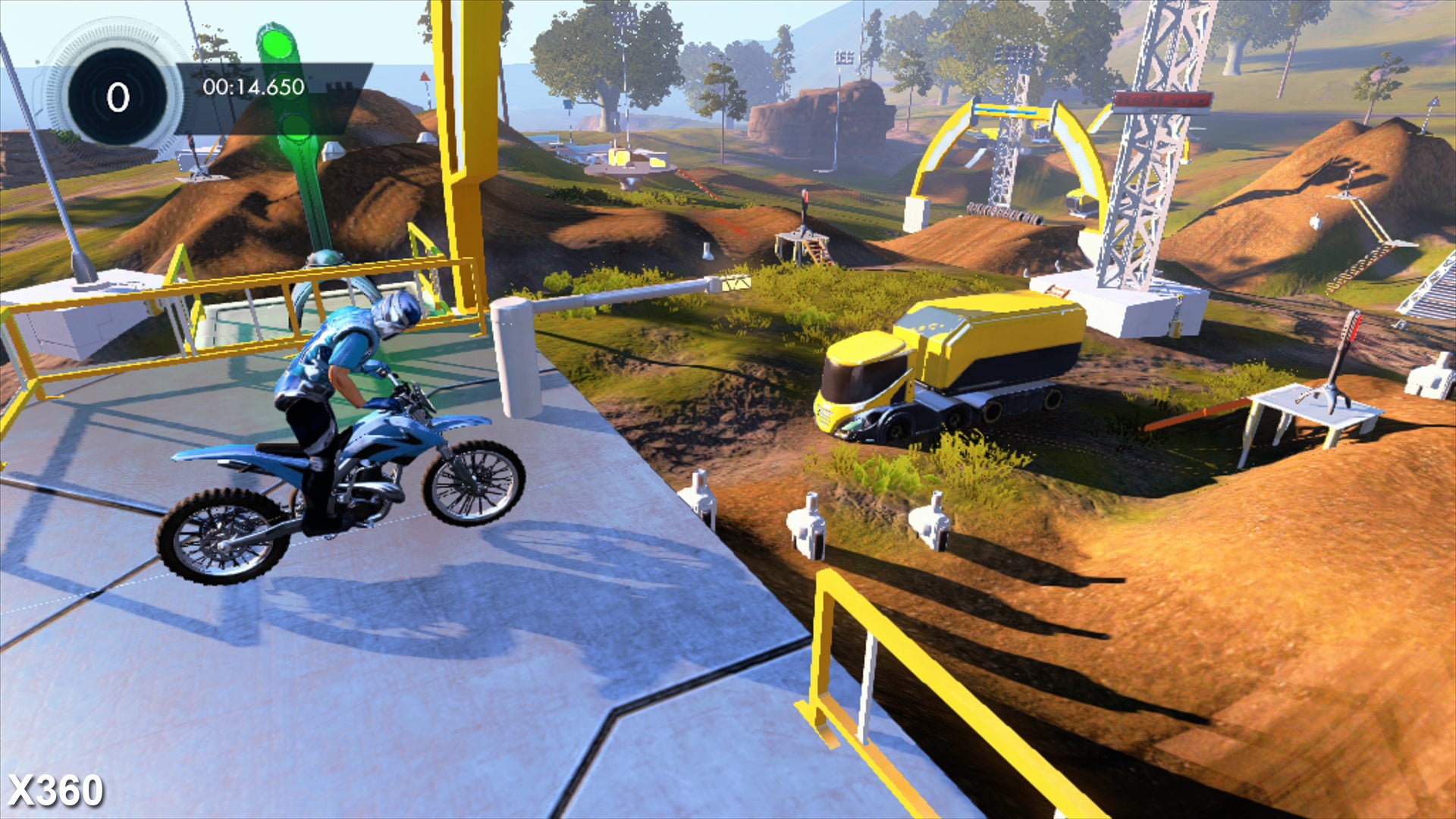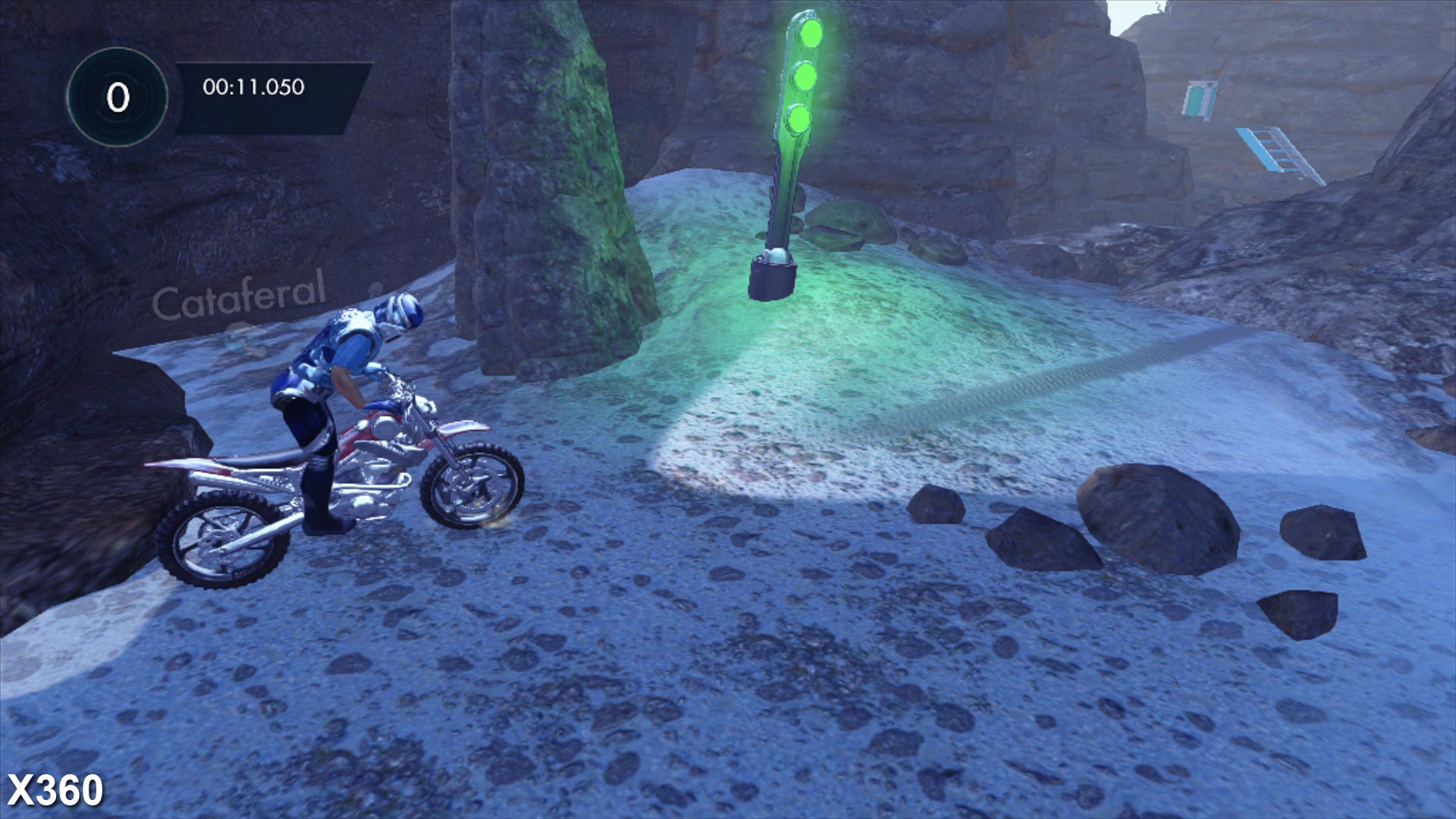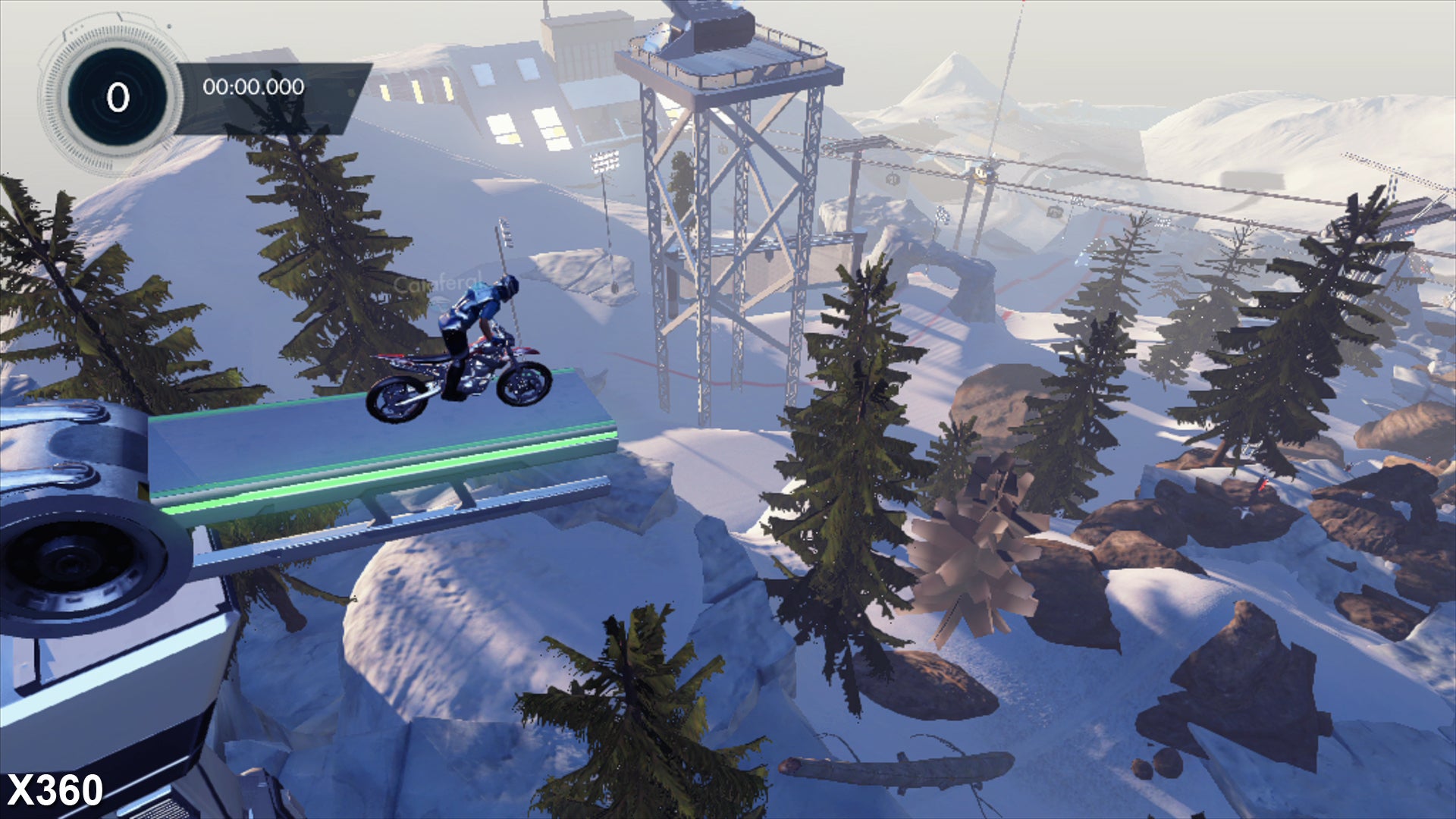 The patch also introduces a number of other fixes, altering background terrain, addressing shadow bugs and widening the field of view slightly to match PS4 and PC. With the PS4 and 360 patched up too (version 1.01), we also see the impact of these tweaks in our four-way Trials Fusion comparison gallery, plus our suite of head-to-head videos below.
In summary, the actual core assets are largely identical between PS4 and Xbox One, with most visual facets falling in line with the PC release on ultra settings. Ambient occlusion makes the cut for console, as do maximum-quality water shaders. Unfortunately we do see alpha details reined in on these newer systems, and this is easy to spot given the prevalence of fire and explosions, which look much crisper on PC where alpha can run free.
The console releases also struggle with asset draw speed. Much like its predecessor, Trials Fusion uses a virtual texturing system, similar to id Software's Rage, which involves wrapping the world's geometry in one single giant texture and then streaming in segments as you drive to the right. This setup is ideal for Trials, where the user's viewpoint is usually predictable, and the results are stunning for an early digital release on uncharted next-gen hardware. Texture quality and shadowing are largely identical across PC and next-gen, and from rocky mountain descents to fluid neon-tinged loops, the visual variety in Fusion is a welcome continuation of the trend started by 2009's Trials Evolution. However, we do notice PS4 and Xbox One struggling to stream segments of the world fast enough from their hard disks, resulting in some pop-in.
"A strong performer across the board, both PS4 and Xbox One come close to matching PC on ultra settings."
Alternative comparisons:
These streaming issues are especially glaring on PS4 during the Turbine Terror stage, where the blurred texture beneath our tyres fails to update until we're far past it. Pop-in also flares up aggressively when restarting from various checkpoints on Xbox One, and here even shadow maps can be found snapping into view. In the reference PC version, however, pop-in goes almost unnoticed if you're playing on a machine with an SSD to stream from.
Elsewhere, RedLynx has taken the curious decision to run dynamic shadows in the background at 15fps on all formats - a quarter of the game's overall frame-rate. Moving shadows and lights positioned closer by, such as those below your bike during a massive freefall, are rendered at 30fps, and once the rubber hits the tarmac shadows and headlights return to full 60fps. It's an interesting approach to scaling the accuracy of the dynamic lighting based on distance, although the decision to quarter the frame-rate in the background is noticeable during gameplay.
In all the excitement about PC and next-gen, we shouldn't forget the Xbox 360 version. Predictably we see lower-quality settings employed across the board on 360, whether it's normal maps or shader effects, while ambient occlusion is gone entirely. The world appears plainer and brighter as a result, with shadows lost in several areas and even a bit of geometry, but with all that said, these are largely superficial changes, and the terrain in the foreground is essentially identical to PS4 and Xbox One. The only sore spot is a slightly narrower field of view, which can impact reaction times when accelerating quickly, but most players won't notice this.
Those upgrading to either PS4 or Xbox One can enjoy certain benefits, of course. While neither version is a match for PC, alpha is higher quality across the board, pop-in is reduced and the game benefits from a stronger radiant bloom effect. A nasty shadow-filtering cascade is common to all platforms, however - causing sharper shadows to swap in once it passes an invisible line. It's noticeable when the camera tilts further to the right to show the road ahead, and even the PC release can't escape its effects.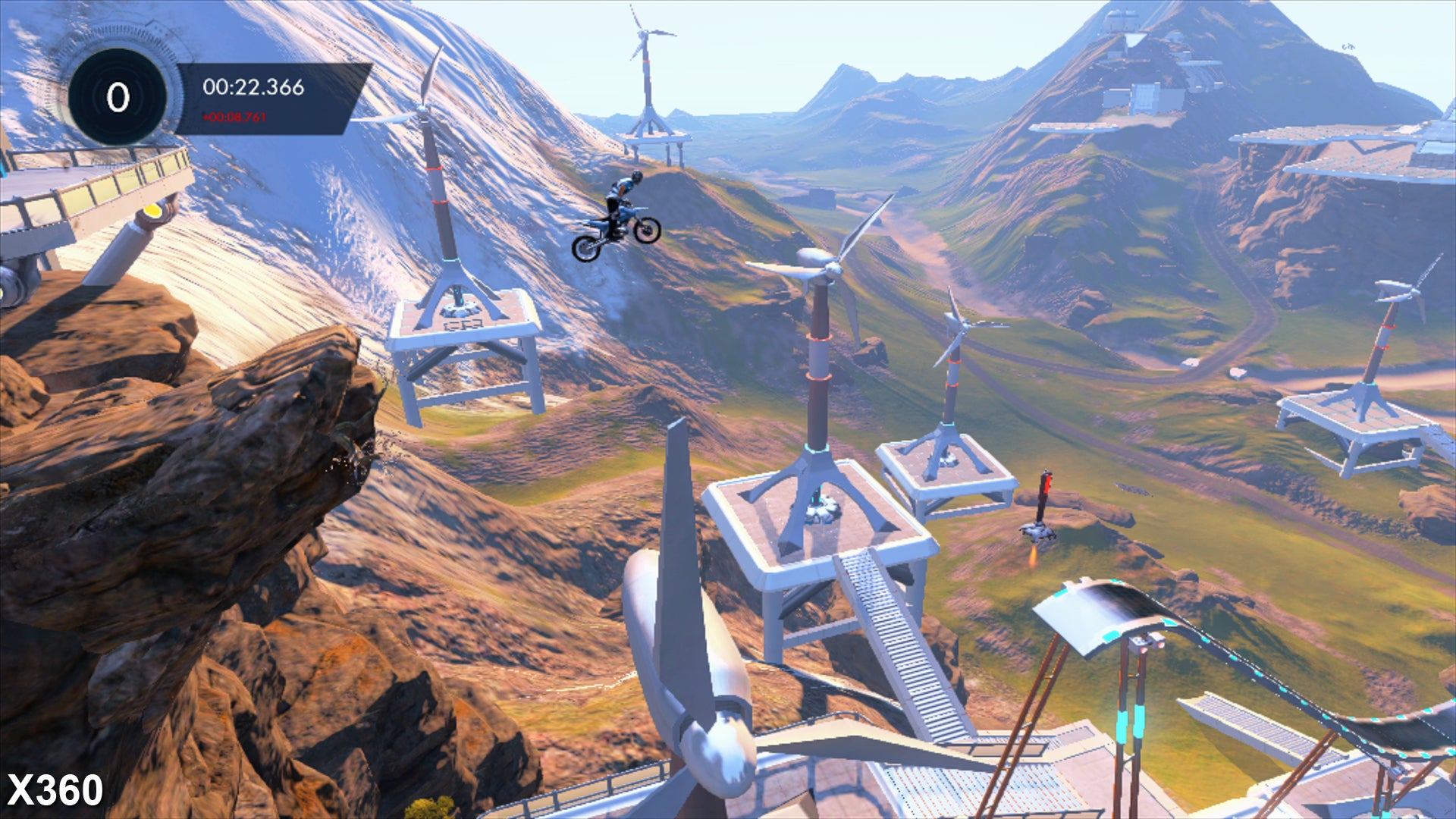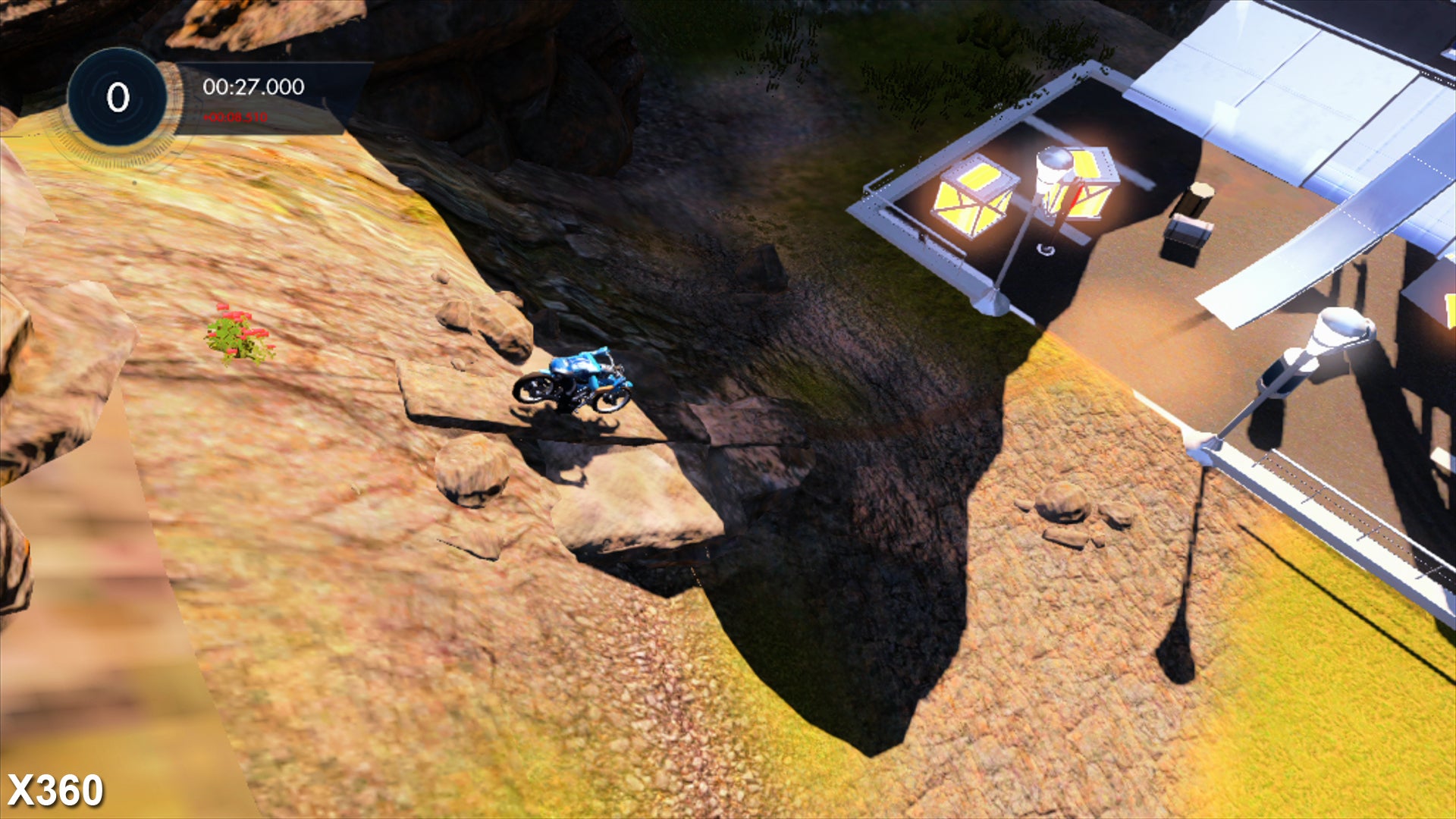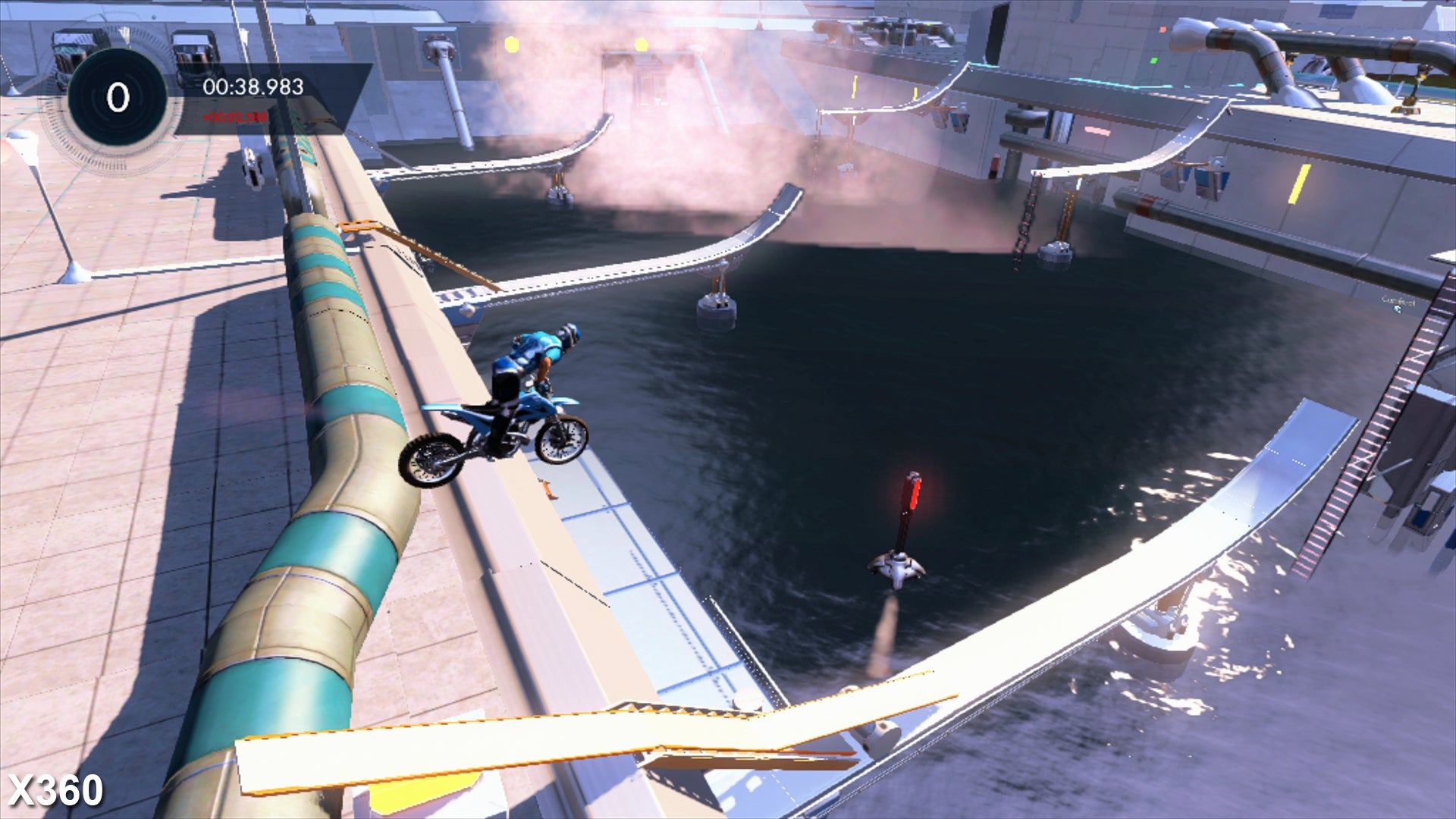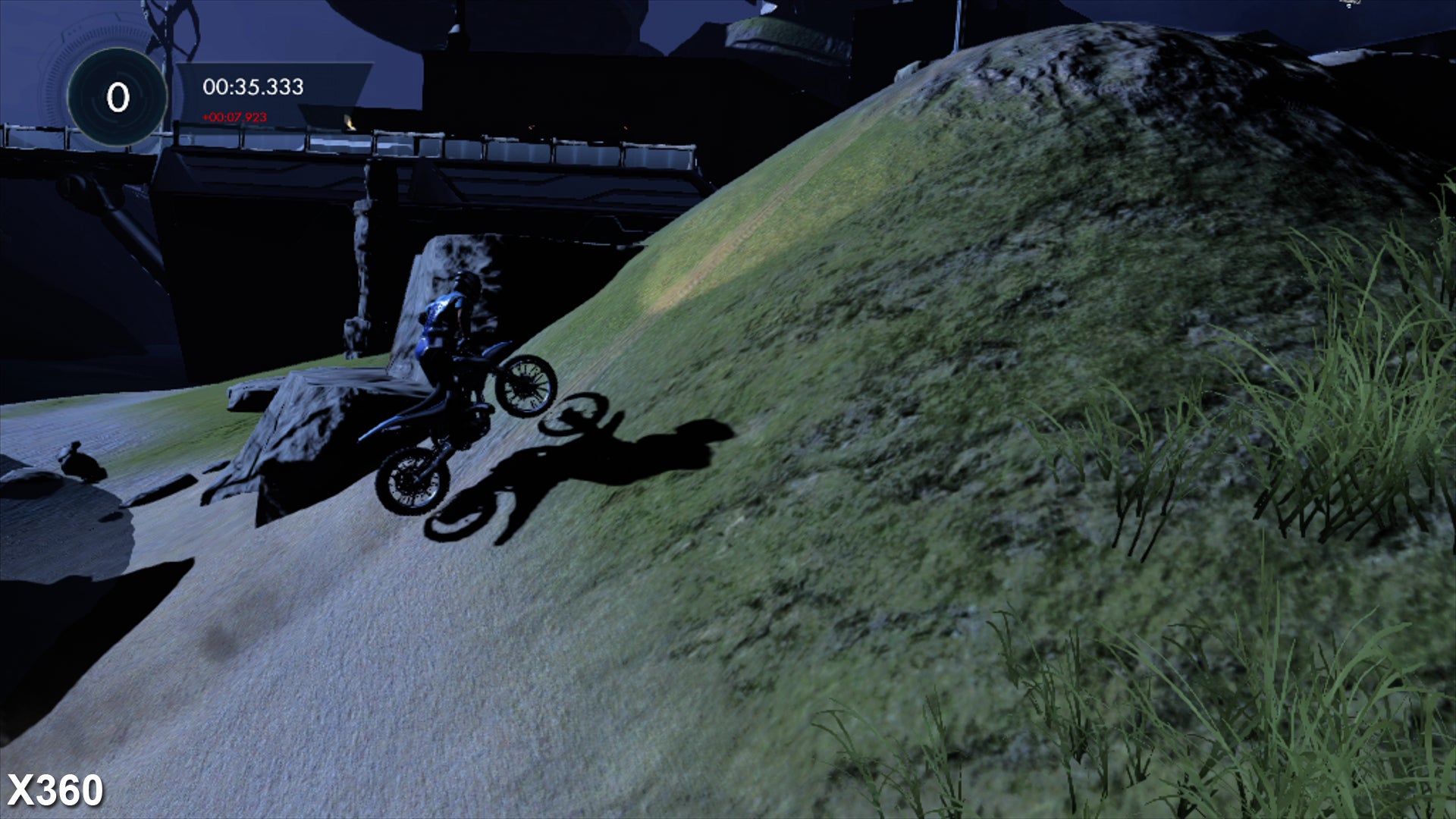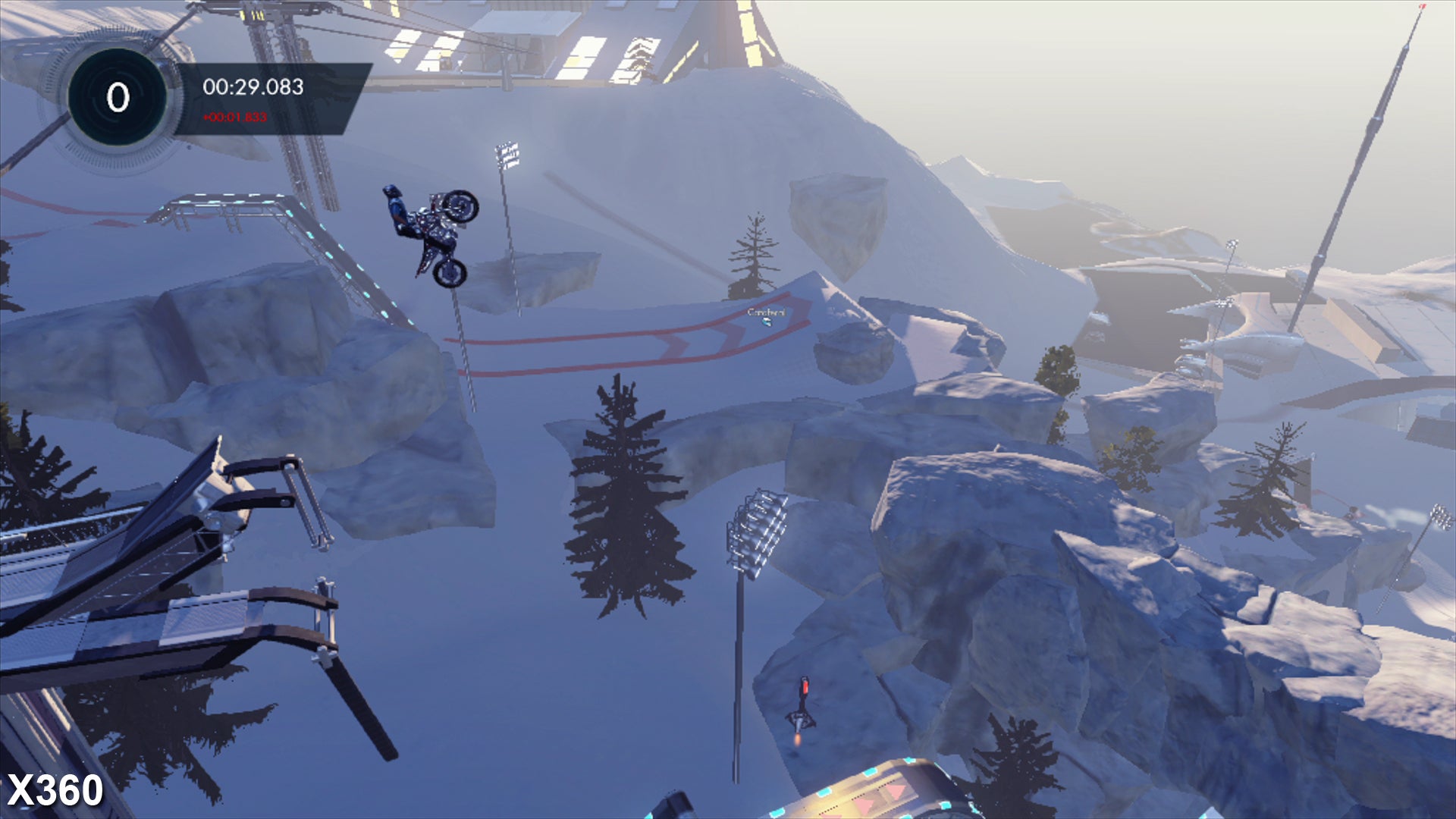 From changing shadow refresh rates to different levels of alpha, there's a lot of technical trickery going on across all four formats, and the reason why is clear: RedLynx is still committed to 60fps gameplay. Ever since the series' console debut five years ago with Trials HD, the Finnish studio has put the emphasis on this number to make sure every tap of the trigger and flick of the analogue stick creates a rapid on-screen response. Trials Fusion adds much to the formula with its massive, gorgeous backdrops, but refuses to let this ambition in performance slip.
The Xbox One, PS4 and 360 releases deliver a pure 60fps experience for most of the way, only letting things slip when alpha appears on-screen. Adaptive v-sync is used in these moments so that the renderer refreshes with a torn frame rather than duplicate of the last, with the result that gameplay feels smooth even in more complex areas, albeit at the cost of a few concentrated bouts of tearing intruding on the image quality.
In our experience, the 360 and Xbox One versions suffer from more tearing in these isolated spots. The PS4 typically introduces one-off tears near the top when challenged, unlike the multiple consecutive tears we catch on the Microsoft platforms. We saw less tearing with the Xbox One version unpatched at 800p, although the difference is very slight indeed, and RedLynx obviously felt the trade-off was worth it considering the broad image quality boost - as do we. One slight issue is that v-sync takes a few moments to re-engage when tears appear, leading to the odd burst of excess frames as the 60fps cap falls off, but this doesn't impact playability.
"The Xbox One, PS4 and 360 releases produce a good 60fps experience, only occasionally giving in to screen-tear under heavy load."
On the 360 side, it's worth mentioning that there are also some frame-rate hiccups when crossing the finish line, while resetting to a checkpoint is slightly delayed compared to other formats, although neither issue impacts fluidity of control during the racing itself.
Trials Fusion: the Digital Foundry verdict
Overall, the work RedLynx has put into optimising Trials Fusion across all four platforms is impressive. The PC release stands ahead of the pack by a notable margin thanks to its higher-quality alpha effects, fully v-synced playback and the potential for better texture streaming via SSD, but despite a few small shortcomings, the PS4 and Xbox One versions translate the experience across with little left on the chopping board.
It falls to resolution to define the better console release - and in this case the PS4's full 1080p native resolution gives it a clear edge. For the most part, the Xbox One's updated 1600x900 framebuffer comes respectably close in motion, but for clinical, bright indoor areas the increased pixel-crawl is a distraction. Both versions suffer from texture pop-in and occasional tearing in different areas, but otherwise they each offer a very strong experience.
Trailing behind the pack is the 360 release, but it speaks to RedLynx's commitment to 60fps that everything from ambient occlusion and texture quality to background geometry is dialled back or removed to hit this target. Plain as it looks by comparison, then, the core level design is identical to the more lavish releases, leaving us with a solid rendition.
PC is the best of the four, then, with PS4 coming closest to matching it, but from a gameplay perspective you can't go too far wrong with any of them.
Will you support the Digital Foundry team?
Digital Foundry specialises in technical analysis of gaming hardware and software, using state-of-the-art capture systems and bespoke software to show you how well games and hardware run, visualising precisely what they're capable of. In order to show you what 4K gaming actually looks like we needed to build our own platform to supply high quality 4K video for offline viewing. So we did.
Our videos are multi-gigabyte files and we've chosen a high quality provider to ensure fast downloads. However, that bandwidth isn't free and so we charge a small monthly subscription fee of £4.50. We think it's a small price to pay for unlimited access to top-tier quality encodes of our content. Thank you.
Support Digital Foundry