Resolution boosted for Call of Duty: Advanced Warfare on Xbox One
Reveal trailer analysis suggests sub-1080p, but still much improved over Ghosts.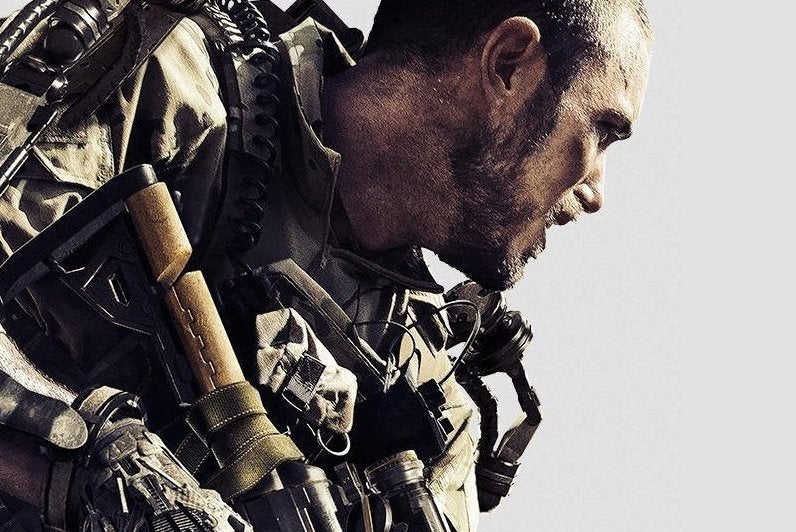 Perhaps Sledgehammer Games is making a technological statement with the reveal of its first solo Call of Duty title. The recent release of the new trailer - brought forward in the wake of an unexpected leak - is all gameplay, captured from the Xbox One version of the game. This may come as something of a surprise bearing in mind that last year's COD was at the centre of the Resolutiongate debate, running at just 720p on the new Microsoft console, compared to the native 1080p of the PS4 build.
What's seems clear from an initial viewing of the new trailer is that overall detail level appears significantly increased from Call of Duty: Ghosts. Even factoring in the compression level of the video, an upscaled 720p would present far more in the way of visual artefacts than what we're seeing here. The question is to what extent Sledgehammer has managed to extract more performance from the Microsoft hardware - our initial impressions based on the overall presentation suggested something close to 900p.
However, the search for more precise metrics involves pixel-counting - where specific screenshots are extracted from the video, long edges are identified and the number of actual rendered pixels is compared to the raw 1080p output. Finding those edges is key - something that's much easier to achieve when you're actually playing the game yourself, and with access to raw, uncompressed captures. Migrating that process across to a highly compressed YouTube trailer turned out to be a pretty thankless task, but luckily the appearance of a much higher quality version on Gamersyde (complete with French voiceover) gives us more to work with.
A Kevin Spacey cut-scene towards the end of the video gives us our long vertical edge - used for ascertaining horizontal resolution. Here we find a ratio of 49/60 - giving us a provisional measurement of 1568 rendered pixels contained in the 1920-wide sample. Assuming that the upscale is the same in both x and y directions, this gives us 882 pixels on the vertical - unfortunately even the higher quality trailer doesn't give us enough in the way of long horizontal edges to work with in producing a definitive result, and in an ideal world we'd have more viable shots for analysis on both axis.
We'll update should more media becoming available, but we'll go with a ballpark 1568x882 for now. The game gives the impression of a 900p title with post-process anti-aliasing, but the framebuffer appears to be slightly lower than that, representing a 50 per cent boost in overall resolution compared to Ghosts, but only 67 per cent of the pixel density of a full 1080p presentation. Bearing in mind that Xbox One optimisations tend to carry across to PS4 with its larger GPU and fully unified RAM, a native 1080p resolution for that version of the game isn't out of the question. However, we should remember that Advanced Warfare is still deep in development and could see substantial changes before it is released - though for a game like COD where a sustained 60fps is so important, we would hope for solid frame-rates taking priority over resolution increases.
"The resolution bump actually seems fairly trivial compared to the sharp improvement we see across much of the tech in the new trailer."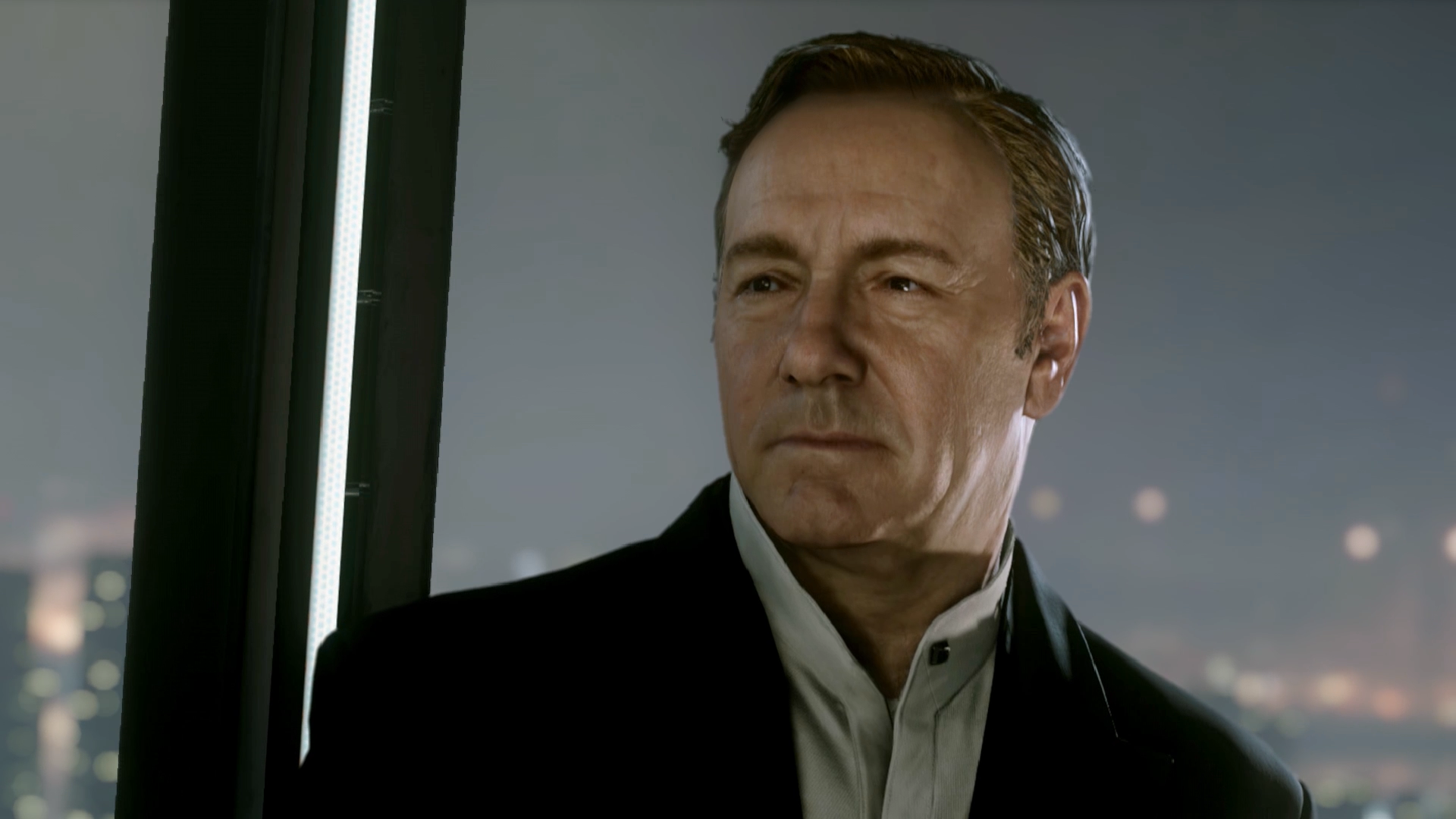 Of course, performance isn't related to just pixel-count alone. Based on an initial look at the trailer, what really catches the eye is the additional level of detail and effects work we see compared to Call of Duty: Ghosts. Bearing in mind the 60fps target - a core element of the COD proposition - what's pleasing to see is that the quality of the effects, such as the motion blur, also look reassuringly impressive, while lighting appears to be on another level compared to the previous game.
Even factoring in the selective shots and quickfire editing, the trailer does suggest a significant leap over previous CODs from a technological standpoint. Advanced Warfare is the first game that sees Activision switch to a three-studio, three-year development rotation and the impression left by the trailer is that the decision has paid off. On top of that, what we're seeing here could suggest a rapid acceleration in the quality of results developers are able to extract from the new console hardware - something that should become evident as this year's Q4 titles are gradually revealed.
Speaking to Digital Foundry in our recent Trials Fusion tech interview, RedLynx lead graphics programmer Sebastian Aaltonen put this into perspective, revealing that "launch games never show the true long term potential of the consoles. Locked 60fps is a very hard goal for any launch title. Developers needed to start programming their next-gen engines before they have access to the final hardware. Lots of educated guesses must be made, and hitting them all right isn't easy."
Our hope is that Sledgehammer acknowledges that a key element of Call of Duty's appeal is indeed a 60fps frame-rate - something that was compromised to varying extents on the Xbox One, PS4 and even the PC version of Call of Duty: Ghosts. Right now we're in No Mans Land as far as more concrete game information is concerned - the reveal trailer was leaked without context and we have little idea of the vision behind the game or what the developers have set out to achieve from a technological perspective. Let's hope for more detail from Sledgehammer Games soon.
"There's a void of context surrounding the trailer which we hope will be addressed when the game is fully revealed."
Will you support the Digital Foundry team?
Digital Foundry specialises in technical analysis of gaming hardware and software, using state-of-the-art capture systems and bespoke software to show you how well games and hardware run, visualising precisely what they're capable of. In order to show you what 4K gaming actually looks like we needed to build our own platform to supply high quality 4K video for offline viewing. So we did.
Our videos are multi-gigabyte files and we've chosen a high quality provider to ensure fast downloads. However, that bandwidth isn't free and so we charge a small monthly subscription fee of £4.50. We think it's a small price to pay for unlimited access to top-tier quality encodes of our content. Thank you.
Support Digital Foundry