Diablo 3 designer issues impassioned apology after hitting out at Diablo creator
"I want to make it clear that I am very sorry for what I said."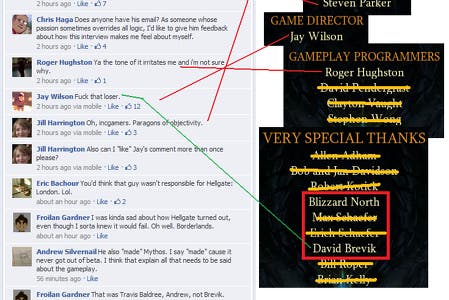 Diablo 3 development chief Jay Wilson has issued an impassioned apology to Diablo 1 and 2 co-creator and Blizzard North co-founder David Brevik after telling friends on Facebook: "F*** that loser."
Wilson, who was roundly criticised for his reaction to comments Brevik made about Diablo 3 in a Gamescom interview, blamed his Facebook post on anger and a desire to defend the development team.
"I want to make it clear that I am very sorry for what I said," Wilson wrote on Battle.net. "I have higher expectations for myself than to express my feelings in such a rash way and disrespect a fellow developer like Dave, someone who deserves to be treated with greater respect."
Wilson added that he wished he'd defended his colleagues "in a more professional manner".
He then outlined the flaws in Diablo 3, which has broken records for sales of a PC game, while expressing how proud he is of the game. He pointed to problems with items, the end game, the controversial auction house and game difficulty, before promising further updates.
His message ends with another apology, this time to players. "You deserve better than my reaction to Dave's comments. You deserve more honest communication about the game and what we're doing to make it a more awesome experience for us all. We care about Diablo very much, and appreciate your passion for it. Without you, we wouldn't be able to do this, and for that I can't thank you enough."
Wilson's open letter is reproduced in full below.