Mobile Controller Group Test
Tired of the touch-screen? Try these phone and tablet controllers for size.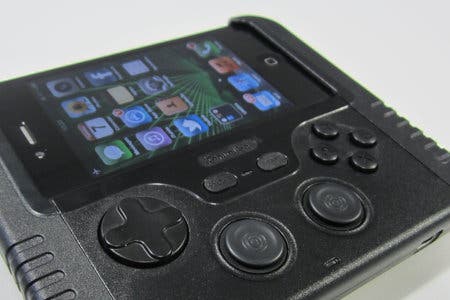 Since its rise to fame with the launch of the original iPhone in 2007, the mobile phone touch-screen has become one of the most intuitive and accessible of gaming interfaces. It has transformed previously disinterested individuals into rampant gaming addicts, and offers a control language so pure that everyone from the youngest tot to the oldest grandparent can grasp it.
However, as a vocal community of dedicated gaming fans will tell you, the capacitive touch-screen does not represent a convincing replacement for traditional controls, but rather an alternative. While it works well with titles that have been designed especially with touch-screen input in mind, it fails to replicate the same gloriously tactile experience one gets from a physical pad or battle-worn arcade stick.
Thankfully, several companies have spotted this potentially lucrative gap in the market, and have launched external controllers which pair with your phone or tablet to create a more traditional gaming interface setup. Ever eager to please, we've rounded up some of the best examples for you.
iCade: The Authentic Arcade Experience
The largest of all the controllers featured here, iCade is essentially a desktop arcade cabinet, complete with wooden frame, illuminated coin slot (which denotes battery life and Bluetooth connectivity, rather than accepting your loose change) and an 8-way ball-top stick. You'll also find eight buttons and a plastic recess just above the controls, into which you can insert your iPad or Android tablet.
If you seek a truly authentic coin-op experience, this really is the only game in town right now. The stick is a joy to use and emits a satisfying click with each push, and while the buttons are a little stiffer than we'd like, they nevertheless feel good under your fingers.
Given its blatant coin-op styling, it should come as no great shock to learn that the iCade is perfect for arcade titles. The recently released Shogun: Rise of the Renegade boasts full support for the controller, and is enriched considerably when using it. It turns a touch-screen experience into a surprisingly faithful coin-op one, and performs the same magic on titles such as Muffin Knight and Temple Run. Around 200 titles are supported in all.
"The iCade turns titles like Muffin Knight, Temple Run and Shogun: Rise of the Renegade into surprisingly faithful coin-op experiences."
Aside from the awkward assembly sequence (the unit comes in sections which are joined together with screws) compatibility is the iCade's biggest stumbling block. It only works with a select few iOS games - although that figure is rising all the time, and should increase further when the forthcoming iCade Mobile hits the market. Android apps are thinner on the ground, but the platform's more open nature at least means that any app which permits the user to map keyboard commands can support the iCade.
Another possible drawback for some users is mobility; while the other options outlined in this feature all have some semblance of portability to them, the iCade's bulk means that it's unlikely to leave your house once assembled.
iControlPad: Portable Precision in Your Pocket
Originally conceived way back in 2008, the British-made iControlPad is one of the earliest physical controllers designed for mobile devices. It boasts an 8-way rolling d-pad, two analogue sliders (very much like the ones seen on the PSP and Nintendo 3DS), four fascia buttons and two shoulder triggers - although to call them such is slightly misleading, as the triggers are actually located on the back of the unit, and rest a little awkwardly under your middle fingers. It's possible to modify your grip to accommodate this placement, but it takes a while to feel truly natural.
Initially released with plastic clamps moulding to the exact shape of the iPhone 4, the latest iteration of the iControlPad boasts a universal grip which fixes to the back of the controller. It's clear this solution is something of a retro fit, but it performs the task well enough. Using a series of pre-cut holes, it's possible to tailor the fit to suit a wide range of mobile phones.
When you get the right grip, the iControlPad effectively turns your phone into a fully-fledged portable console. The device's slim profile makes it ideal for carrying around in your pocket, and the fact that you can flash new firmware using the bundled USB cable ensures that the pad's capability is only going to improve as updates are released.
"Firmware upgrades ensures that the iControlPad's capabilities are only going to improve."
Given the iControlPad's age, it should come as no surprise to learn that it has above-average compatibility on both iOS and Android. It also works with all iOS titles that boast iCade support. You'll need to download the free application Bluez IME if you're connecting to an Android device, and it's worth pointing out that we couldn't get the iControlPad to pair natively with our Android 3.2 tablet.
Gametel: A D-Pad to Die For
The iControlPad's biggest rival, the Gametel pad is another external controller which attaches itself to your handset and basically turns it into an Xperia Play. There's a spring-loaded arm at the top of the unit which pulls out to reveal two rubber grips. You simply place your phone in the middle, release the arm and allow the mechanism to hold your handset firmly in position. It's a more elegant solution than the one seen on the iControlPad, but you may have problems if your phone's volume controls are too close to the rubber grippers.
The Gametel connects via Bluetooth and utilises its own custom Android application, which can be downloaded by zapping a QR Code on the back of the packaging. Once paired with your phone, the Gametel can be configured with any application which allows you to select keyboard commands. It also pairs automatically with some games, and the custom app even displays a handy menu showing supported titles, along with links to the relevant page of the Android Market.
Fans of rolling d-pads will be very pleased with the one sported by the Gametel; it features a slightly concave disc-like pad with notches to help your thumb pick out directions. This design makes it easy to perform smooth half or quarter-circle motions - an essential quality for fighting games and something that could prove very useful when Street Fighter 4 dragon-punches its way to Android phones later this year.
"While the rolling d-pad is very good indeed, Gametel's lack of analogue control may limit the versatility of the product going forward."
Equipped with an internal rechargeable battery, the Gametel doesn't come with any cable for charging. Instead, it utilises a standard Micro USB port, so you can use your existing mobile phone charger to top up the juice. With a £50 price tag, the Gametel isn't exactly cheap. Despite the high cost, the unit itself feels a bit lightweight; some kind of carry case might be wise, especially if you intend to take the controller with you on your travels.
By far the biggest drawback of the Gametel is the lack of analogue control - something which is present on its close rival, the iControlPad. This may limit the device's suitability in the future.
Universal OnLive Wireless Controller: The Surprise Contender
Designed for use with the cloud gaming service of the same name, the OnLive pad is something of a surprise addition to this line up. Although it's intended for use with the Android OnLive application, you can pair the pad with the Android OS itself or using the app which accompanies the aforementioned Gametel pad. Once successfully linked, the OnLive controller can be used for a whole variety of tasks - including navigating your phone's home screens, should that take your fancy.
The design of the controller will be familiar to anyone with an OnLive set-up box - it's the exact same pad, after all. A responsive - if slightly bouncy - d-pad is complimented by twin analogue sticks, four face buttons and four shoulder triggers. As if that wasn't enough, you'll also find a row of OnLive-specific keys alone the bottom of the controller. This surfeit of interface options means that the OnLive pad has enough scope to handle pretty much any game you can throw at it.
Out of all the controllers we've looked at here, this is possibly the most robust. The build quality is excellent, and the OnLive pad sits comfortably in the palm, thanks to its ergonomic design and surprisingly satisfying heft.
"A dongle is bundled with the OnLive pad, allowing you to link the pad with devices that lack native support such as computers and laptops."
A rechargeable battery pack and charging cable come in the box, but you can also use standard AA batteries for a quick fix. The final bundled component is a Bluetooth dongle, which allows you to link the pad to devices that lack native Bluetooth support - such as computers and laptops.
Getting the OnLive pad to work with other Android apps is therefore a piece of cake, and it provides an authentic experience when playing compatible games. Naturally, it also takes OnLive's Android to a whole new level, making it a serious rival for your dedicated home console.
PhoneJoy: Cheap and Cheerful
The tech sweatshops of the Far East are constantly spawning cheap and cheerful gear, and the PhoneJoy is one such product. Shamelessly derived from the much-loved PlayStation pad design (call us overly suspicious, but it's unlikely that Sony was consulted beforehand), this Android-only Bluetooth controller uses Bluez IME to connect to your phone or tablet. You can even link up multiple pads in order to sate your multi-player cravings.
One massive advantage the PhoneJoy has over similar pads is its price; you can pick one up for much less than the cost of an iControlPad or Gametel. This comes with its own drawbacks, though; the PhoneJoy's build quality is highly suspect, and we had a unit fail on us during the review period. It also should be noted that despite the welcome familiarity of the design, the d-pad feels a bit sponge-like when compared to the one on the official PlayStation Dual Shock pad - clearly the manufacturers didn't follow Sony's design faithfully enough.
Still, the low cost mitigates some of these problems, and the fact that the PhoneJoy comes with a handy kick-stand for resting your phone on is a real bonus. If you're not keen on the notion of spending over £50 on a pad you're just going to chuck in your ruck-sag on long journeys, then the PhoneJoy's low cost should make it a contender.
USB Gamepads: Wired for Play
USB host support was introduced with Android 3.1, which means that pretty much any tablet running that version of Google's OS is capable of accepting a USB joypad. That means you can hook up the Xbox 360 pad, Sony PlayStation 3 Dual Shock or even the mighty Hori EX3 arcade controller. Simply plug it in and you're good to go. Games like Grand Theft Auto III even auto-detect that a pad has been connected, and assign buttons accordingly.
Actually linking your pad to your Android device is the only real headache here; while the ASUS Transformer tablet has standard-size USB ports thanks to its keyboard dock, most other Android tablets come with tiny Micro USB connections, primarily to save on space. All is not lost, though - a simple Micro USB male to USB female lead (which will set you back a couple of quid, if that) is all you need to solve your compatibility issues, allowing you to plug and play your way to gaming nirvana.
On a side-note, Android 4.0 - which is the latest iteration of Google's mobile OS - comes with native USB host support as well. This means that Android phones running this software should also connect seamlessly with wired USB controllers, amongst other things.