Delightful toy train set builder Tracks is heading to Switch in November
Will include the Suburban and Sci-fi DLC.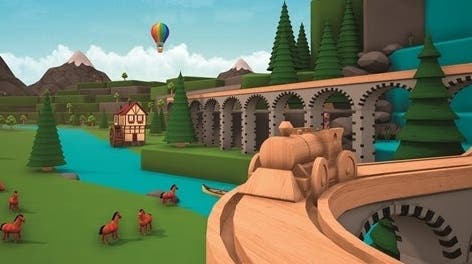 Developer Whoop Group's ridiculously charming wooden train set builder Tracks will be tooting its whistle and trundling onto Switch this November.
Tracks: The Train Set Game, as it's more formally known, takes its cue from the classic wooden train sets created by the likes of Brio; as such, it's not a game in the traditional sense, with goal and objectives to complete, but a delightfully genteel, yet entirely engrossing sandbox experience, focussed on the simple pleasures of laying down track then theming it up to the nines using a wealth of beautifully designed props.
The core game, as originally released last year, is a largely rural affair, featuring everything from quaint village shops to farmyard props, enabling players to plop down the likes of cars, roads, bridges, trees, bushes, hedges, rocks, rivers, and animals in their quest for aesthetic perfection.
Notably, however, Tracks' Switch release arrives in the form of the Toybox Edition, which includes the Suburban and Sci-fi DLC packs released separately on Xbox One and PC. These, as you might imagine, expand the game's prop list still further, adding specially themed new buildings, passengers, animals, and vehicles that can be used to imbue creations with a touch of metropolitan bustle and space-flavoured pizzazz.
Those looking to stretch their creative muscles further can also add in twinkling lights for nighttime sets, fireworks, trackside bells to create musical moments, even customisable fog and terrain. And once everything's precisely to your satisfaction, it's time to take your train for a turn around the track, even riding around in first-person if you prefer.
There's no exact release date for Tracks on Switch just yet, but it'll be arriving some time in November. In the meantime, you can take a look at some of the things possible with Tracks in its newly released Switch announcement trailer.