Criterion founders reveal two new games
And they sound a lot like Burnout.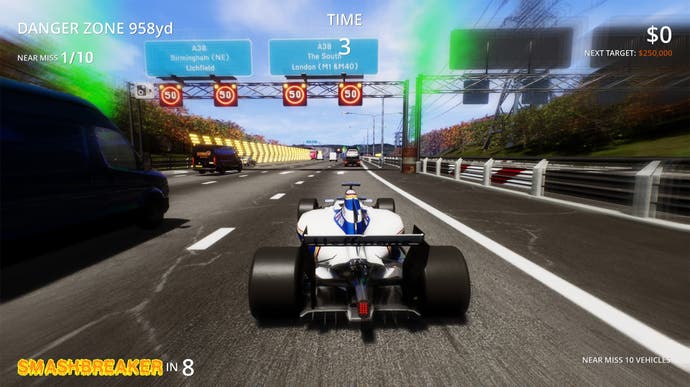 Pining for a new Burnout? EA doesn't seem interested in having Criterion make a new one just yet. But we may soon get a couple of spiritual successors from the founders of the famed UK studio.
Three Fields Entertainment, which is led by Criterion founders Fiona Sperry and Alex Ward, has announced Danger Zone 2 (the sequel to the studio's 2017 game Danger Zone) and Dangerous Driving, both for PC, PlayStation 4 and Xbox One.
Danger Zone 2, due out in July, takes the crash testing of Danger Zone and puts onto real public roads. It's set on the freeways of the USA, the motorways of the UK and the autovias of Spain. There are 26 single-player levels set across 17 locations.
"Danger Zone 2 is a significant step up from the first game with lots more driving including drifting and boosting, a variety of objectives, brand new vehicles and even more spectacular crashes," Sperry said.
Below are screenshots of Danger Zone 2. Note you can race up the M1 and just outside LAX airport. Dangerous Driving, due out this winter, is a closed track competitive racing game featuring boosts, takedowns, destruction and massive car crashes - and it's this one that sounds most like a spiritual successor to Burnout.
"We're taking all that we've learnt to develop our most ambitious title to date," Ward said of Dangerous Driving. "Dangerous Driving gets me back to making arcade racing, the kind of software I am most passionate about."
Digital Foundry is meeting with Three Fields Entertainment this week, so expect a deeper dive on what the studio's been up to soon.