Corporate skullduggery and henges await next week in The Bradwell Conspiracy
Coming to Xbox One, PS4, Switch, and PC.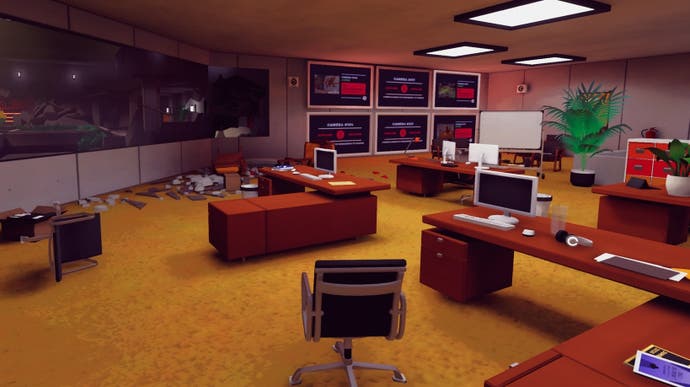 The Bradwell Conspiracy, developer A Brave Plan's intriguing first-person tale of corporate skullduggery and Stonehenge, now has a release date - or rather, three release dates. It'll be heading to Steam and PlayStation 4 next Tuesday, 8th October, to Switch on 10th October, and to Xbox One a day later on 11th October.
Announced last September, The Bradwell Conspiracy unfolds during the Summer Solstice of 2026, in the aftermath of a disastrous presentation at the prestigious Stonehenge Museum - so disastrous, in fact, that at least some of the building is now an impassable pile of rubble.
Cast as an unnamed visitor, players must join forces with fellow survivor, and Bradwell Electronics employee, Amber (herself trapped on the other side of a locked door), in order to venture below ground in search of freedom - and the truth behind recent events. Luckily, you've access to a pair of Bradwell AR Smart Glasses on your adventure, meaning it's possible to take and share photos of your surroundings with Amber in order to figure out an escape route.
What follows is, according to its developer, "a highly-stylised, narrative-driven first person experience featuring an assortment of innovative puzzles and lore-enriching secrets".
Although The Bradwell Conspiracy is A Brave Plan's first title, the team consists of "BAFTA luminaries and AAA veterans" who've worked on the likes of Fable, Tomb Raider, and Batman. Furthermore, the game features a score by celebrated composer Austin Wintory (Journey, The Banner Saga) and voice work from the likes of Assassin's Creed Origins' Abubakar Salim.
The Bradwell Conspiracy is being published by Bossa Studios and will cost $19.99 USD (around £16) when it launches on Steam, PS4, Xbox One, and Switch next week.