Call of Juarez
Wicky wicky or wah wah?
Games often do things in the pursuit of reality that make absolutely no sense, so it's always nice to come across one that's doing something in the pursuit of fun that makes absolutely no sense in reality. Basically, when you're in the middle of a gunfight in Call of Juarez, the chances are that the thing you'll most want to do is put your guns away.
This is because, after a couple of seconds, you can answer the gunfire by pulling one of the triggers and going into "concentration" mode. Slow-motion, in other words, but bear with it. This brings up two aiming reticules at either side of the screen to represent where your guns are pointing as you draw them from their holsters. By pulling on the analogue sticks (left for left, right for right) you can drag them slowly onto target as you bring your guns up in front, delivering six rounds from each into any flesh you cover, before normal time resumes, you get back your normal manoeuvring controls, and the dead fall down.
Drawing and firing in a burst of ridiculous accuracy is, of course, what people who love Western gunfights love about Western gunfights. By capturing it so well in Juarez, it's easy to surmise that Techland did it deliberately because they understand how we think.
At this point, people with sharp memories will be recalling that Kieron made somewhat the same point in his review of the PC version. The difference is that what he was talking about as he rode handsomely into review-town was the way the game splits control between two characters - the stealthy Billy Candle and the right-hand-of-God Reverend Ray, the baddest sumbitch who ever walked the Earth - so that Billy sneaks past enemies on one level and then you unleash your divine wrath on them the next.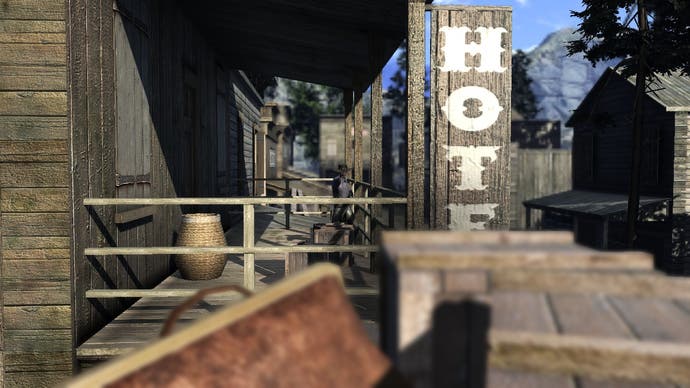 "Sneak past them all. Then kill them all."
Anyway, between what he said and what me said, we can probably do away with the wondering: Techland know what we want, and they're dead good at giving it to us.
If you aren't convinced at first, supporting examples flood forwards as you take up the reigns of Ray and purge the town where the game starts. You storm in and rain havoc, preaching damnation as you go, and then you're outnumbered as the rioting bandits you've so incensed gather their wits, and you're forced onto the back foot. First you're locked into a building and they set fire to it. Then you're in a barn and there's a pair outside blocking your exit. On both occasions, the game just sits there, arms folded, and waits for you to figure it out. So you do the logical thing and stack boxes, balance planks and clamber to safety. These physics puzzles recur, with logs to loose to bridge gaps and so on, and give the game a rough, improvised feel that not only underscores the narrative spontaneity of Ray's actions but simultaneously demonstrates respect for the player.
Meanwhile, Billy runs away, hides, thieves, sneaks and generally spends a lot of time in crouched position. If he's found, he's dead. It's first-person worrying, particularly on the perfectly pitched midnight level, where not only do you have to keep an eye on your stealth status in the bottom-right as you sneak past camp-fires, but you're constantly under threat of exposure whenever the lightning cracks.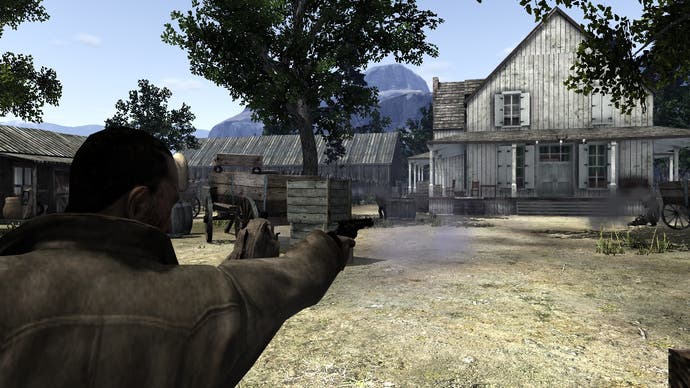 As an FPS, Juarez is undoubtedly weak in some respects. Having to look at ammo packs to pick them up wouldn't have cut it in ten-year-old Outlaws, the only other Wild West FPS I can think of [What about Dead Man's Hand? - Wild West Ed]. The level design also has a tendency toward the repetitive in places, and I mean that beyond the idea of playing through an area as one character and then revisiting it - that relationship's never so straightforward as simply retreading footsteps, and actually works very well.
As a stealth game, Juarez is also undoubtedly weak in some respects. Having to aim Billy's Indiana Jones whip at a specific area on an overhanging branch to swing across gaps is needlessly fiddly, while the ability itself is very contrived. This perhaps betrays Techland's lack of console experience - you get the feeling that if this were a Tomb Raider or Gears of War mechanic, you'd just point and it'd work.
But then you can forgive it these things because the dirt under its fingernails, however tightly packed, has given new life to an area of the FPS genre where tons of developers have given up. It's been all-quiet on the Western front since GUN and before that Red Dead Revolver. Meanwhile, them that make World War II games have done so many that they're being forced to either run off into the future or actually change the outcome. "What would it be like if Hitler won?" Apparently it would still be like pretending you're Tom Hanks.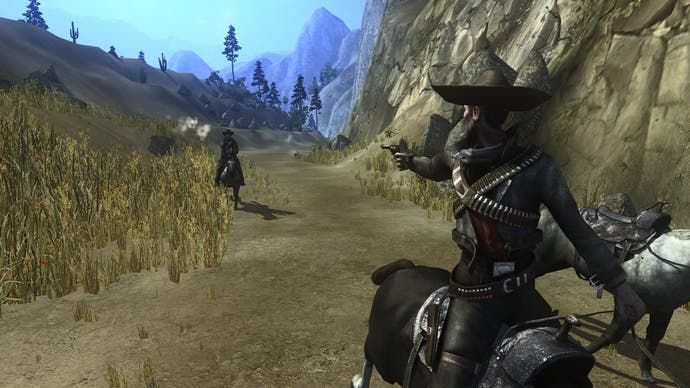 Juarez certainly isn't slick in the way those blockbusters have become, but then it isn't trying to be. It rejects simulator-style lurches, shifts and set-pieces for earthy, languid roaming. Its protagonists are a starving teenager on the run and a grumpy pensioner, after all. But for everything that doesn't quite work, there's a lot that still does. It doesn't believe in healthpacks, for instance - you just need to find a bit of cover to recover, so health concerns are different to, say, Half-Life, and as a corollary much better suited to the concentration mode that underpins a lot of Reverend Ray's best moments.
On top of the one-player mode, which is full of standout bits that you'll want to revisit (the night-time missions are particularly moody, and the conclusion's great) as well as unlockable Achievements that give you new goals to aim for within each, Juarez also embraces Xbox Live with a range of competitive modes. They're all fairly obvious, derived from existing archetypes like deathmatch and CTF or simple Western concepts like hunting the Wanted man then becoming Wanted when you kill him, but horse-riding makes a nice change, transforming the middle-grounds into swarms of jousting shotguns. It's slightly odd though that the single-player's duelling - which works by counting down and then having you precisely move the analogue stick to draw and then centre your gun - isn't offered.
That said, it does have a range of unlockable duels offline, along with additional missions and the promise of more on Marketplace. It's also more polished than it was on PC - especially performance-wise - and the checkpointing that replaces the quick-save mechanic is generally fair. The only area where it truly gets into trouble is the age-old thing of blowing the player's trust with a dead end or a looping tunnel. It's not the case that you're constantly legislating against the possibility that the thing you're meant to do is really stupid and obtuse - 'leaping two storeys onto the ground as a 70 year-old man' shouldn't be and isn't your opening gambit - but there are times when it should know better.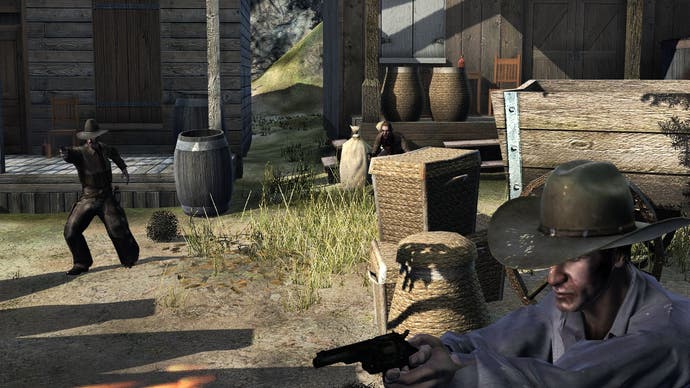 Anyway, for all the things we've already praised, perhaps it's best to end on the game's tone: like a lot of grumpy Eastwoods, Juarez treads the line just West of parody with Ray's juxtaposition of gravely scripture one minute, and then little red circles with lines through them hovering over whiskey bottles the next. Being able to read the bible aloud to trick enemies into lowering their defences ought to be getting more press too - does anyone still have Manchester Cathedral's number? Overall, whatever you latched onto above that sounded compelling, you can be sure that it's bound to half a dozen other things you'll appreciate. So: Read about the game. Then buy the game.