Call of Duty: Warzone gets mini royale mode as the stadium and train station are revamped
Fast and furious.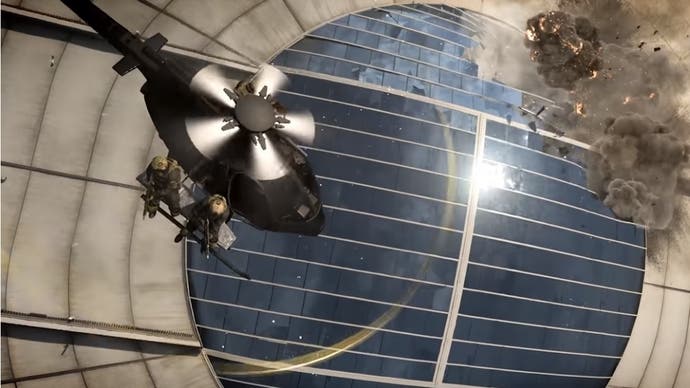 Call of Duty: Warzone gets a mini royale mode tomorrow with the launch of Season 5.
Mini royale is described as short and sweet battle royale matches. The mode lowers the number of players sent into the map, but quickens the experience. So, only the first and last five minutes of a normal battle royale game exist. This means rapid deployment, constant movement and lots of kills.
Other new modes set to hit Call of Duty: Modern Warfare and Warzone include Bare Bones. This is a rotation of TDM, Domination, HQ, Hardpoint and Kill Confirmed with no killstreaks, no field upgrades and no perks. Elsewhere, SnD Double Down (12v12) is coming to Modern Warfare tomorrow.
Activision had already announced Warzone's stadium is opening up, and a train is set to run through the map.
Here's the official blurb on the new stadium:
"Retool your strategy and rethink your drop plans around this massive super-structure, complete with a pitch surrounded by rows of seating, an additional underground parking structure, a concession stand lobby and multiple interior concourses and field access you can secure and compete to control."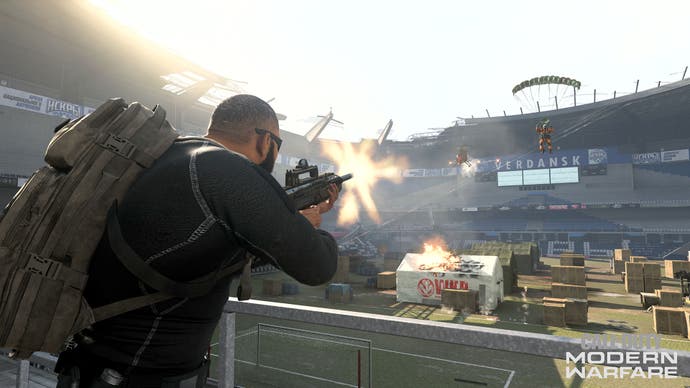 And here's the word on the new train station, as well as the new train:
"The station buildings feature a number of inside locations to explore; all linked to the main ticket hall and platforms. This significantly changes the overall look, feel, and tactical outlook in and around this area of the Warzone map.
"Rolling through one of the main arterial railroad tracks that circumnavigates the southwestern part of Verdansk in a large loop, the largest and heftiest vehicle yet seen can be a source of protection, an epicenter of firefights, and even offers some exceptional takedown potential if your team claims the train for themselves, and guards it with additional vehicles and heavy weaponry."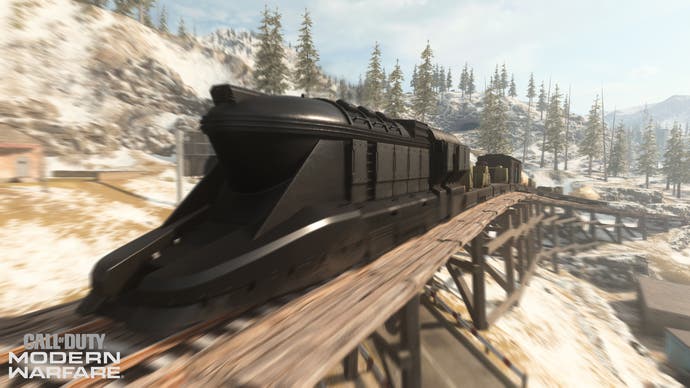 Season 5 adds four new multiplayer maps to Modern Warfare: Petrov Oil Rig (6v6); Suldal Harbor (6v6); Verdansk International Airport (Ground War); and Livestock (2v2 Gunfight). A 6v6 version of Livestock is planned for later in the season.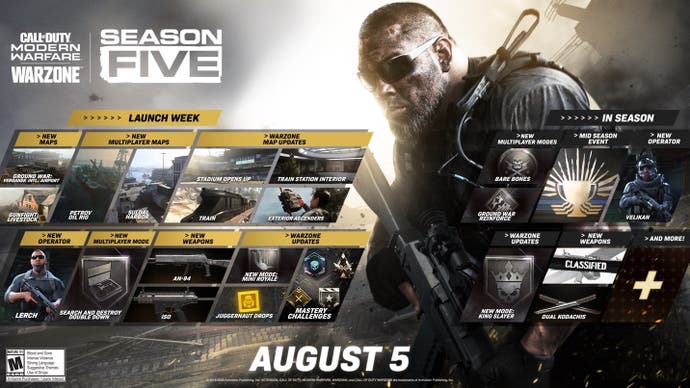 As you'd expect, there's a new battle pass. Season 5 offers a new operator: Lurch from Shadow Company (Tier 0), as well as the Operator Roze "Rook" skin (Tier 100). There are two new weapons: the ISO (SMG) at Tier 15, and the AN - 94 (ARG) at Tier 31.
We've already reported on the enormous 36GB download size for the Season 5 update on PlayStation 4 - the only platform you can pre-download the patch. The download is even bigger on Xbox One and PC. Here are the details:
Xbox: 49.8GB
PC (Modern Warfare Owners): 54.2GB
PC (Warzone only owners): 47.4GB
Call of Duty: Modern Warfare and Warzone Season 5 launches at 7am UK time tomorrow, 5th August.