Call of Duty: Modern Warfare and Warzone have a vampire bat called Edward
Let that sink in.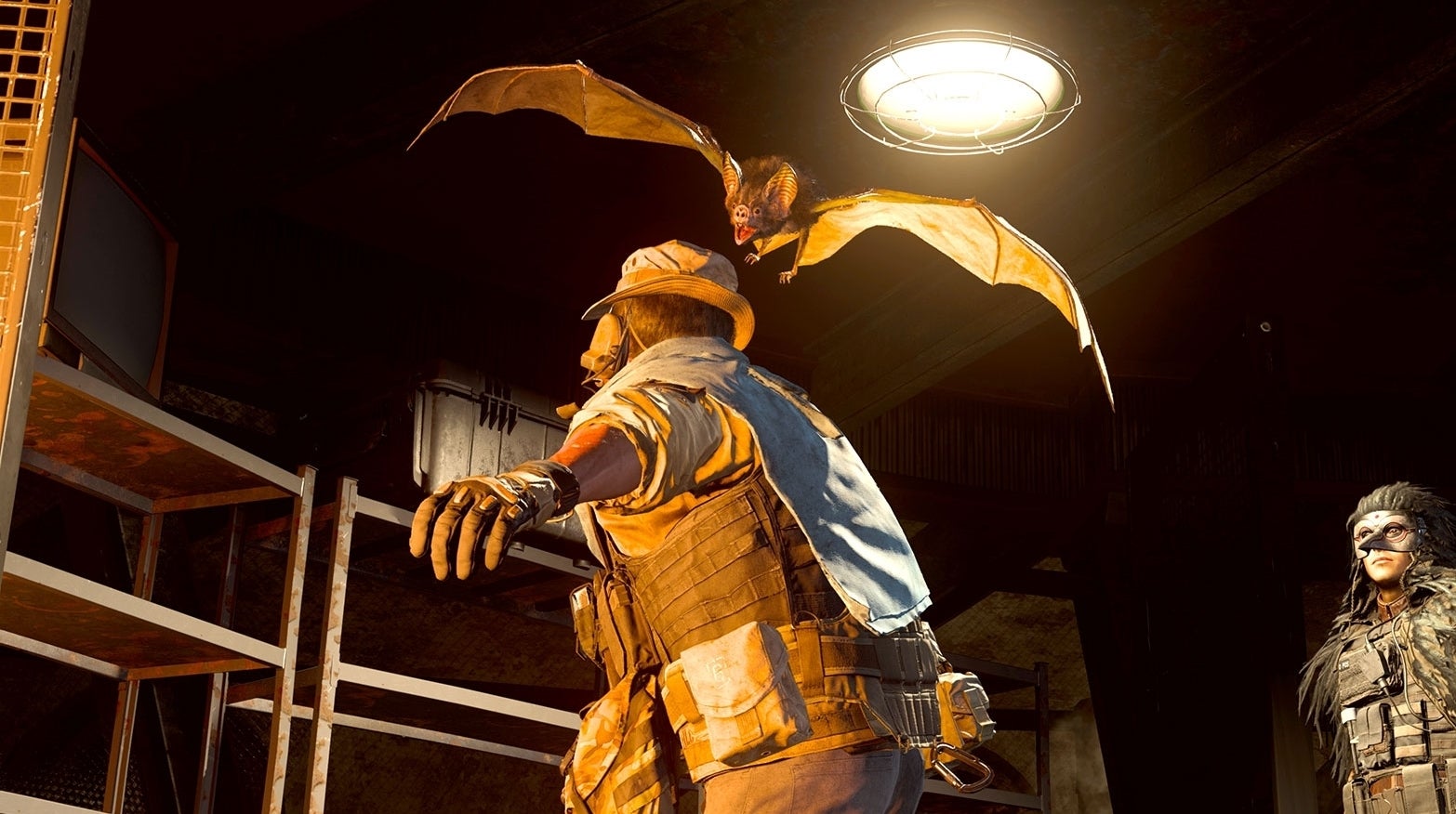 Call of Duty: Modern Warfare and Warzone have launched Season Six, and with it has come a vampire bat pet called Edward.
Really.
Edward is a new finishing move for the game - creep up behind your opponent and let your bat loose. Edward will tear your opponent's head clean off and disappear in a puff of smoke. Savage. Here's how it looks:
Modern Warfare and Warzone has a thing for pet-based finishing moves. There's a bird one, a dog one and even a hyena one. With Halloween waiting in the wings, Activision also released the Undead Forces bundle, which brings "a faithful, undead companion" with a new finishing move. This is a dog called Hellhound who chews up his unlucky foe. Undead Colin? Sounds like a no-brainer to me.
Meanwhile, the new battle pass adds two free weapons and two new operators (Farah and Nikolai), four multiplayer maps. Let's start with the weapons. The SP-R208 marksman rifle (Tier 15) and the AS-VAL assault rifle (Tier 31) are available to all for free. The SP-R208 is described as one of the most accurate weapons in its class. The AS-VAL has a high rate of fire, accuracy and high penetration.
As for the maps, the highlight is perhaps Broadcast, a 6v6 map first seen in Call of Duty 4: Modern Warfare, and more recently in Verdansk within the BCH TV Station zone.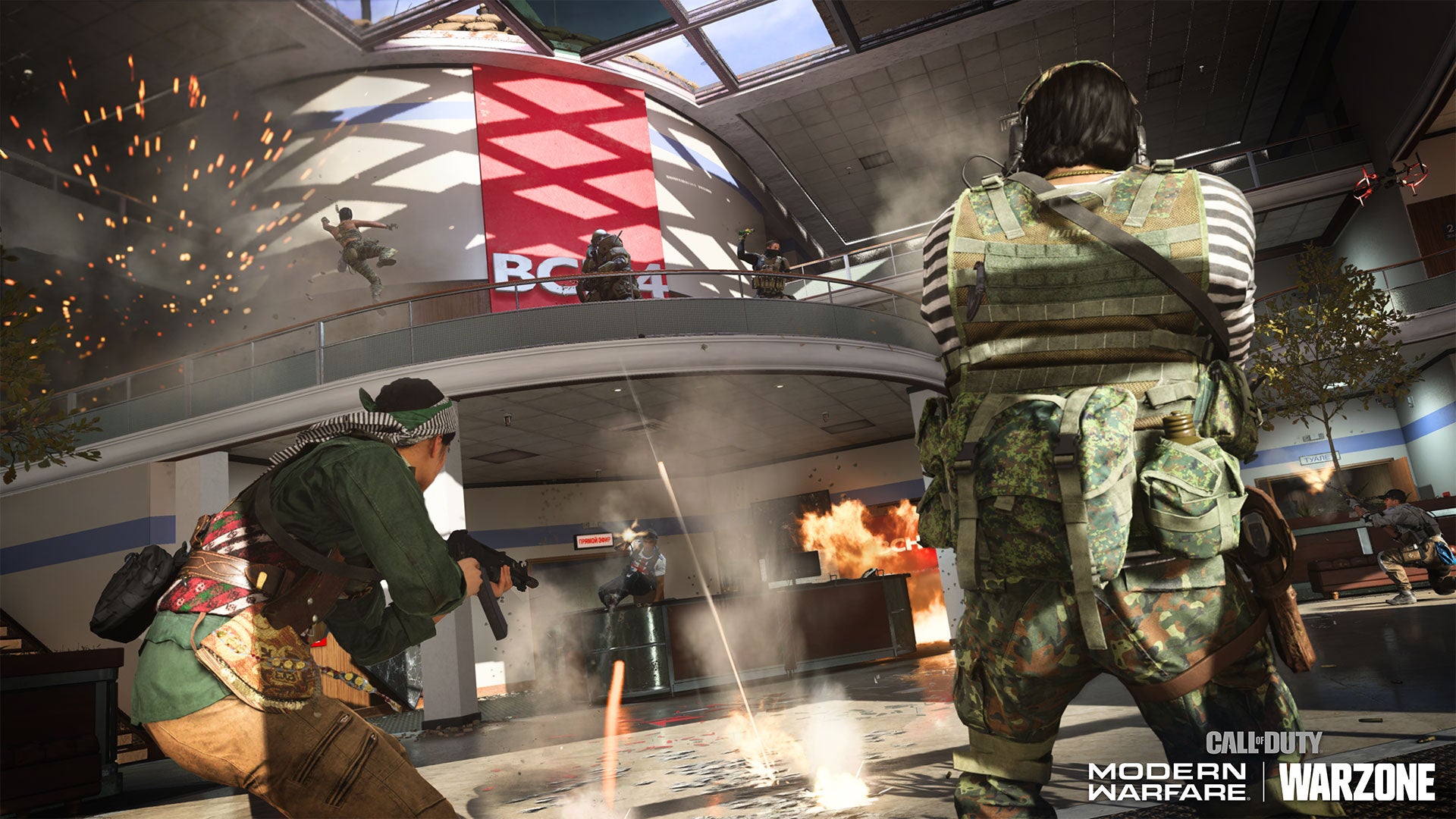 One of the new modes, dubbed Killstreak Confirmed, sounds pretty interesting. In this Kill Confirmed variant, killstreaks can only be earned by collecting enemy dog tags. However, your streak doesn't reset on death, so expect everyone to rush for tags as fast as possible. And this is pretty cool - in Killstreak Confirmed you can "wrap" killstreaks, which means you can earn the same killstreak multiple times in one life. Just sounds like carnage to me!
Onto Warzone, and we already knew about the new fast-travel via Metro system. There's a new Armoured Royale mode that gives every squad an armoured cargo truck with a turret and plenty of armour plating. You can respawn if your truck is still alive, but once it's gone, so does your ability to return to the fight. Last squad standing wins.
Fans are expecting Infinity Ward to enable Warzone night mode, and Activision teased it in its blog post. The Haunting of Verdansk event runs from 20th October to 3rd November, and it includes new limited time modes. Expect "Halloween surprises as the nights grow longer and the more twisted games begin..." Maybe zombies, too?
Here's the season six roadmap: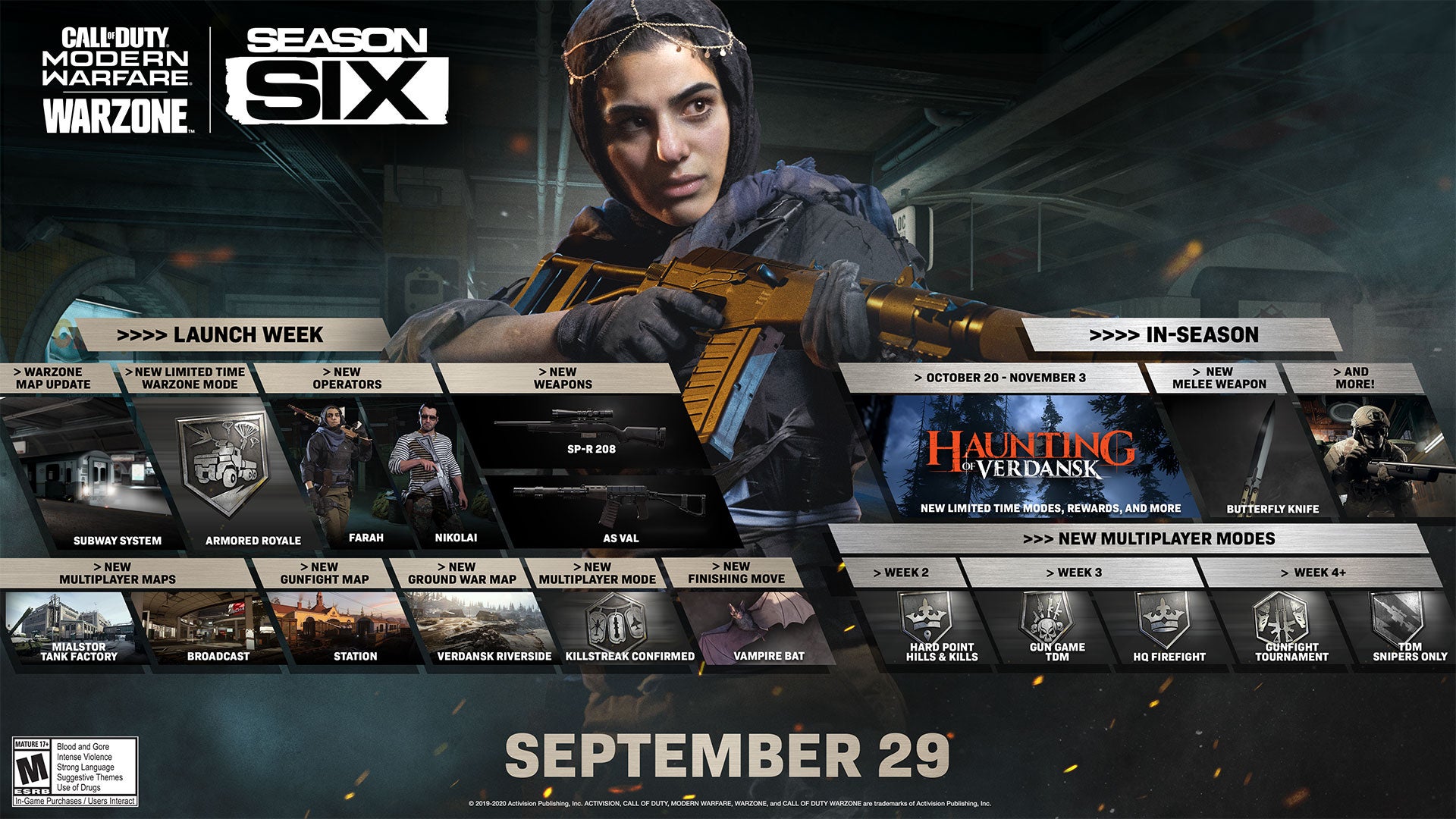 Right, now brace yourself for those downloads. As is Call of Duty tradition, season six is a hefty update (it's particularly bad if you play on PC, as I do!):
Activision warned console owners of the full version of Modern Warfare also have to download the compatibility pack to access multiplayer and spec ops, and the survival pack to access survival. File sizes for these two packs are below:
PS4 Compatibility Pack: 7.8GB
PS4 Survival Pack: 5.8GB
Xbox One Compatibility Pack: 8GB
Xbox One Survival Pack: 5.9GB
From 1st October, Xbox and PC players can finally access the PlayStation-exclusive Survival mode. I'm not sure it was worth the wait.
It's all a bit much, isn't it? Activision reminds console players can uninstall data packs if no longer needed to reduce the overall file size - but PC players can't.