Call of Duty: Black Ops 2 Vengeance DLC spotted
UPDATE: Acti confirms, due for Xbox 360 launch on 2nd July.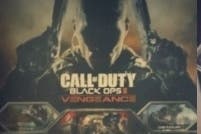 UPDATE: Activision has formally announced Black Ops 2: Vengeance, which will launch first for Xbox 360 on 2nd July. Other platforms "will follow".
As leaked below, maps include Cove, a small Indian Ocean island, Detour, a destroyed suspension bridge, Rush, a close-quarters map set on an abandoned paintball course, and Uplink, a new version of Black Ops map Summit.
The game's Zombie map, Buried, is set in an abandoned underground Old West mining town, meanwhile. You also get a Ray Gun Mark II.
ORIGINAL STORY: The next DLC pack for Call of Duty: Black Ops 2 will be named Vengeance, leaked promotional artwork posted online suggests.
Vengeance will contain four new maps and a new Zombies level, images obtained by COD Online have revealed.
Cove, Rush, Uplink, and Detour will be joined by undead map Buried, which appears to have a Western movie theme.
Black Ops 2 developer Treyarch has yet to announce the add-on, although the existance of retailer artwork suggests that its reveal is not too far off. Vengeance will be the third of four Black Ops 2 map packs, after January's Revolution and April's Uprising.
Call of Duty: Ghosts, developed by Activision's Infinity Ward studio, is due for release this November.