Borderlands Handsome Collection and £270 special edition announced for PS4, Xbox One
Includes Borderlands 2, Pre-Sequel and all DLC.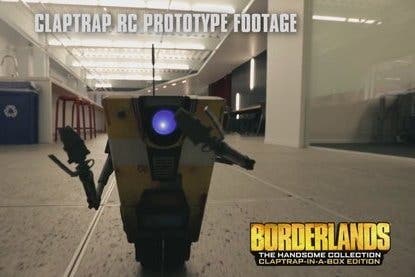 Borderlands 2 and Borderlands: The Pre-Sequel (and all DLC) are being bundled together and tarted up for release in Borderlands: The Handsome Collection for PlayStation 4 and Xbox One. The compilation comes out 27th March.
You'll be able to transfer old saves from PS3, 360 and Vita into the new games (providing you stick to the same family of machine); you'll be able to play four-player split-screen for the first time; and, apparently, "for the first time on a console, players can experience [the games] in HD - looking better than ever before". In HD for the first time! Goodness me! Whatever the graphical upgrades are, aren't mentioned.
A Claptrap-in-a-Box Edition of the game was announced alongside the news and costs a ridiculous $399 (confirmed UK translation: £270). That's because it has a remote controlled - via smartphone app - one-wheeled Claptrap robot inside, complete with video-streaming eye and ability to spout one-liners from the game. Only 5000 have been made. Watch it in action in the video below.