Bloodborne's two planned DLC packs have been combined in the epic The Old Hunters
Promises a clot of content. Full details of what to expect in From Software's expansion.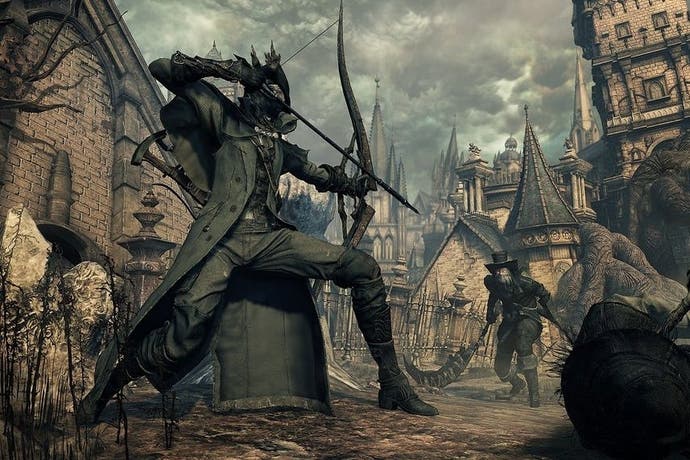 The Old Hunters, Bloodborne's much anticipated add-on that's due out this November, sees what was originally planned as two DLC packs combined for one single expansion - and it sounds like it's the last DLC for From Software's PS4 exclusive.
"We were originally planning on doing two sets of DLC," Masaaki Yamagiwa, Sony Japan's producer for Bloodborne, told Eurogamer at Tokyo Game Show today. "It was decided that with one set, we'd be able to do more with it, and have more volume for players to play with. As of right now, we have no plans for any more DLC."
Bloodborne, a PlayStation 4 exclusive from Dark Souls creators From Software, launched in March this year and was met with success, with some 2 million sales to its name to date as well as an outstanding critical reception. "It's awful to know that, in all likelihood, it will be a painfully long time until I play anything else that matches up to Bloodborne's breadth of vision, generosity of content, and yes genius," wrote Rich Stanton in our review.
It took almost six months for Sony to announce an expansion, although a November release was always on the cards. "At least in Japan, the plan was to release the DLC in November," said Yamagiwa. "I should mention, though, we finished making the game and then moved into production on the DLC. It took that long, but that's because of the sheer amount of volume. We're sorry it took so long! But it's as fast as was possible considering what's in it."
So what is in it? A show floor demo gave us a small taste of things to come, with a look at one of The Old Hunter's new locations - a blood-filled swamp that sends players cresting over a hill where they can see the majesty of Yharnham on the horizon while a broken moon hangs over it. The expansion is set within a nightmare where Yharnam's ancient hunters have been trapped, and it builds upon Bloodborne's existing story. The boss that bookends the demo, a monstrous collection of ill-fitting body parts called Ludwig, was referenced in the main game. "The DLC's an opportunity to meet - in some form or another - the old heroes of Yharnham," explained Yamagiwa.
The Old Hunters will be accessible at some point in the first half of the game after a number of unnamed conditions have been met, and it's said to offer a sizeable challenge. The demo on the show floor at Tokyo Game Show was de-fanged somewhat in order to be more approachable, with some of boss Ludwig's moves being removed. The final expansion, however, is said to be around the same difficulty as the latter half of Bloodborne's campaign - so it could present a nasty surprise to players who stumble upon it early on in the game.
There will be three new areas within The Old Hunters, with some familiar locations folded in with the all-new ones. When you consider that Bloodborne's approximately 13 areas took players some 30-40 hours to complete, The Old Hunters should present around 8 hours of content in its entirety - depending on your own pace, of course.
The Old Hunters also features around 10 new weapons, although only a handful were available in the demo build. There's a whip that converts into a katana sword, which in the build provided was combined with a stun-bomb that players could use before diving in for a succession of high damage attacks, as well as what appeared to be a more brutal take on the saw cleaver, and a dagger that doubles up as a bow and arrow. "Its background is that it's the hunter Simon's, who didn't like guns," Yamagiwa said of the latter weapon. "It's a little on the extreme side. We wanted to give the players more options, so in this case it's a ranged weapon."
Also being introduced in The Old Hunters are new NPCs that can be summoned, and that will be interspersed throughout Bloodborne's existing campaign. Finally, the Chalice Dungeons won't be impacted, but there may be some changes down the line. "We won't be touching them in the DLC, but we're thinking of making them easier for everyone to play," said Yamagiwa. "But that'd be as part of an update, not part of the DLC."
The Old Hunters is coming out on November 24th and will cost £11.99, while on December 3rd a special edition of Bloodborne which incorporates the DLC will also be released.
If you need help getting through the mammoth DLC, our Bloodborne: The Old Hunters guide is live now.