BlizzCon's £35 Virtual Tickets now available, include WoW-themed Overwatch skins
Plus Murloc pets and other in-game items.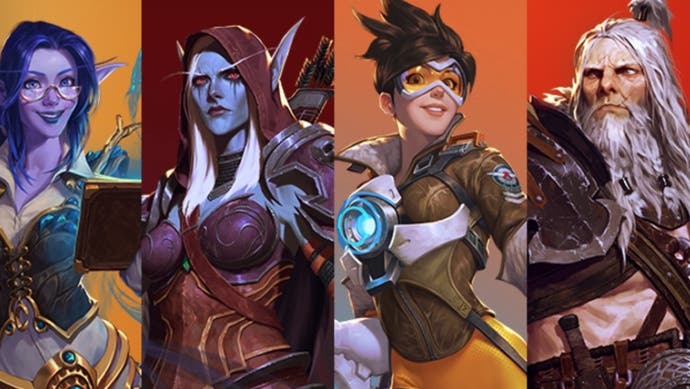 BlizzCon 2019 is right around the corner, promising the usual array of announcements and activities concerning Blizzard games that may or many not be available to play on your mobile phones. And, for those eager to sample BlizzCon's potential delights without actually being there in person, Virtual Tickets are now on sale.
This year's BlizzCon takes place on 1st and 2nd November, and will feature, according to the official announcement, an assortment of Blizzard-related "games, esports, cosplay, contests, fellowship, and fun". As has been the case in previous years, those unable to attend BlizzCon will be able to watch at least some of the festivities online for free.
This includes the opening ceremony (kicking off at 11am PDT on Friday, 1st November), a selection of panel broadcasts, and all of the event's esports tournaments - incorporating the Overwatch World Cup, the World of Warcraft Arena World Championship, the Hearthstone Global Finals, StarCraft 2 World Championship Series, and more.
In order to watch everything online, however, fans will need to purchase £34.99/$49.99 USD Virtual Tickets, which provide access to BlizzCon All-Access Channel, Community Night contests (taking place on the Friday evening), closing festivities, and all developer panels scheduled to run throughout the event.
Virtual Ticket holders, as well as actual event attendees, also receive various in-game items, spanning a wide range of Blizzard titles. World of Warcraft players gain the Wendigo Woolies transmog outfit, for instance, alongside two "murloc-ified" faction leaders: Finduin (for Alliance heroes) and Gillvanas (for the Horde). Overwatch players, meanwhile, will receive two WoW-inspired skins: Illidan Genji and Tyrande Symmetra.
Hearthstone players can expect a new card back and "mysterious" Golden Legendary card, which will be revealed during BlizzCon, and Heroes of the Storm will see a BlizzCon spray and portrait, plus the Celestial Deepcrawler mount. Diablo 3 on PC and Mac gets a pair of commemorative wings, and StarCraft 2 will receive three Brood War-era unit skins and portraits, the Classic Battlecruiser, the Classic Ultralisk, and the Classic Carrier.
Blizzard says more details regarding BlizzCon activities and ticket holder extras will be revealed as the event approaches.