Bleak medieval "single-player co-op" adventure A Plague Tale gets free trial version
Includes full first chapter on PC and consoles.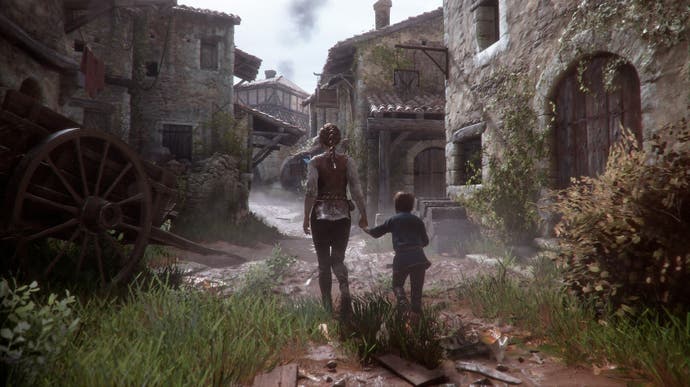 Developer Asobo Studio's well-received 14th century "single-player co-op" adventure, A Plague Tale: Innocence, has just launched a free trial version featuring the game's full first chapter - and it's available to download now on PC, Xbox One, and PS4.
A Plague Tale, which originally released back in May, follows the frequently bleak journey of Amicia and her sickly 5-year-old brother Hugo, children of a nobleman, forced to flee their castle home to escape the Inquisition. What follows is an enormously atmospheric, if somewhat rough-around-the edges, adventure through fog-shrouded, plague-ridden France.
When Eurogamer contributor Edwin Evans-Thirlwell reviewed A Plague Tale earlier this year, he was critical of the game's frequent dalliances with dull, unrefined stealth. Thankfully, A Plague Tale shines considerably brighter in its environmental puzzling, and that, when combined with its wonderfully rich atmosphere and affectingly well-wrought central relationship, Edwin reckoned, helps it rise above those stodgier elements.
"Though let down by an over-reliance on mandatory stealth, which drains a little of the sorcery from some astounding locations," said Edwin in his review, "it is a wonderfully dark and tender fairytale whose key draws are its frail but indefatigable protagonists."
If that sounds like something you might want to investigate further, A Plague Tale: Innocence's free trial version is available to download now via Steam, and the PlayStation 4 and Xbox One stores. And should you be sufficiently impressed by the included first chapter, there's currently 33% off A Plague Tale through Steam, pricing it at £26.79 until Monday, 16th September. PlayStation Plus subscribers, meanwhile, can pick the game up for £26.99 right now.