Battlefield 1 Kolibri - How to get the tiny gun Kolibri in multiplayer
How to get the tiny 2mm caliber sidearm for all classes.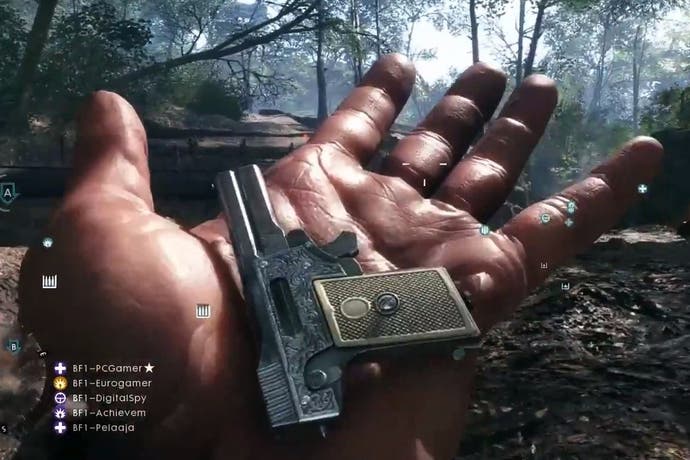 The Battlefield 1 Kolibri has to be seen to be believed - the 2mm caliber weapon is almost certainly the smallest weapon to feature in a shooter, and despite its tiny size, can be used in any of the game's maps and modes.
The Kolibri is based on a real-world weapon designed by Franz Pfannl, an Austrian watchmaker in 1918, and was designed as a self-defense sidearm. Its name takes inspiration from the 'hummingbird' - the smallest of birds - which seems pretty fitting for its tiny size, don't you think?
As you can imagine, the Kolibri is not particularly powerful, but that should only add to the joy when you eventually land a kill with it.
How to get the Kolibri in Battlefield 1
Despite its novelty value, unlocking the Kolibri is actually a very simple process - once you hit Rank 10, it'll be available for purchase for 150 War Bonds.
All four classes - Assault, Medic, Scout and Support - will be able to use it provided you reach the required rank on each, and it can be located within the Sidearms category for whenever you fancy giving it a spin.
Here is the Kolibri in action, alongside some gameplay, including its unique reload and weapon change animations:
What else do we know about the Kolibri in Battlefield 1?
According to Wikipedia, each bullet weighted just 0.2 g (3 grains) and could only penetrate 10-40 mm (0.4 to 1.6 inches) of pine board. Of course, that's enough to easily injure someone, and in Battlefield 1, would require a few rounds to land a decent chunk of damage...
Unsurprisingly, the Kolibri is the weakest weapon in Battlefield 1, with a scant firepower value of 4 (compared to say the M1911 pistol, which packs 11 times as much power).
It does, however, have the highest Control stat of any weapon in the game, and the highest ammo of any sidearm. Here are its stats in full:
| Damage | Accuracy | Hip Fire | Control | Rate of Fire | Ammo |
| --- | --- | --- | --- | --- | --- |
| 4 | 25 | 67 | 100 | 450 | 8/192 |
---
For more tips on Battlefield 1, check out our main Battlefield 1 Guide, tips and tricks hub; our Battlefield 1 maps breakdown, our complete list of Battlefield 1 weapons stats, unlocks and War Bonds advice, and Codex Entries; how to get the tiny gun Kolibri; how to get Battlepacks, Scrap and Puzzle pieces; and class guides for the Battlefield 1 Elite Classes, Medic class, Support class, Scout class, and specialist Pilot, Tanker and Cavalry classes, too.
---
As you may have guessed, we'd probably wouldn't recommend this for regular play. If you're confident enough, you could get up close and personal with headshots to do higher damage, and while its high control could give you a hand with your aiming, by the time you've reached rank 10 you're probably already well accustomed to the game and other sidearms that you won't have this problem.
As such, we'd recommend many other Battlefield 1 weapons, which you can browse and compare their damage, accuracy and control stats in full.
If you do decide to use it, however, we wish you the best of luck!