Backers have finally started to receive the beleaguered ZX Spectrum Vega Plus
But early impressions aren't great.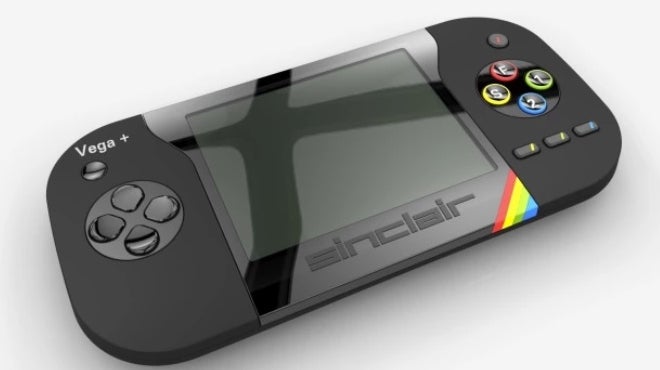 Last month, Indiegogo announced that it had contacted debt collectors to reclaim funds pledged toward the long-awaited ZX Spectrum Vega Plus. Now, nearly eight weeks on, some backers are finally starting to receive their consoles - although early impressions are less than positive.
The ZX Spectrum Vega Plus portable console, created by Retro Computers Ltd, managed to raise over half a million pounds from more than 4,700 backers in March 2016. The Vega was originally anticipated to release that summer, but has missed numerous deadlines, becoming embroiled in a very messy dispute between current and former senior management.
Things came to a head last month, on June 5th, when Indiegogo's Trust and Safety team announced that it would not be extending Retro Computers' delivery deadline after the company failed to satisfy several requests, including requests to provide a final production unit by June 5th, and to refund backers that no longer wanted the Vega Plus.
As a result, Indiegogo said that it was now liaising with a collections agency in an attempt to recoup funds disbursed and to refund backers. At the time, it noted that Retro Computers still had an opportunity to fulfil its obligation to provide backers with a console; however, a later post dated July 5th confirmed that it was "continuing to pursue remedial action through a collections agency, and [would] announce once we have an update".
There was a new development on July 6th, when Retro Computers posted that it was in the process of contacting backers that had opted for the "Blankety Blank" version of the Vega Plus (as its name suggests, a version without games, which was introduced after the company, rather bizarrely, appeared to admit that it didn't have documented licence agreements for the 1,000 titles it had promised to include) and that it would be dispatching these soon.
Retro Computers eventually confirmed that it had started shipping an initial batch of 400 units to "Blankety Blank" backers on July 26th. "It has been a well documented long and difficult road for the company," it said, " Well, we have now proved all negative claims to be false."
All of which brings us up to date - and, as Retro Computers promised, certain backers have now begun to receive their very-long-awaited Vega Plus consoles. And if you're wondering what a final version of the beleaguered machine looks like, you're in luck: one backer, going by the name of Craig Wootton on YouTube, has posted a short video showcasing the machine.
"Sadly," he says, "I've been left quite disappointed [...] with the way they've supplied it to me", before highlight numerous issues, including the lack of protective packaging, and the fact that the few supplied sample games don't work with the console's buttons straight out of the box. "The build quality's not the greatest," he concludes, "but, hey, it's something".