Assetto Corsa Competizione lays down the foundations for something truly special
Could Kunos be on the cusp of racing greatness?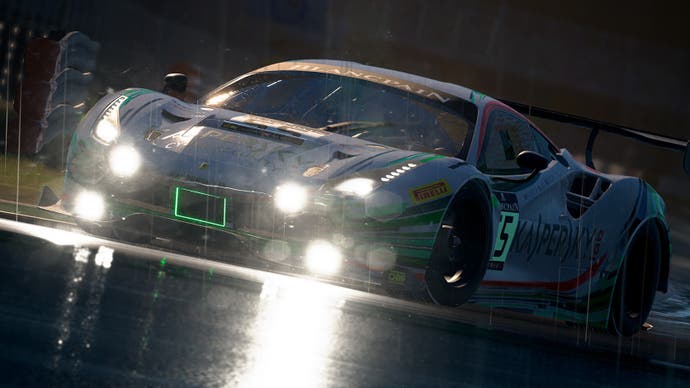 I'd call it motorsport's best kept secret, but at this point it's most definitely not. At the very least Porsche, Bentley, Lamborghini, McLaren, Mercedes, Ferrari and BMW are all in on it - where else can you see motoring's finest marques going head-to-head across some of the world's finest racing tracks? Blancpain GT has more than a fair shout at being the most interesting, exciting motorsport series around at the moment (and its rounds are all free-to-air on YouTube - this lot get it), so the prospect of a game centred around its antics is an exciting one indeed.
Throw in the Assetto Corsa name - Assetto Corsa being the most exquisite driving experience in recent years, of course, and a new standard-setter when it comes to crafting believable handling cars in video games - and you've got the ingredients for the most exciting racing game in an age. Well, for myself at least - and I've been relishing the chance to play around with the early access version of Kunos Simulazioni's Assetto Corsa Competizione this past week.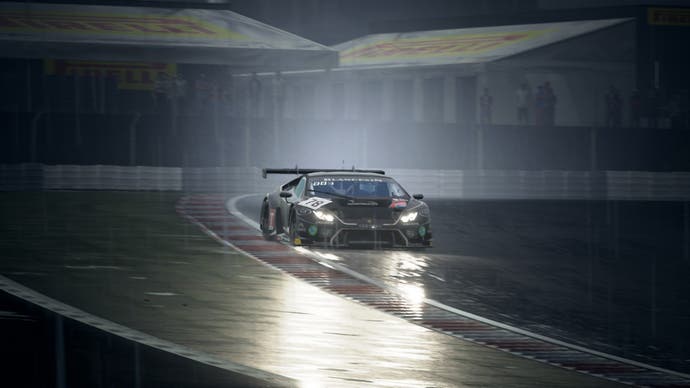 But it's worth pointing out that this is an early access title with an emphasis on the early part at present - there's a full roadmap laid out that leads all the way to the full release next year (including the implementation of VR support next month, excitingly), but right now all you're getting is a single car and a single track, as well as a small discount on the full price. It's slim and a little disappointing - especially when you consider that the combination of a Lamborghini Huracan GT3 and the Nürburgring is hardly inspiring - but when you consider that the original Assetto Corsa was at its best when it was stripped back to the basics some of that sadness ebbs away.
And hotlapping the Huracan shows off what's changed for this all-new Assetto Corsa. The shift to Unreal Engine 4 is one thing, though Kunos retains the original's character while simply adding in some more flair. Throw in the dynamic day and night cycle - an essential part of a series that has the Spa 24 Hours as its centrepiece event - and you've got an exceptionally handsome game, even if it's understandably lacking some polish at present.
It sounds pretty sublime, too, and if the V10 under the hood of the Huracan doesn't quite have the violent bark you'd get in the likes of Race Room there's some lovely incidental detail besides; stray offline and you'll hear a build-up of dirt and rubble, while the undertray occasionally scrapes across the tarmac with such a crunch you'll be convinced you should take a detour to Halfords to get it seen to. Elsewhere, there's neat effects like the slap back reverb you hear on the main straight as the engine notes bounce off the concrete of the pit wall.
The handling's not bad either, as you might expect. It takes a little while to dial into, and these GT3 cars feel much more nuanced than those in Assetto Corsa. I'd say at present it takes a mite too long to dial into them - GT3 cars, by design, are easy to drive with their ABS and traction control, and are made to flatter the talents of the amateur drivers who take up many of the seats. They do come alive when taken by the scruff of the neck, though, and that's certainly true in Assetto Corsa Competizione, with cars pushing back and revealing much more detail when driven towards the edge.
Which ties neatly into the endurance side of Blancpain GT racing, something which Assetto Corsa Competizione smartly plays to. Getting heat into brakes and tires is much more pronounced, as is maintaining that heat (and an option in the menus, sadly not fully activated, suggests that brake wear - and perhaps, by extension, the brake changes that we see in longer endurance races - will play a part). The importance of consistency is also drilled down into players early on, with rhythmic, almost metronome-like driving rewarded (albeit by a system that's hard to get a handle on in its current implementation, with sectors broken down into mini-sectors and an overall consistency rating that doesn't seem to fully work at present).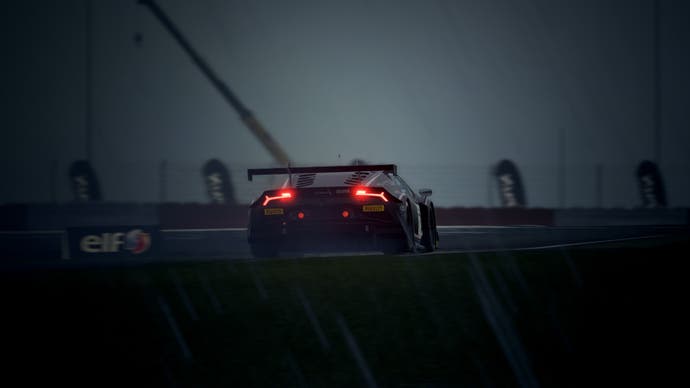 Assetto Corsa was always the hot-lapping game of choice, and Competizione's big trick is folding in hot-stinting, the aim being to tackle a short or long stint with accuracy, consistency and composure. It's a subtly different style of driving that's required, reflecting the fact that Competizione is taking on a subtly different discipline within the motorsport world. If it comes together, and can lead to longer and more rewarding sessions, then it could be pretty sublime.
The big question remains over the racing itself, and even though there's an option to partake in a single race with a field of 20 cars that question remains. It's hard to read too much into the AI as it stands, as what's there doesn't seem too far removed from what featured in the original Assetto Corsa, while the more structured online racing that'll be where this game lives or dies has yet to be implemented. It all reinforces the fact that this is the earliest of early access games, and there's a long way to go until the bigger picture emerges.
The foundations are there, though, and are more than strong enough. Fold in the foibles and feats of the Blancpain series and you have some real potential. It's early days - and, in truth, it's a little too early for me to be able to recommend anyone beyond the true diehard dive in in given how scant the package is at present - but in Assetto Corsa Competizione there could be the makings of something truly special.