What happens when motorsport legends go virtual racing?
In conversation with Emanuele Pirro.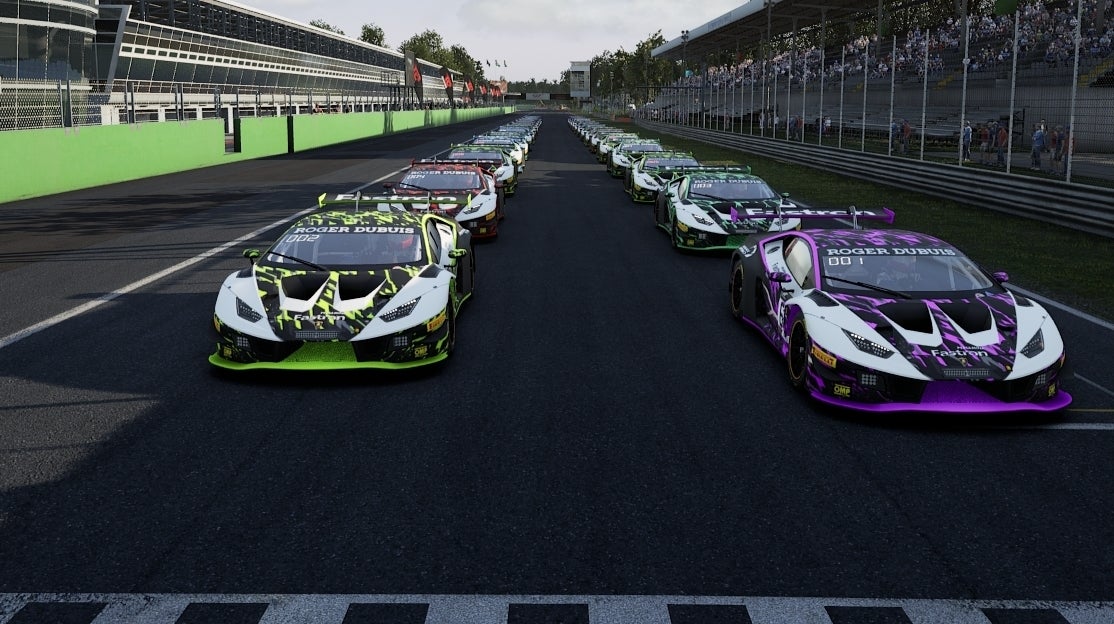 When real-world motorsport went on hiatus during the first few months of lockdown, there were definite winners and losers as racing drivers took to virtual racing. Charles Leclerc, Alex Albon, Lando Norris and George Russell opened up F1 to a new legion of fans with their antics, the likes of Louis Deletraz and Scott McLaughlin bolstered their reputations, while others found their online behaviour left their own reputations in tatters. There was, however, one standout star for me. Step forward Emanuele Pirro - former teammate of Ayrton Senna and Alain Prost in his time at McLaren in the late 80s, five time Le Mans winner and, at 58, part of a different breed of racers. He's not a driver you'd typically associate with the online generation.
"My experience with racing simulators, it belongs to the period after I retired," Pirro tells me from inside Lamborghini's headquarters, his experience extending to a few stints in a GP2 car on Dallara's factory simulator as he helped dial in the new kit. "But I'm very interested in technology, very interested in the future, very willing to learn new things."
Which might be how Pirro found himself lining up in The Race's Legends Trophy, alongside the likes of Jenson Button, Juan Pablo Montoya and Emerson Fittipaldi. The best bit? While other drivers competed from the comfort of their expensive sim rigs, Pirro took part using nothing more than a dusty old Logitech G27 clamped to his office desk. And with that set-up, Pirro won.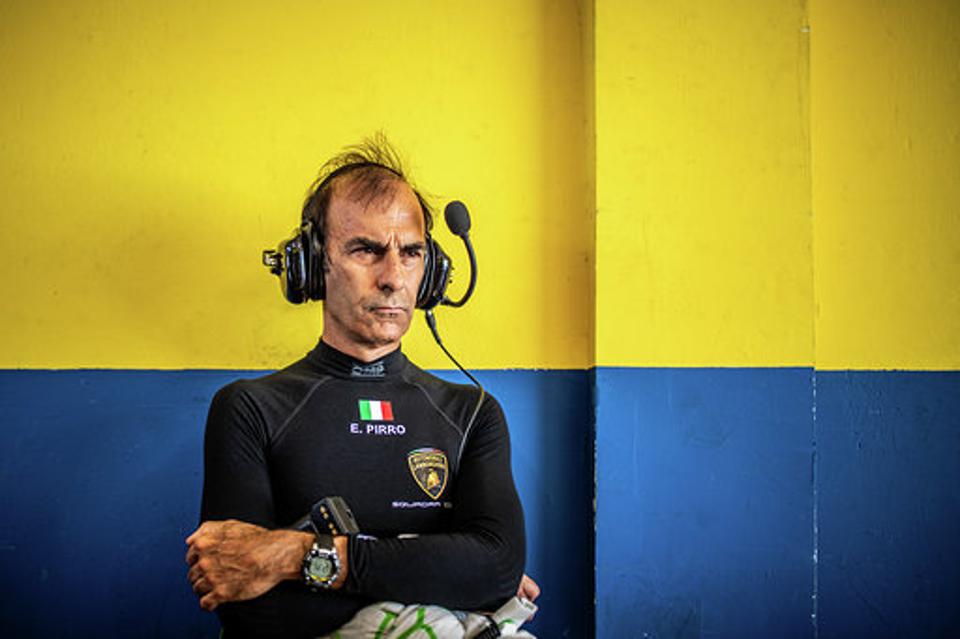 "Yes, this was the hardware - and also the seat was an old fishermen seat with a bottle holder," he says. "In a way this is a little bit like myself, you know - I always like to be understated. I never like to have the top state of the art equipment, and I always wanted to do well with limited resources. I would never have any satisfaction from winning with better equipment and other people. And apart from all that I wasn't prepared to spend all this money!"
Pirro's enthusiasm for it all, though, is a delight to behold. "I've an incurable passion for motorsport. And very often I forget that I have also been a racing driver. And I wrote a very, very, very small part of history of motorsport, but my real self is a great fan of motor racing so to be in this race in this chapter [of the sport's history], pulling each other's leg and feeling really very happy to be a part of it all, this was a wonderful experience."
As someone else with an incurable passion for motorsport, seeing some of the biggest names of the sport come together was a thrill - even more so when you realise that even the older generation remain racers at heart. The Legends Trophy was carried out in rFactor 2 using the McLaren M23 that took Emerson Fittipaldi and James Hunt to F1 world titles in 1974 and 1976, and Fittipaldi was quick to reach for the racing driver book of excuses when it came to some of his performances.
"It was funny because in our WhatsApp chat, you know, Emerson Fittipaldi was saying, 'but my real M23 was so much easier to drive! They must have used James Hunt's set-up, which was always crap!'" Even Pirro dipped into the same book himself. "I would have been happier if we drove without electronic aids, because to make life easier, we had to use traction control. And to rotate that car, you really needed the power." He even found himself writing to the race's stewards to dispute some penalty points - proving the racing driver in him is very much alive, and that some racing drivers are open-minded about this new way of going wheel to wheel. Not everyone's onboard, though.
Motorsport's virtual move during this enforced layoff also features some of its retired greats, including Adelaide Grand Prix points-scorer and five-time 24 Hours of Le Mans winner Emanuele Pirro who won The Race All-Star Series on this setup. #F1 #Adelaide pic.twitter.com/2f398BW2uK

— Adelaide Grand Prix (@Adelaide_GP) April 12, 2020
"Of course I've got a lot of old friends who are drivers, and some don't understand it," says Pirro. "Even when they talk about real racing - that's changed a lot, and they struggle to understand. I am president of the Grand Prix Drivers Club, which is a club of old retired F1 drivers, and there's a lot of old guys who, unfortunately, they think the old days were the best. And as for modern racing...
"Riccardo Patrese is a real friend of mine. And often we laugh with each other because, you know, in my role as an FIA steward, you have to impose penalties for those who don't obey the rules, and Riccardo is always pulling my leg. In our days, once he punched my helmet because I hit him on the straight in the heavy rain in Adelaide - and he says, you know, we were sorting out things by ourselves! And now you're doing this stewarding! I'm like, come on Riccardo, we are not in 1985, we are in 2020. The world has changed! So yeah, not everybody's like this."
Pirro's taken to virtual racing with some enthusiasm, though. "I really took this as a fun experiment," he says. "I was surprised, actually, by the fact I wasn't that bad. But it was really a learning path. It got me to know sim racing a lot better, and to respect sim racing a lot more - and to see the differences. And my conclusion was a mistake would be to mix them up. They're two very different disciplines, and there's a very good reason for both to exist. Sim racing has got some really valuable assets. The first one is, it is relatively cheap, because it really gives an opportunity for a lot of people to do some kind of racing which under normal conditions they wouldn't be able to. The worst part of our sport is that, unfortunately, it's not a sport for everybody. I'm really sad about it. So this is really, really cool."
It's a point close to Pirro's heart - as one of his many duties in his post-racing career, he acts as president of the Italian Karting Commission - as well as one as relevant as it's ever been, with the sport still struggling when it comes to diversity. "My mission is to reduce the cost," he says. Sometimes the people I'm trying to help are my worst enemies. And sometimes, honestly, it's frustrating for me, because I feel it's like a mission impossible - which is a word that doesn't belong to my vocabulary. So I will keep fighting."
Indeed, Pirro's latest role saw him involved with Lamborghini's The Real Race, a competition held within Assetto Corsa Competizione that held its grand finals earlier this week, the winner - Nils Naujoks - netting a drive in a pukka race-bred Lambo. "You know, if I was the richest man in the world I would buy everyone a season of racing," Pirro says as our short time together draws to a close. "But since it is not possible at least I try my best to support those who want to do something. I've always been an enthusiastic motor racing fan. And despite my age, I'll keep being like that."
Become a Eurogamer subscriber and get your first month for £1
Get your first month for £1 (normally £3.99) when you buy a Standard Eurogamer subscription. Enjoy ad-free browsing, merch discounts, our monthly letter from the editor, and show your support with a supporter-exclusive comment flair!