Assassin's Creed Valhalla finally lets you turn off finisher moves
Hacked out.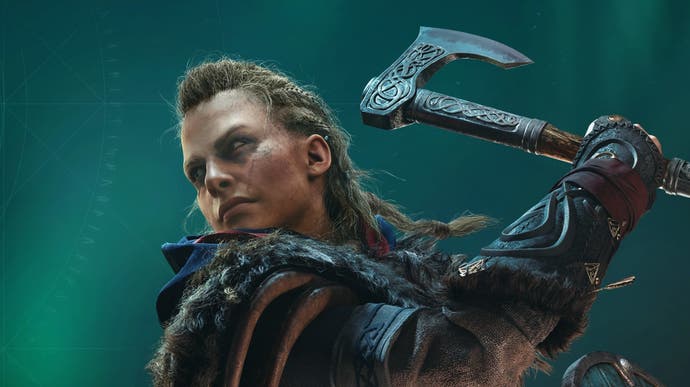 Today's update for Assassin's Creed Valhalla adds a smattering of new skills, another slew of bug fixes, and the handy ability to switch off cinematic finishers.
Finishers are the exaggerated moves Eivor will regularly pull off when downing an enemy: hacking the necks of wolves, stabbing banner-holding enemies through with their own flagpole, suffocating goliaths until you hear their neck crack.
These are cool to watch at the start of Assassin's Creed Valhalla. More than 150 hours in, they're an annoyance. I don't need to watch Eivor wailing on a poor wolf just for me to complete a daily challenge. So I no longer will!
A trio of new skills also arrive today: passive abilities which in this case all act to ignore hit interruptions and flinching. As with the toggle for finishers, this feels like a move to speed up and streamline combat.
Cold Rage lets you ignore hit interruptions while performing successive regular melee attacks. Eye of the North prevents flinching from hits while aiming with your bow. Intense Rage lets you ignore hit interruptions while performing your next off-hand parry or special attack. Each effect recharges after a few seconds.
Another change as part of today's update is the ability to use Bayek and Altair's outfit appearances with armour transmog.
Assassin's Creed Valhalla Title Update 1.2.1 launches tomorrow: April 27.

💡 A Brewing Storm, Pig of Prophecy, Missing fish fixes
⚔️ Toggle Cinematic Finisher Moves On/Off
✨ New Skills
📝 Game Improvements
📁 5GB-14GB; depending on platform

— Assassin's Creed (@assassinscreed) April 26, 2021
More than 80 bugfixes and tweaks are also included, including progression blockers such as the inability to duel with Dag, and the reintroduction of some missing fish. Ubisoft's exhaustive patch notes are here.
The update also preps Valhalla for the launch of its first major expansion, the Ireland-set Wrath of the Druids, on 17th May. That will be a separate download.
Earlier this week, Ubisoft said it would now work for longer on each Assassin's Creed Valhalla patch before they are pushed live, in a bid to better cut down the game's bugs. Patches for the game will shift from a four-week to five-week release cycle "to allow for more thorough testing and refinement", which is also why Wrath of the Druids' release was pushed back slightly.