Assassin's Creed Odyssey Ainigmata Ostraka locations - how to solve all ancient puzzles
A complete list of solutions for every single Ainigmata Ostraka puzzle in Assassin's Creed Odyssey.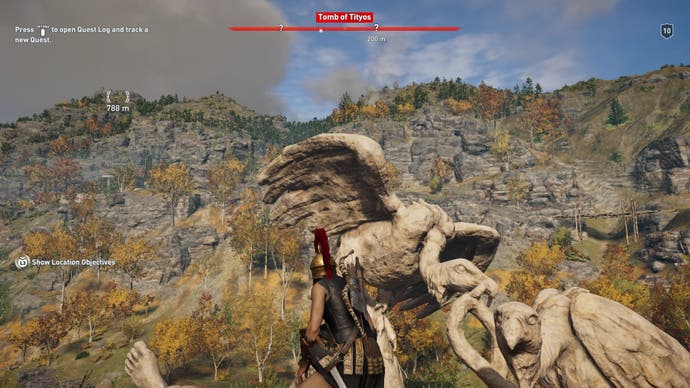 Ainigmata Ostraka are a type of collectible in Assassin's Creed Odyssey, and are very similar in practice to the Papyrus Puzzles from Assassin's Creed Origins. Each one contains a riddle on a stone tablet which, when solved, unlocks a new engraving.
Here on this page, we'll provide you with a full list of all the Ainigmata Ostraka locations, and, of course, how to solve every puzzle to unlock all the engravings.
For more in a similar vein, we have a complete guide to all Assassin's Creed Odyssey tomb solutions and locations, too!
Assassin's Creed Odyssey Ainigmata Ostraka explained - puzzle rewards, bonuses and more
Throughout the Ancient Greek world of Assassin's Creed Odyssey, you'll come across special collectibles written on stone tablets. These contain a riddle which will lead you to a different location in the same region/island. Solving the riddle will unlock an engraving, which can be added to a piece of armour or weapon to enhance its stats. You'll need to visit a Blacksmith to apply them.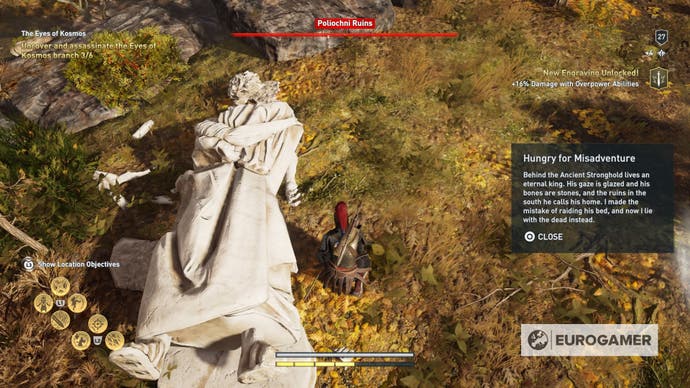 There are no telltale sound effects or visual cues to make each one stand out. The only element that defines them from the environment around them is a marker that lets you interact once you're close enough to a respective spot. So they're really easy to miss!
It is possible to locate all the Ostraka early on, but since all of these items are linked to specific locations - such as hideouts, camps, caves and Leader Houses - there's a good chance you'll have to face high-level enemies so it's a good idea to pick them up along the way or clear the story first so you're suitably levelled up. Some of the riddles can get really tricky, but don't worry - we've got you covered. Happy hunting!
Rewards and bonuses, and other things to know about Ainigmata Ostraka
There's really one other key thing to know about Assassin's Creed Odyssey's Ainigmata Ostraka, and that's how their rewards work.
Solving the riddle and finding the hidden treasure of an Ainigmata Ostraka gives you a special Engraving - but contrary to what we originally expected these aren't set in stone. Instead, there are several set types of Engraving (say, one that gives a percentage increase in Crit Chance on full health), and each time you find an Engraving of that type, its bonus increases.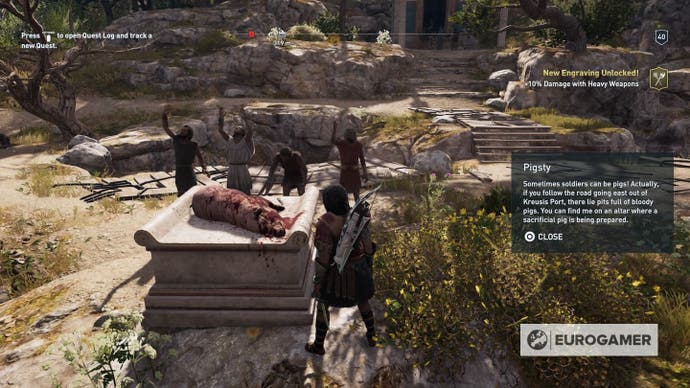 So, for example, the ostraka called 'The Floor is Lava' and 'Pigsty' both give you Engravings that increase damage with heavy weapons when solved, but it doesn't matter what order you solve them in - the first will always increase it by 2%, the second by 4%, up to the fifth, increasing it by 10%.
For reference, here's a rundown of all the Ainigmata Ostraka according to the Engraving bonus they grant you as a reward, and amount they increase by for each one you solve - but remember, it doesn't matter what order you do them in!
Assassin's Creed Odyssey Ainigmata Ostraka rewards list: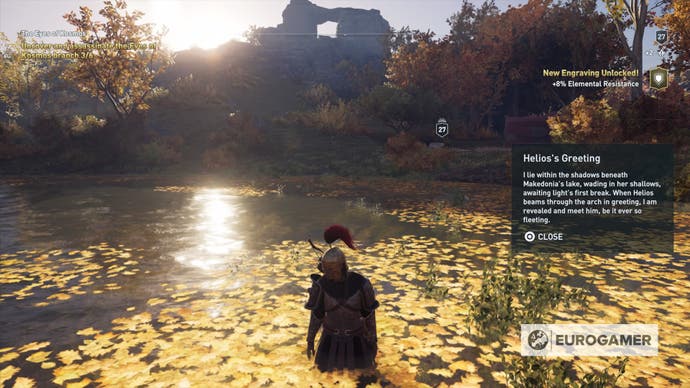 ---
Looking for more help? Our main Assassin's Creed Odyssey guide and tips hub gives you an overview of our pages, while we also have all fifty-plus Ainigmata Ostraka puzzle locations and solutions, plus more on how to get the Assassin's Creed Odyssey best ending, a list of all Assassin's Creed Odyssey tomb solutions, the best weapons, armour, engravings, and legendary armour and weapons listed, the Kalydonian Boar strategy and location, Orichalcum locations and even help with Assassin's Creed Odyssey romance options. Elsewhere we can help with how to earn money and Drachmae fast in Assassin's Creed Odyssey, how to earn XP and level up fast in Assassin's Creed Odyssey, and our picks for the best side quests in Assassin's Creed Odyssey.
---
Otherwise, in the section below you'll find our big (in-progress) list of Ainigmata Ostraka locations and their solutions!
Ainigmata Ostraka locations, solutions and puzzles listed
Kephallonia Island Ainigmata Ostraka:
Northern Greece Ainigmata Ostraka:
Attika Peninsula Ainigmata Ostraka:
Forest Islands Ainigmata Ostraka:
Paradise Islands Ainigmata Ostraka:
Arid Islands Ainigmata Ostraka:
Peloponnese Ainigmata Ostraka:
The easiest Ainigmata Ostraka secrets to find in Ancient Greece:
If you're out for a few quick hit or just some digestible puzzles to help ease you into the process of hunting them all down, here are some of the easier ones we found: