The Voters Strike Back
Your chance to throw an egg at John Prescott, or a grenade at William Hague
If you live in the UK, the chances are that one week into the four week election campaign you are already sick of the sight of William Hague, Tony Blair, Charles Kennedy and friends kissing babies, shaking hands with the elderly, and lashing out at not-so-innocent bystanders. If so, we have just the thing for you...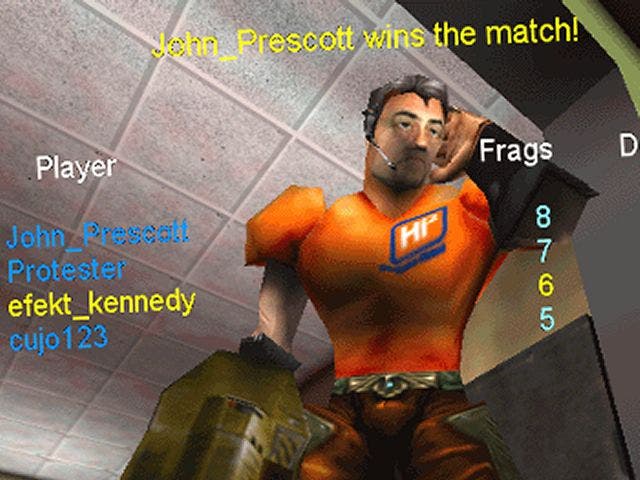 First up is Hi2, who are currently running an Unreal Tournament election special where you can let your views be felt .. by ramming a rocket down the throat of William Hague / Tony Blair (delete according to political views). Yes, now you too can take on the appearance of the leader of any of the three main political parties and battle it out online with your fellow voters, with the frags tallying up to show which of the party leaders is coming out on top. Worryingly, after a quick examination of the results and consulting Peter Snow's infamous swingometer, we discovered that the Conservatives are currently running away to an election victory with 70% of the frags, while Labour trail on 12% just ahead of the Liberal Democrats on 10%. The other 8% must be undecided...
And in honour of the events of Wednesday evening, a new John Prescott skin is now available as well. The necessary map and skin files weigh in at just 2.5Mb in total, and although you have to sign up for Hi2's OnlineGames.net service to play, it only takes a minute and is completely free. So if you have a copy of Unreal Tournament, why not give it a try? Go on. You know you want to.
Meanwhile p@nlogic are offering you the chance to "Splat The MP", with a fun little webgame that sees you lobbing eggs at John Prescott and the three party leaders in the House of Commons, while Margaret Thatcher and a naked (eugh - what a horrible image) Anne Widdecombe flash past in one of the most terrifying sequences ever to grace a computer game. Robbie Williams and Britney Spears are also there for some reason, although bizarrely you're actually penalised for hitting them. Whoever made this game is clearly warped...