App of the Day: Kumo Lumo
Cirrus business.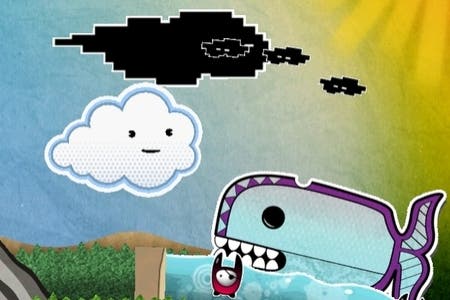 Imagine if you could float above someone you didn't like and pour rainwater on them. If you really didn't like them, you could zap them with thunderbolts. You could teach them a lesson, Old Testament style. And you could also use your powers to water crops.
In Kumo Lumo you have such a power. But with this power comes environmental responsibility. You're a cloud, obviously, and the chaps you're zapping are horned imps with eye patches. They're here to burn down the game's papercraft levels, and you're the one who's going to stop them.
But stopping them is not enough. Kumo Lumo's world is in danger, haunted by evil digital black clouds that can zap Lumo down in size. The trees need watering, the mountains need growing (also by watering) and the land's sheep need to be tended to (also by watering).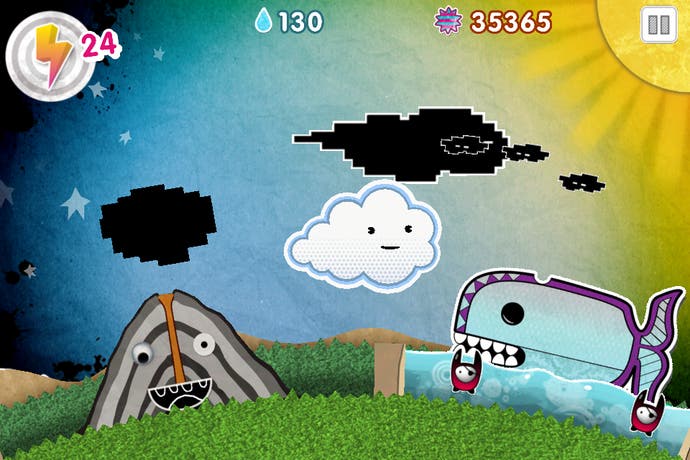 As the world's first "rain 'em up" (according to publisher Chillingo), Kumo Lumo is a bit of an oddity. You float above a rotating spherical world. Dragging the world from side to side spins it either way, and you can separately zoom Lumo around the screen at a touch. (Tilt and virtual joystick control options also exist, but are to be ignored.)
Each level (there are dozens) offers an objective of increasing difficulty. But there's also a meter that tracks your world-building deeds and offers the standard mobile game three-star rating for your progress. Balancing both is something of a plate-spinning act. Do you go straight for the objective and absorb ten sheep straight away, but end up with a low star rating? Or do you linger and face a dodging act among the banks of evil clouds?
There's a rudimentary health system to contend with, too. Watering objects will shrink Lumo in size - as do any brushes with fire or foe - so you'll need to keep Lumo topped up with fresh clouds to keep him his usual fluffy self. Evaporate too much and it's game over.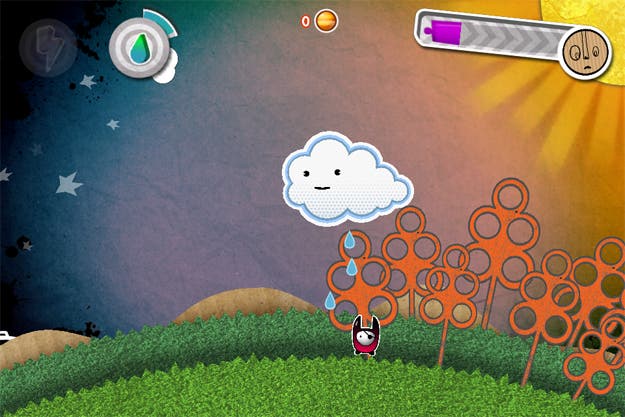 Kumo Lumo is an abrupt change of pace from the usual App Store fare, but comes with a few small niggles. It is impossible to get the world's sandboxy levels fully straightened out without spending an aggressive amount of time on each - and the game's three-star reward system will have filled up long before then. There are also off-putting moments where the game forces open your Facebook app, hoping you'll post a status update about it.
But, all things considered, Kumo Lumo is an airy distraction and a very accessible oddity. The game is completely free and every level is available to play without paying anything.
Performing good deeds will sometimes earn you a coin or two, which can later be spent on permanently enhancing your rain or lightning strength. You can fast-track your way through these upgrades via in-app purchases, but this is entirely unnecessary. Still, if you like the game enough, it's both a neat bonus and a way of dropping a few real-world coins back to those who made this soaring curio.
App of the Day highlights interesting games we're playing on the Android, iPad, iPhone and Windows Phone 7 mobile platforms, including post-release updates. If you want to see a particular app featured, drop us a line or suggest it in the comments. For daily app coverage, check out our sister site Modojo.