Angry Birds-themed play parks coming to UK
It's all wings and roundabouts.
Angry Birds developer Rovio plans to deploy themed sets of swings and slides to playgrounds around the country.
The initiative will start this summer in Finland, Angry Birds' homeland. UK playgrounds will follow.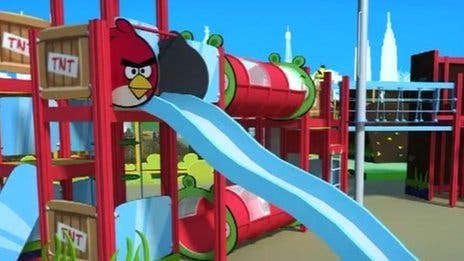 "Rovio wanted to invite people who play the game to not only sit inside on the sofa, but to go out, move themselves and have fun," Rovio's playground equipment partner Lappset Group told BBC News.
The parks will feature "exclusive" downloads and interactive content.
"You have large screens where you can play the games in the park. There's a tunnel that you have to run though at a certain speed - if you don't get there in time you get sprayed with water."
Rovio has already announced plans to launch a new themed Angry Birds Land at the Finnish theme park Särkänniemi Adventure Park. It will feature "Magic Places", areas where "activities and the gaming world meet".
Angry Birds Space, the latest downloadable game in the addictive series, is released tomorrow.