Activision goes to war over Call of Duty: Modern Warfare battle royale leaks
Subpoena gun.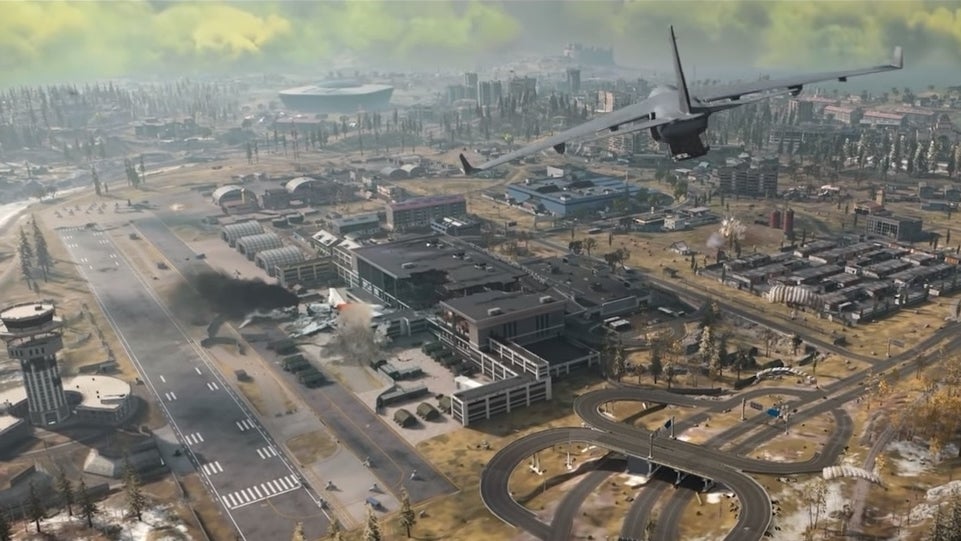 Activision is fighting Call of Duty: Modern Warfare battle royale leaks with subpoenas and online takedowns.
Modern Warfare's upcoming battle royale, reportedly dubbed Warzone, is one of the worst-kept secrets in all of video games. While it remains unannounced, players have found themselves accidentally transported into its tutorial, and there is detailed information relating to its map and mechanics online.
In fact, if you boot up Modern Warfare today you'll see a "classified" portion of its main menu. Clearly, this will turn into battle royale once Warzone launches. And Activision even released what very much looks like a teaser for the battle royale, with one soldier saying "the gas is closing in" before fan-favourite character Ghost drops in to say "they're targeting their own". The camera then pulls back to show soldiers dropping out of a plane into a warzone with, yes, a green gas closing in.
But that hasn't stopped Activision from filing multiple takedowns of social media and website posts on copyright grounds. And in a rare development, it has demanded Reddit hand over the personal details of a user who posted what looks like the cover art for Warzone.
As revealed by TorrentFreak, Activision obtained a subpoena from a US court ordering Reddit to dish the dirt on a redditor called Assyrian2410, who posted a thread on the Modern Warfare subreddit titled: "I found this image online. Not sure what it is. Possibly Battle Royale."
The thread linked to an image that showed characters from Call of Duty standing on a downed chopper underneath the text: Call of Duty Warzone. Assyrian2410 has since deleted their Reddit account, and the image has been scrubbed.
It's clear Activision is keen to find out the original source of this leak, but its efforts haven't stopped with Assyrian2410. It has forced offline a tweet from a Call of Duty subreddit moderator who posted the image, and the Twitter account of Call of Duty leaker TheGamingRevolution, who claimed the image was "legit", was suspended. TheGamingRevolution has also removed a video published to YouTube showing footage of the Warzone tutorial in action.
Elsewhere, other Reddit posts have been caught in the crossfire. The founder of a subreddit dedicated to Modern Warfare's battle royale, r/modernwarzone, told Eurogamer they received a takedown from Activision after they posted the leaked image of Warzone to their Twitter account.
"In the email they sent me concerning the takedown, they linked every other tweet that contained the same image that was removed, and there was quite a long list," DougDagnabbit said.
"Every other takedown that's come since has been more of the same, with the community's original content being affected adversely due to them copyright striking anything that they see fit. Even information that's easily available in-game without using exploits or cheats of any kind."
Various links have now been deleted in a megathread posted on r/modernwarzone that rounds up all the information on Warzone discovered so far. And with Call of Duty fans hungry for more on the inevitable battle royale, Activision has come under fire for its aggressive takedown strategy even as it teases the release of the mode within Modern Warfare itself.
"They really handled this in the worst way possible," DougDagnabbit said. "If they would've shown restraint and not have had such a knee jerk reaction to the original leaked image none of the current leaks would've happened. The subreddit wouldn't have been created in the first place. I also think that adding the menu blade of 'classified' was a terrible idea on their part to build hype. I'm sure they didn't intend on any of this to happen, but the public opinion of them has definitely gone down since everything started, and everyone knows the current public opinion on Activision isn't exactly great."
Activision declined to comment when contacted by Eurogamer, but its course of action comes as no surprise given the nature of the leak. What we have here could be considered the artwork for the next big Call of Duty release, given Warzone will reportedly be available to download for free seperate from Modern Warfare. The company no doubt feels within its rights to protect its intellectual property in this case, as opposed to responding to accidental leaks of its own making, such as via data-mining.
But, according to DougDagnabbit, Activision has targeted more than this leaked art.
"I would say it is within their rights, but some of the things they've taken down have been ridiculous," DougDagnabbit said.
"One of our most active users, u/SlammedOptima made the original superimposed image of the Blackout map compared to the Warzone map. The Warzone map info had been posted months beforehand and was public knowledge, and the Blackout map information was public knowledge as well. Our user spent time making approximate calculation of size based off of things available in-game to everyone without any sort of exploitation and it was still taken down within 24 hours after several major news sites posted about it without crediting the original author or seeking his permission to use."
Meanwhile, Reddit has until 29th February 2020 to hand over the personal details of Assyrian2410, although it's unclear whether the subpoena will amount to much. As Gizmodo points out, when Reddit faced a similar case in 2019, the courts decided anyone from anywhere can rely on the right to anonymous free speech under the First Amendment because Reddit is an American platform.
Online, the wait for an official Warzone announcement has become a meme within Call of Duty subreddits, although some moderators remain on edge.
"We may have gained Activision's attention, but we did not intend to break any terms of service or copyright law and we are strictly vetting the content that is posted to ensure that it is legal and contains no material that isn't the poster's original content," DougDagnabbit said.
"If Activision decided to come after me, not only would it be terrible PR for them, but there's tens of thousands of others out there that they would need to go after as well. We are all just huge fans of the new Modern Warfare, and are hyped to see battle royale release."
Become a Eurogamer subscriber and get your first month for £1
Get your first month for £1 (normally £3.99) when you buy a Standard Eurogamer subscription. Enjoy ad-free browsing, merch discounts, our monthly letter from the editor, and show your support with a supporter-exclusive comment flair!