Acclaimed board game dungeon crawler Gloomhaven's digital adaptation enters Steam Early Access next week
And there's a new gameplay trailer to celebrate.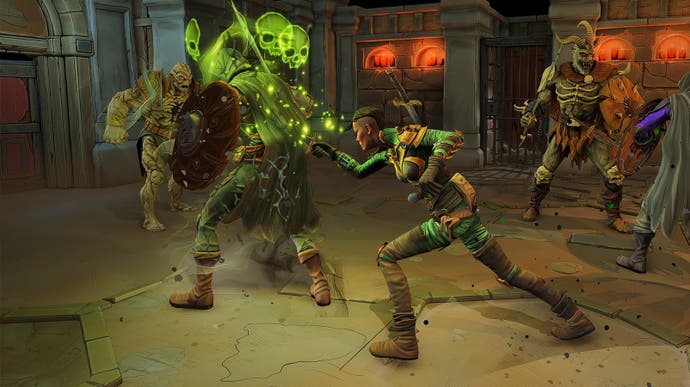 Asmodee Digital's video game adaptation of critically acclaimed dungeon crawler board game Gloomhaven will be entering Steam Early Access next week, on Wednesday 17th July.
The original Gloomhaven, by designer Isaac Childres, was enormously well received when it released in 2017, and has been hovering near the top of BoardGameGeek's Hotness chart ever since. It's a richly designed experience that employs a staggeringly flexible RPG system, featuring a vast array of characters, items, and scenarios (which account for the game's 1,500+ cards) that slowly unlock across a campaign that can last well over a hundred hours.
Asmodee's video game adaptation is interesting for a number of reasons. Quite aside from the fact that it'll be considerably cheaper than its £100+ physical version, and less fiddly (I'm still sleeving those damn cards, six months after I bought it), Asmodee, with assistance from Childres, is initially creating a new experience, inspired by Gloomhaven's theme and mechanics, rather than delivering an exact digital replica of the original.
The video game version offers turn-based tactical dungeon crawling for parties of 2-4 mercenaries, and promises a wealth of classes and card-based customisation options. A more thorough explanation of the game's adapted systems can be found in the video above.
When Gloomhaven enters Steam Early Access on 17th July, it'll include the rogue-like Adventure Mode, and four playable mercenaries - the Cragheart, Brute, Scoundrel, and Spellweaver - each with their own extensive combat options and abilities. According to Asmodee's development roadmap, two more - the Tinkerer and Mindthief - are due by the end of the year, with a total of 17 playable characters planned for full release.
Development will continue throughout 2020, bringing new mercenaries, environments, enemies, and bosses, with the final release introducing the board game's full campaign. More excitingly, the initially single-player-only experience will gain a proper multiplayer co-op mode.
Gloomhaven will cost $24.99 USD (around £20) when it launches in early access on 17th July.