A Way Out studio's new game will be published by EA
"But nobody f***s with the vision," says Josef Fares.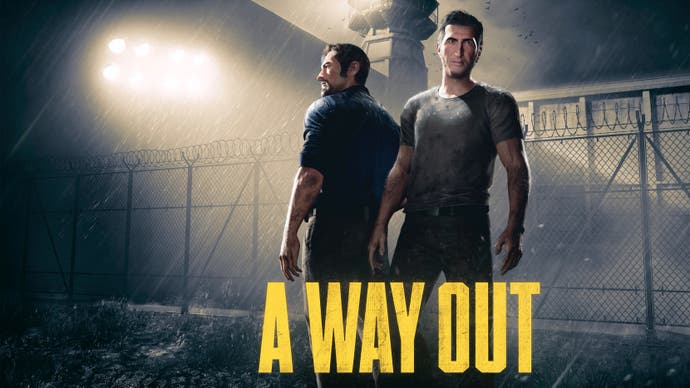 Josef Fares, the lively and outspoken director of Brothers: A Tale of Two Sons and A Way Out, was not on EA's E3 stage this year, but he did get a mention.
During the EA Play conference, chief creative officer Patrick Söderland said: "A Way Out is such a huge success [having sold 1 million copies in roughly two weeks] that Josef and his team are expanding and moving into a new studio. Stories like this drive our industry, and it's why we will continue to work with independent developers to help them realise their dreams."
A Way Out was published on the EA Originals label, hence the mention, but Söderlund's comments about the studio's future suggested the partnership lived on.
"You will feel it's a game by Hazelight but it will definitely be very different to Brothers and A Way Out."-Josef Fares
Josef Fares clarified the situation in an interview with me and VentureBeat reporter Dean Takahashi at Gameslab last week.
"Yeah, we're with EA," Fares said. "It's no problem. It's super-good support. I don't care what publisher I work with it's going to be the same. This is how I work: I respect the economical aspect but nobody fucks with the vision - it's very, very important. And they know it at EA now, and they're super-supportive - super-supportive."
A Way Out was released in late March, and Oli wasn't bowled over in his review. And only a few weeks later, on Twitter, Fares announced he was working on a new game.
At Gamelab Fares expanded, and said his studio Hazelight had been working on the game for "just a couple of months". "We're just in the early pre-production stuff," he said, "but after this, in four weeks, we're going to go full production."
It will, however, take a long time to build. "It's hard to say but maybe in two or three years we show something," Fares said.
The concept is nailed down but Fares wouldn't share it. The question he's passionate about answering, though, is, "How do we make game mechanics that tell a story or create emotions for the player?" Creating powerful moments through mechanics is what Fares did with controls in Brothers, and co-op in A Way Out. But the new game will be "very different" to both of those.
"You will feel it's a game by Hazelight," he said, "but it will definitely be very different to Brothers and A Way Out - very different."
The new game will also be a bigger production and longer experience than A Way Out. "It's not triple-A big but it's bigger than A Way Out," he said - keen to stipulate "not triple-A big" because people got the wrong idea about A Way Out. "Many people thought we were triple-A," he said, which ended up with unfair comparisons to triple-A franchises like Uncharted.
The length of A Way Out is another sensitive subject for Fares. People complained it was too short but only 50 percent apparently finished the game, Fares was told - a high number for the industry. "It's crazy we think it's a high number!" he told me. "Would James Cameron be happy if 50 per cent [of the audience] went out from Avatar? No, it's not OK.
"The next game will be longer than A Way Out," he added, "but that's because it makes sense for that game. Developers should focus on making the best game. It shouldn't be a tick box thing. That goes for everybody - for the players, for the reviewers. Why are we talking about replayability when nobody is really even finishing the games? It doesn't make sense. It's like everybody is going on autopilot here."
Hazelight is based in Sweden, and the studio's first game Brothers: A Tale of Two Sons - "a triumph", according to our review - was released in 2013.