A Short Hike, Mutazione, and Anodyne 2 currently free on the Epic Games Store
Watchdogs and The Stanley Parable up next.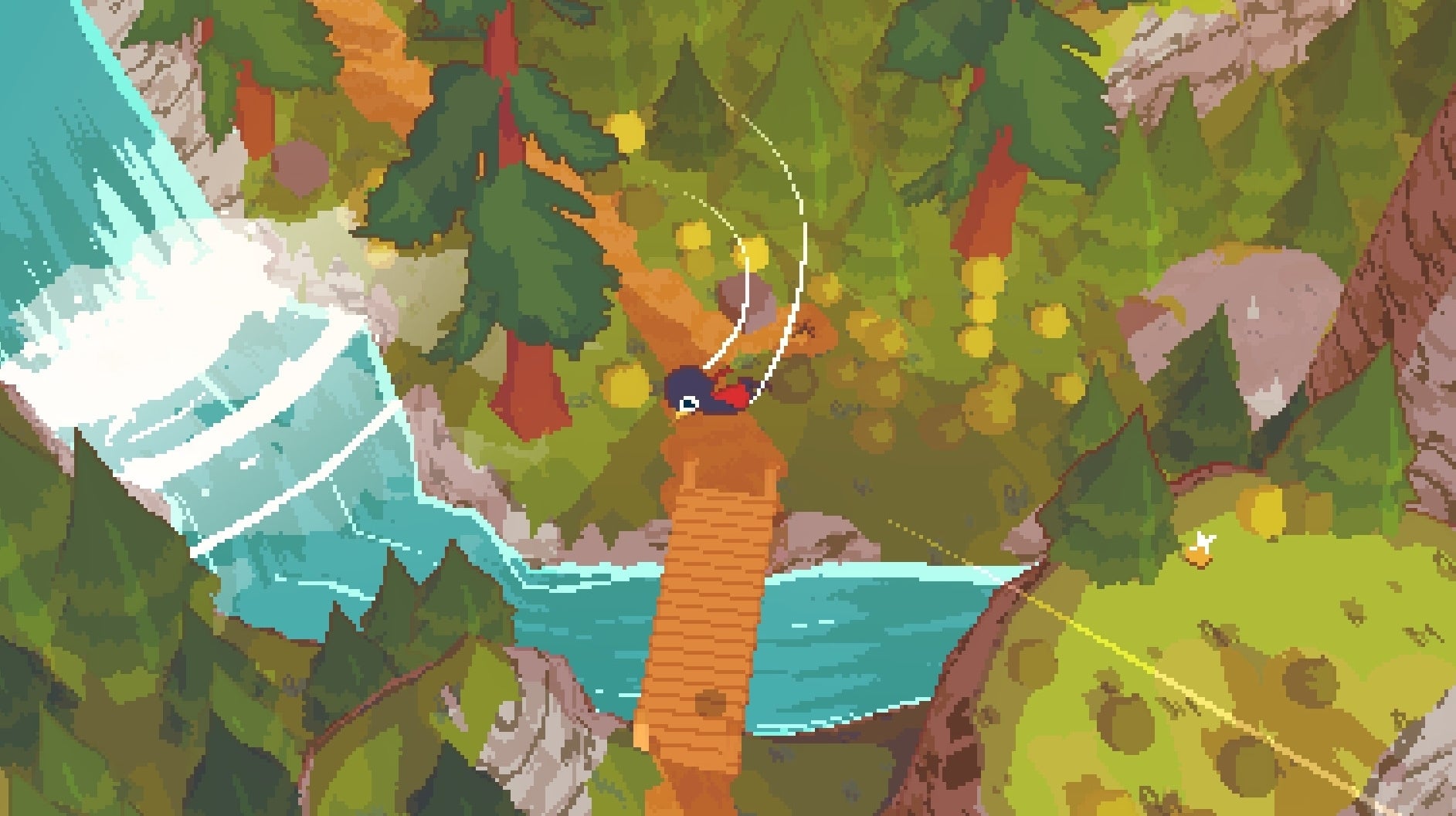 Those on the hunt for fresh gaming freebies have a fine selection of indie delights to contend with this week courtesy of the Epic Games Store, with A Short Hike, Mutazione, and Anodyne 2 all currently available to download for the princely sum of zero pee.
Developer Adamgryu's A Short Hike, which is where we'll start, does exactly what it says on the label, sending players on a laidback traipse across a delightfully constructed world, all in a bid to reach its mountainous summit - not that there's any great hurry to meet that goal. Instead, it's a game of freeform meandering (with a touch of climbing and gliding thrown in for good measures), revelling in the curious characters and simple pleasures you discover on your way.
"The stuff you're doing in A Short Hike tends to be very simple, but delivered with lovely writing and characterisation," said Christian Donlan in his Essential review last year, "Each time I load in, I come out of my little cabin at the bottom of the mountain and feel a powerful sense of freedom, of a mystery calling from every corner. And that's the joy of A Short Hike, I reckon: magically, even with most of the game revealed to me, I still feel like this is my first time with it."
Mutazione, meanwhile, is developer Die Gute Fabrik's strange, visually striking "mutant soap opera", in which players, cast in the role of 15-year-old Kai, must travel to the titular tropical island resort - now an isolated community of mutants following a meteor strike one hundred years ago - to take care of their ailing grandfather. What follows is a genteel game of exploration, conversation, and, perhaps most importantly, gardening.
"This is a story with a lot of different shades to it", said Donlan in his Recommended review of Mutazione last year, "sometimes it's melancholic, sometimes it's almost soapy. What brings it all together, though, is a quiet kind of dignity that is granted to everyone you meet, and a richness to the parts of their lives that they're willing to reveal to Kai as she gets to understand the place...Slow down a little and wonderful things are possible. What a game."
Lastly then, is Anodyne 2: Return to Dust, which builds on its predecessor's nostalgia-tinged RPG premise in new and fascinating ways. This time, its sights are set firmly on the PS1 era - lurid polygons rub shoulders with the striking 16-bit aesthetic employed in the first game - and the resulting adventure sees players intermittently shrinking down to puzzle and dungeon-crawl their way through the psyches of different characters, sort of like Zelda meets Psychonauts.
"From these bare beginnings, Anodyne 2 finds its way to some ingenious and startling places," said contributor Edwin Edwards-Thirlwell in his Recommended review, "There's a vast spectrum of tones and genre precedents in play: one moment you're roving a vaguely solarpunk apartment complex, fetching commissions for a fashion designer, the next you're adrift on a sugar-pink purgatorial ocean redolent of both Dark Souls 2's Majula and Spirited Away."
A Short Hike, Mutazione, and Anodyne 2 can be added to your Epic Games Store library for free right now until next Thursday, 19th March. After that, Watchdogs and the critically acclaimed Stanley Parable will get the freebie treatment.
Become a Eurogamer subscriber and get your first month for £1
Get your first month for £1 (normally £3.99) when you buy a Standard Eurogamer subscription. Enjoy ad-free browsing, merch discounts, our monthly letter from the editor, and show your support with a supporter-exclusive comment flair!