PSP launches Stateside
The key features, launch titles and games due out soon.
The battle of the next-generation handhelds finally kicks into high gear in the States this evening with the launch, at midnight, of PlayStation Portable - Sony's not-quite-direct competitor to Nintendo DS, which is now available worldwide.
The fate of the PSP in Europe is still up in the air, with Sony stating very recently that it's at least a few months away from release, but with the system going on sale in the US it gives us a chance to finally see how the two compare in the eyes of Western gamers. More on that in the coming weeks, no doubt, as press releases laden with sales figures for hardware, peripherals and games, details of attach rates (the amount of game sales per hardware unit sold), and all the rest start to land in our inboxes. For the time being though, we thought we'd take the opportunity to have a look at what US gamers are getting their hands on this week - and what eager beavers on this side of the Atlantic will be demanding from their friendly neighbourhood importers.
The Hardware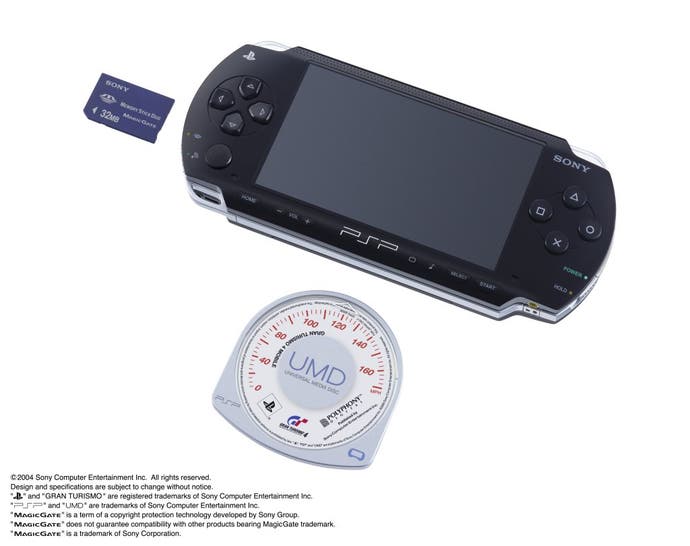 The PlayStation Portable is rightly revered as a seriously sexy piece of high-tech electronics, and goes much further than the DS in proving that modern handheld gaming devices can be fashionable and extremely powerful. The focal point of the unit is its massive LCD screen with widescreen aspect ratio (16:9). The screen is glossy, vibrantly colourful and higher resolution than any other handheld we've seen - and could be the key difference between the PSP and the DS in the eyes of the consumer because of its ability to display games are a far greater level of detail. The DS has been compared to an N64 with extra grunt; the PSP has rightly been compared to the PlayStation 2. Both units no doubt have a lot of room for developers to improve, but at the moment graphics whores will vastly prefer the PSP. It certainly helps that the glassy face plate and overall stylish look of the unit puts it more in the iPod category of consumer electronics, whereas the DS is, as one industry pal of ours continually points out, basically just a toy by comparison.
PS2 power and a huge screen are among the PSP's features, but they're certainly not the only reasons to be interested. Before we even delve under the bonnet there's the button arrangement - the familiar X, square, triangle and circle face buttons on the right are pressure-sensitive like the PS2's and much less clicky than the DS's, although the shoulder buttons arguably let the side down a bit, and on our units occasionally don't click back up until you jiggle them, it's worth noting. On the other side of the screen, the D-pad is a sensible size and feels good, but one of the PSP's trump cards is the analogue nub located just beneath. It works a lot like an analogue stick on a console joypad, moving out from the centre point and registering various levels of movement in-game, even though it slides rather than leaning over like a true analogue stick and has something of a dead zone in the centre. Its positioning takes a little getting used to, but after a while it becomes an integral part of the experience, and we can't imagine playing our racing games, for example, using any other form of control. And given how many racing games are on their way to PSP, that's a good thing.
Under the bonnet, then, the PSP boasts wireless networking support for up to 16 players (although in practice four or eight seems to be the number developers are going for), while games are inserted into a tape-deck-esque slot that opens on the back of the unit. Which calls to mind another serious argument for the PSP - its storage solution, the proprietary Universal Media Disc (UMD) format. These discs are based on Sony's Blu-Ray technology, are 60mm wide and housed in a protective plastic, Mini-Disc-style casing with only a small area of disc exposed, storing up to 1.8GB of data. This is more than enough for a pretty sizable game, and of course, as we've heard, to store actual film content. Although we've sometimes cursed the design of the DVD case-style boxes for encouraging the user to get fingerprints on the disc by putting the obvious point of handling on the right-hand side, it's an apparently elegant medium and symbolic of the high-end, glossy approach Sony's taken to PSP and there's not a great deal to complain about.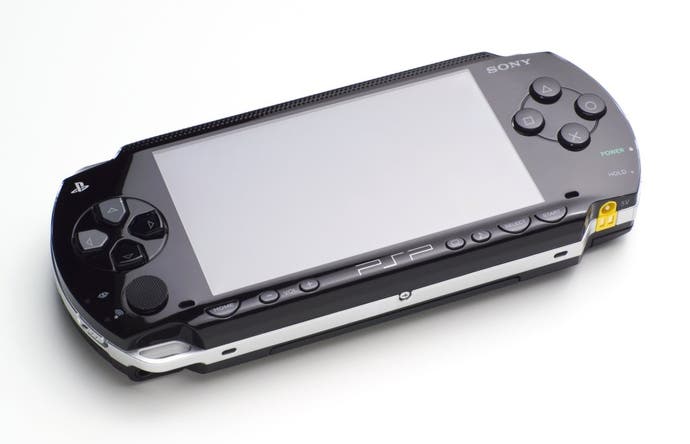 Another key feature of the PSP is its ability to go into a proper Sleep mode. The DS does this too, to a certain extent, but nowhere near as masterfully as the PSP, which can shut down completely even during play and return you to a paused game when you power the unit back up. Elsewhere on the software side, the PSP can connect to a home PC using a USB Connection feature (and appropriate cable with the USB Mini-B connector - something any Sony digital camera owner certainly already owns) allowing you to stuff the Memory Stick Duo flash card with MPEG-4 format videos, MP3s (hey, it really is "the walkman of the 21st century"), and even photographs. There's also the promise of downloadable content later in the day, and unlike Nintendo's solution which involves wireless downloads from shops and other outlets, Sony could easily just offer it on its website and let people install it themselves.
There are some drawbacks that we've noted in the few months since the system's Japanese launch, but none is considerable enough to put us off the unit completely. Firstly, it's incredibly scratch-prone, and certainly is nowhere near as rugged as the relatively unattractive Nintendo DS, but then so's the iPod. Second, sometimes it inspires the feeling of a unit not quite ready: the video playback is a nice feature, but the need to very painstakingly convert files to MPEG-4 at the right resolution is somewhat prohibitive for the average user; and while there's a Game Sharing feature so that gamers can play multiplayer games with their friends using just one copy of a game, the only game that actually takes advantage of it at the moment, Namco Museum, is only out in Japan and only allows you to download small demos of ancient arcade games anyway.
The PSP also feels like it's gunning a bit too hard: load times on some titles are surprisingly long and frequent, while the unit's battery life has been much derided, and perhaps rightly so - this writer's first stint playing the Japanese version of Ridge Racer with the volume down and Wi-Fi turned off ran the machine down in just under four hours. Volume and Wi-Fi, as you might imagine, hurt that figure even more. Speaking of which - our final major complaint would be that the sound coming out of the onboard speakers is what you might call "tinny", and headphones are therefore a must.
Fortunately, then, the PSP Value Pack - the $249.99 package going on sale in the US tonight - includes headphones with a remote control. The Value Pack also includes an AC adapter, battery pack (which recharges when the PSP is connected to the AC adapter), soft case (a spongy, wetsuit-esque slip-case that protects that glossy exterior rather well in our experience), wrist strap (a white fake-leather strap that, er, looks rubbish) and cloth, a 32MB Memory Stick Duo (also available separately in larger sizes), and a copy of the Spider-Man 2 film on UMD (with the first million units sold). A lot of retailers are offering bundles featuring multiple games in addition to this.
Ultimately, whether the little blemishes outlined above will prove significant or even be resolved remains to be seen. For now though, on balance the PSP easily overcomes its various minor shortcomings, and the biggest hurdle for most consumers is probably the price. Fortunately, the games make a fairly compelling argument.
The Launch Games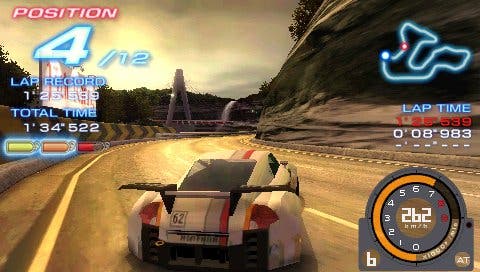 The full list of games that are actually available to PSP owners to buy on day one varies depending on who you ask, but the consensus seems to be that we're looking forward to a line-up of nearly 20 games, among which the highlights are easy to pick out. Better, there's plenty of variety - racing, golf, football (both kinds), turn-based strategy, mini-games, beat-'em-ups, action-adventures, extreme sports, puzzle and even hackandslash. Comparatively the DS's array of largely mini-game and pick-up-and-play oriented titles appear narrowly focused, and that could be key.
Ridge Racer (Japanese review) arguably leads everything out, offering a remix of classic tracks and new cars from throughout the series' many iterations, and combining them with a handling model that's as fresh and engaging - and progressively more appealing - as anything else in the series. Meanwhile WipEout Pure (first impressions) has reawakened interest in the futuristic racing series. It's fast, it's big, and it makes intelligent design decisions compared to recent efforts: your ships race around untethered to the track, so they can literally go flying instead of simply feeling like floating cars without wheels; and instead of picking up health packs or using an F-Zero-style recharge pad for your ship's health, you elect whether to use your weapon pick-ups on your enemies or convert them into health.
We're also rather enamoured with Lumines (Japanese review, produced by Rez designer Tetsuya Mizuguchi. It's a musically minded puzzle game that involves arranging falling blocks in a horizontal play area so that groups of the same colour are swept away whenever a line passes across the screen from left to right. It takes a little getting used to, but in the end it doesn't shirk its responsibilities as the US PSP's only serious new puzzle offering. (Mind you, it's no Zoo Keeper.) Elsewhere Metal Gear Acid has received mixed reviews so far (we couldn't tell you much based on the fairly impenetrable Japanese version, sadly) but sounds good on paper and is bound to sell thanks to its rooting in the Metal Gear Solid world. Basically Konami has made a 3D MGS game using a turn-based, card battling style, with a few narrative concessions to its new design. Expect yours truly to lose himself in that sooner or later, regardless of quality.
We'd also suggest keeping an eye on the likes of World Tour Soccer (first impressions), Sony London Studio's arcade-oriented football title. At first glance it's an enjoyable if not spectacular simulation of footy, but it has hidden depths - particularly the challenge-based mode that rewards you for everything from linking passes to hitting the post and of course scoring, and awards bronze, silver and gold medals based on your points total at the end of the game. Likewise Untold Legends: Brotherhood of the Blade, which sounds not unlike Baldur's Gate: Dark Alliance. Look at their Elven ears prickling! And the likes of Tony Hawk's Underground 2 Remix, Need For Speed Underground Rivals, Tiger Woods PGA Tour and Dynasty Warriors, which all appear to be accomplished ports cleverly reworked in key areas - most notably Dynasty Warriors, which focuses more on small areas of the battle to make it all more manageable. We'll bring your our takes on various key launch titles just as soon as postie turns up with them.
Launch titles, as far as we can verify...
Looking Further Ahead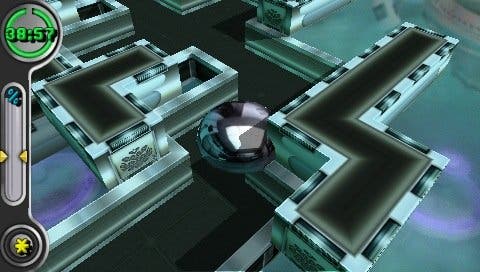 Looking beyond today's US launch, there's a lot more to consider - first of all the influx of other games due in the coming weeks and months. We've compiled a list of those with US dates based on retail estimates below. And it's not a weak follow-up schedule - there'll certainly be no huge lull as there has been with the DS. We're intrigued by Archer Maclean's Mercury (first impressions), an ingenious puzzle game that involves rolling a dollop of liquid metal around various mazes, as well as Core Design's Smart Bomb. We've ribbed poor Core quite a lot since Tomb Raider: Angel of Darkness, but Smart Bomb, which involves defusing bombs in a puzzly manner layer by layer, is exactly the sort of clever little idea we've been so readily applauding on the DS.
Looking a bit further ahead, Sony's own Japanese-made Hot Shots Golf (known as Everybody's Golf over there) should be out around June-time, and despite using the tap-tap-swing system that we've grown bored of ever since Tiger Woods strolled into town with his analogue swing system, there's no denying that it's bristling with hidden depths and extremely nicely presented. A few recent playtests on other people's UMDs demonstrate a level of presentation and pick-up-and-play enjoyment more typically associated, we think it's fair to say, with Nintendo's own sports titles. With that and Tiger Woods - out at launch - PSP owning golf fans are spoiled.
Before that though, if you believe US retailers, we have Rockstar's ominous and potentially huge Grand Theft Auto project to look forward to this May. It's 3D and based in Liberty City, we're told, but other than that details are scant. Needless to say, if Rockstar gets this right, it could help Sony overcome Nintendo's four-month headstart with the DS almost single-handedly. There'll be more PSP games to think about beyond all this too, of course - and you can read about a large number of potentials in our turn-of-the-year "PSP Games To Watch" series which started here and touches on pretty much everything. (And also features some of our worst jokes ever.)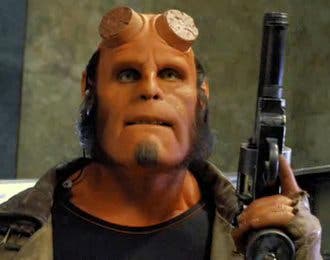 It's not just games PSP owners can look forward to either. The coming months should see the emergence of downloadable content for PSP, more Game Sharing applications, some big announcements, and UMD films. A number of film companies have already pledged to back the unit with releases. Sony Pictures, naturally, leads the way with the pledge of the likes of Once Upon A Time In Mexico and The House of Flying Daggers amongst others (with more released on month by month), while Lion's Gate has pledged Open Water and Total Recall amongst others, and Buena Vista hopped on board last week pledging Pirates of the Caribbean, Kill Bill Vol.1 as part of its line-up. Full listing below.
The key question for UMD films, of course, is whether they can co-exist with DVDs. They allow you to watch films on the go, but don't sport the same level of extras, run at a high resolution or work in DVD players, making the DVD an essential purchase for most consumers. Some commentators are now suggesting that UMD films will be little more than a rich kid's privilege - the chance to have nicely packaged stuff to watch on the go, but ignored by the majority, a bit like professionally released Mini-Disc albums. If MPEG-4 encoding is demystified enough for the masses, we'd imagine that could scupper UMD uptake even further; and we're sure conspiracy theorists will leap on that sentence and point out that the emergence of UMD and Sony's lethargy over the MPEG-4 process could very well be connected. Another thing to note is that unlike the games, which will happily work whatever the combination of nationalities involved, UMD films will be region-locked like DVDs.
Games due out in the next few months, with estimated release dates:
Archer Maclean's Mercury - 4th April, first impressions
ATV Offroad Fury: Blazin' Trails - 1st or 19th April, depending on where you look
Coded Arms - 14th May, screenshots
Death Jr. - 3rd May, screenshots
Hot Shots Golf - 14th June, known as Everybody's Golf in Japan, screenshots
FIFA Soccer - 5th April, screenshots
Grand Theft Auto - 2nd or 15th May depending on where you look
Midnight Club 3: DUB Edition - 12th April or 2nd May, depending where you look
MLB - 4th April
MVP Baseball - 25th April
NBA Street Showdown - 24th April, screenshots
Rengoku: The Tower of Purgatory - 14th April
Smart Bomb - 5th April, screenshots
UMD films that have already been confirmed, priced $19.99-$29.99:
Final Fantasy VII: Advent Children
Hellboy
Kill Bill Vol.1
National Treasure
Once Upon A Time In Mexico
Open Water
Pirates of the Caribbean: The Curse of the Black Pearl
Rambo: First Blood
Reign of Fire
Resident Evil: Apocalypse
Saw
Spider-Man 2 - bundled with first million units
The House of Flying Daggers
The Punisher
Total Recall
xXx
Playtime
As you can see, the PSP is a complex beast, and there's a lot to address. In the coming weeks and months - and hopefully as we get our own hands on the system here in Europe - we hope to be able to bring you lots more coverage of all these wonderful games, a look at UMD films in general (expenses permitting!), and some exploration of the other multimedia aspects of the system. It's a good thing, then, that PSPs are multi-region for games, if not films. And as the handheld war truly does kick off, we'll try and make sure we're there in the trenches - particularly at E3 this year, where we anticipate new initiatives for both DS and PSP. They say war is good for industry. It's certainly given this one a bit of a kick. We look forward to counting the scars.