PSP Games To Watch in 2005
Part One: Racing games. You'd be surprised at just how many there are, and you'll probably be surprised that most of them sound like more than ports, too...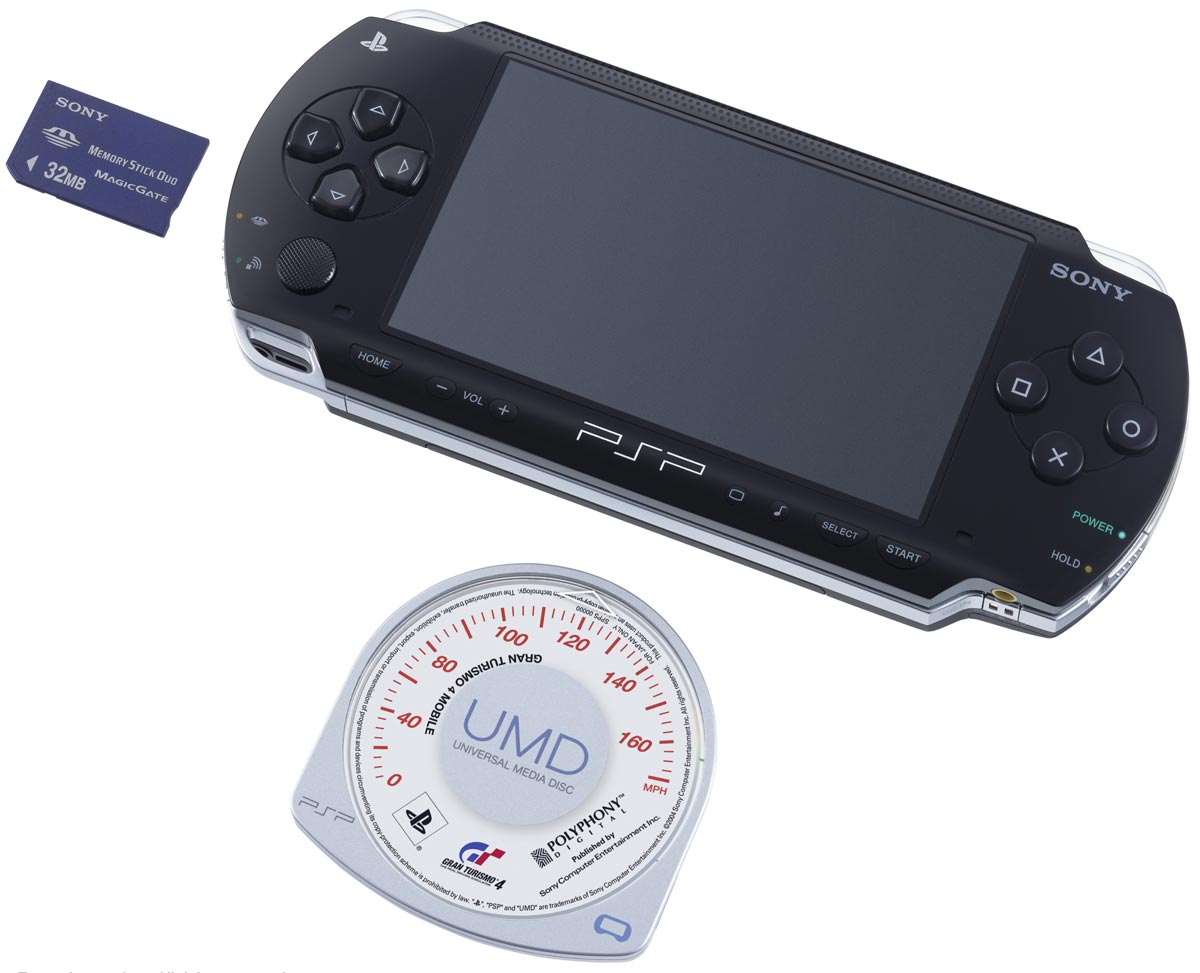 We're guessing Ken Kutaragi kept the beermat. Sony staffers privately joke with us that he probably came up with the idea on the back of one and then papier-mâchéd up a prototype in time for E3 2003, but whether it was a beermat or a big piece of paper marked "Masterplan" or an internal memo or whatever, it was clearly a good idea. The PSP is a lovely piece of kit with a delightfully huge screen, enough power to allow us to play PS2-quality games on the go, and an array of wireless and multiplayer features that make it highly desirable on a lot of levels - and most importantly it's also going to introduce us to a vast array of games that we really want to play.
It's true that compared to the DS the PSP has a lot more sequels and "franchise updates" to its name than anything else, but crucially they're not just ports. Or at least only a handful truly are. Most are cleverly reworked versions of existing games, and the majority seem to have been built from the ground up and somehow seem to have given developers drive enough to seriously consider how and why these things have become popular in the first place, and address any flaws. To pluck a random example from the many that make up this rather epic feature, WipEout Pure mixes one-finger-less-than-a-handful of classic tracks with 12 brand new ones, dumps WipEout Fusion's much-maligned decision to tether the race-craft to the track, and changes the way the energy bar system works so that there's a bit more strategy to it. They didn't have to do that. It would have done "fine" the way it was on the PS2. But faced with the power and prestige of the PSP, they were driven to.
Whoever wins the impending handheld war; the winner at the moment seems to be the consumer. If even half the games on the DS and PSP live up to their potential, we're in for a very good year for gaming.
So good, in fact, that it would be utterly impractical to put everything the PSP has to offer on one page. So we're splitting this one into three, and dividing the games up by genre. Today we're tackling the racing genre, which the PSP seems to have stamped its authority on with much vigour, and we'll post more on Monday and Tuesday next week as we near the end of our Games To Watch in 2005 series. Join us again, and, for that matter, stay here now and read on. Pretty PSP-lease.
All The Racing You Could Possibly Want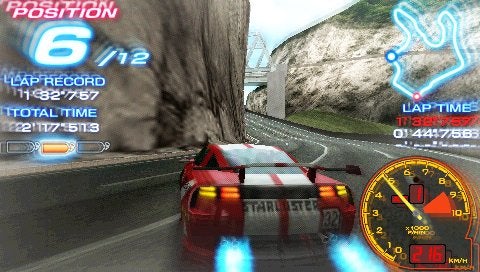 Ridge Racers (Namco, Japanese review)
European release date: TBC - estimated launch (pre-order from Simply Games)
As probably the highest profile title among the Japanese launch line-up, Ridge Racers had a lot riding on it. Fortunately for those of us who took the plunge and imported it, it's definitely worth spending a lot of time riding along. The handling is more or less as it should be, allowing for gloriously whiplashing powerslides that stream effortlessly from the fingertips, it introduces the well-managed addition of a nitro meter that builds up as you slide (but not if you slide gratuitously and badly), and the mixture of tracks derived from old designs and the huge number of championships to complete mean that we're still playing it even several weeks later. It was worth it just to get our hands on some of the novelty cars, like the one with the propellers on the back and Pac-Man in the driving seat...
Ridge Racers is also one of the finest-looking examples of a PSP game, and a bloody good showcase for the breathtakingly large LCD screen. It skips along at a glorious pace and although there's some questionable texturing, and evidence of a bit of ghosting on the LCD display if you look closely, on the whole you can't fail to be impressed by the levels of detail and the definition of the reflective cars, not to mention the game's glitzy all-round presentation. Unlike a lot of console launch titles we've seen over the years, this one feels like it hasn't been rushed - from the pin-sharp menuing and throwaway mini-games like Rally-X to the eight-player wireless multiplayer mode that runs just as smoothly as the main game, it feels like a labour of love. And for a series that seemed to be going worryingly off the rails, let alone the primary launch title of a potentially pivotal new handheld games console, that's quite an achievement.
Gran Turismo 4 Mobile (Sony)
European release date: TBC - estimated Q1 2005 in Japan
What with all the furore over the inclusion (or, rather, not) of online play in Gran Turismo 4, it seems that a lot of us have lost sight of the fact that it looks like it could be the much-sought-after final word in single-player racing simulations on the PlayStation 2, with more cars, more tracks, more graphic, audio and handling detail, and more authentic modifications than any other title on the platform. Indeed, only Microsoft's upstart Forza Motorsport looks likely to compete, but even that lacks the pedigree of Polyphony Digital's endeavours. Which is why anybody perhaps nonplussed by the arcade racing prospects of Ridge Racers, or simply in need of something to counterbalance the head-spinning drifts of Namco's launch opus, ought to keep an eye on Gran Turismo 4 Mobile for the PSP. It is, according to series maestro Kazunori Yamauchi, a port of the PS2 version. With wireless multiplayer. He gives us so little to go on, but we still can't help but get excited...
Burnout (EA/Criterion, interview)
European release date: TBC
We may know virtually nothing about the reportedly-in-development-but-denied-by-Criterion-PSP version of this most fantabulous of arcade racing games, but we can't think of too many examples of the genre that did a better job of holding our attention this past year than Burnout 3: Takedown on consoles - and assuming Criterion is shooting in the same direction as it was last time, this could be huge, perhaps even one of the handheld's biggest and best. The racing alone has always been wonderful, but the potential for wireless multiplayer is obvious and enough to propel this to the upper echelons of our Most Wanted PSP lists. As for the improved Crash mode from version three (perhaps with a toggle for the multipliers this time, though?) - it would be a joy to break up the tedium of any journey, assuming you're not being driven along at breakneck speeds at the time, eh?
TOCA Race Driver 2 (Codemasters/Sumo Digital)
European release date: TBC - estimated spring (pre-order from Simply Games)
On the consoles this was quite possibly the Codies' best racing game ever, the Colin McRae series notwithstanding, and the prospect of a PSP version - developed by OutRun2 conversionists Sumo Digital - adds yet another high quality and highly anticipated racing game to the handheld's line-up. Between this, GT4, Ridge Racers, Need For Speed Underground: Rivals, Midnight Club 3, Codies' Colin McRae project and Burnout, the PSP ought to be able to wipe the floor with the DS's attempts to gain a stranglehold on the genre - assuming the mop of choice happens to have four wheels and a roaring engine. Codemasters aims to include as much as possible from the full versions of TOCA 2, and that means a whole transporter-load of different cars and car styles, challenging tracks, championships far too numerous to list, and multiplayer that will give petrolheads a serious alternative to all the other big names we mentioned above. Truly PSP is shaping up to be the handheld of choice for racing fans, and TOCA Race Driver 2 is as good a supporting argument for that as any other.
Midnight Club 3: DUB Edition (Rockstar/Rockstar Leeds/Rockstar San Diego)
European release date: TBC - estimated around launch
Although big concessions to the EA-fuelled Need For Speed competition in the shape of a slightly tacky mod-mag sponsorship and a greater emphasis on the aesthetic have dampened our enthusiasm for this somewhat on the big platforms, nobody should forget that Midnight Club 2 was one of the surprise racing successes of 2003. Its mixture of solid, nitro-fuelled arcade racing and tracks cut from the streets of three big cities - ingeniously allowing for invented shortcuts through back-alleys and over jumps and other lifts - made sure that the second in the series consigned any memory of the rather middling first to history. And if the third lives up to the mantle laid down by its predecessor, it could overcome our scepticism by leaps and bounds. In a PSP line-up dominated by exciting racing game prospects, even in the absence of any solid details this one ought to be considered a potential hit. In fact, we might slap up a neon sign with a scantily clad street-racing vixen draped over it just to remind ourselves.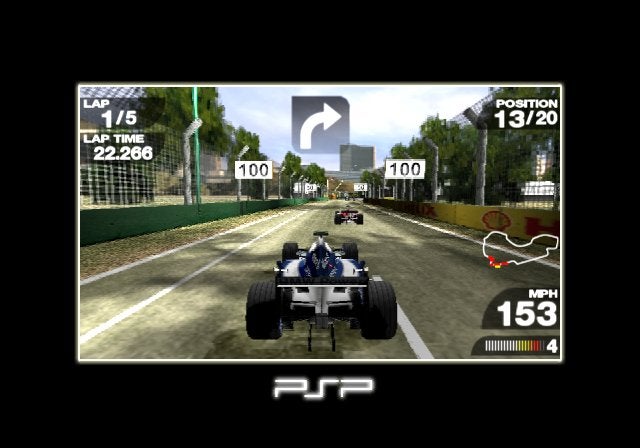 Formula One (Sony/Traveller's Tales, screenshots)
European release date: TBC - estimated launch (pre-order from Simply Games)
The more we read about Sony's line-up of PSP racing titles, the more interested we get, and it's a testament to the platform holder's efforts both under the console's bonnet and in hand-picking development talent that even the idea of a licensed Formula One game can have us revving our enthusiasm engines - in spite of the real motorsport's arguable decline, and recent failures to capture our imaginations on the gaming side of things, too. So let's get the obvious stuff out of the way first so we can explain ourselves.
Blah blah only official licensed product blah blah 18 official circuits blah blah 10 official teams blah blah 20 cars blah blah stats based on actual performance blah blah five unlockable classic cars. Blah blah Quick Race / World Championship blah blah WiFi eight-player racing blah blah bafflingly named Eliminator Championship blah di blah.
Right. Slightly more interesting than the trademark symbol-encrusted blurb are the following titbits. First off, it'll be gunning for a balanced arcade-style handling system, rather than pure simulation. Second, you'll be able to download the real grid line-ups and qualifying times taken from the 2005 season as the race events actually unfold, which ought to give the game a nice degree of longevity. You could argue that that sort of adherence to reality contradicts the arcade-style approach, but if that were true you wouldn't expect EA's licensed sports titles like Tiger Woods and FIFA Football to be such big draws, would you? On top of all that, like WipEout Pure this F1 game will let players use WiFi to swap ghost data and lap times as well, and there's also the prospect of a new Scenario mode, which lets you take up the mantle of drivers involved in some of the sport's most memorable moments.
And if all that doesn't strike you as a good idea, perhaps you'll be swayed by the inclusion of a custom soundtrack option allowing you to play your own music stored on the Memory Stick Duo over the top of races. Sony's Formula One games haven't been brilliant recently, but this one - developed by Traveller's Tales, which is another key personnel change, incidentally - sounds like it could lap the rest with conviction.
Colin McRae Rally 2005 (Codemasters/Six By Nine, screenshots)
European release date: TBC - estimated spring (pre-order from Simply Games)
Developed by Six By Nine, the team responsible for the PC editions of the last three proper Colin McRae titles, the PSP version of Colin ought to lead Codies' PSP charge along with TOCA Race Driver 2 this spring, and it's a fairly complete replica of its big-wig brothers, featuring more than 30 cars, all sorts of events, cups and championships (including a 4WD championship) and a sort of save-anywhere feature that ought to make it easy to pick up and play without having to hang around for a save point. The Colin McRae series seems to have hit a plateau recently, but the prospect of a portable version is still enough to tempt us - and is one of a very few reasons we'd ever consider letting mud near our shiny imported handhelds...
WRC (Sony/Traveller's Tales, screenshots)
European release date: TBC - estimated launch
In Friends parlance it's The One With A Licence to Colin McRae's The One Without, but this Traveller's Tales-developed effort is more than that. It'll have 16 official rallies, 19 bonus stages, downloadable car and track content, fully deformable cars (30 of 'em, including Evolution and Extreme spec cars), the 17 drivers registered for the 2004 WRC, and eight-player WiFi multiplayer across 16 specially designed looping stages. Interestingly, rather like its F1 PSP title, TT is aiming for a more arcade style of play on account of the PSP's more quick-fire pick up and play design, which may disappoint die-hard fans of the PS2 series, but could well prove to be a good idea. Particularly if Colin opts for the more sim-ish approach. We like choices.
Need For Speed Underground: Rivals (EA/EA Canada/Team Fusion, screenshots)
European release date: TBC - estimated launch (pre-order from Simply Games)
Perhaps depressingly, this is almost bound to be the PSP's killer application in light of its absolutely demented success on console and PC over the past two Christmases. But if we can hold it together long enough not to get bogged down in an outpouring of incandescent rage, and dispose of our we-wuz-robbed style why-isn't-Metroid Prime 2-in-the-charts placards for five minutes, perhaps we can accept that this does look very nice. The baby oil-slick visuals (with texturing that quite literally resembled baby oil on consoles and PC) are on a par with the best we've seen on the PSP, it's got ten circuits to enjoy and doesn't seem to be bothering with that slightly boring "race around an empty city looking for races" approach that we rather felt it fouled up (despite its having pinched it from a very good game like Midnight Club 2). Plus, the various smaller game modes (including a screen-shattering Nitrous-only mode, Drift Attack, Rally Relay and a Dragster option) along with two-player head-to-head and four-player "Party Play" ought to make for a slightly more race-oriented game than its chav-tastic siblings of the past two years. You can still customise up to 20 cars, and anybody who actually fell in love with that side of things will be pleased with the 3D garage mode for showing off their shiny creations, but this sounds more like a racing game than a Fast And Furious fashion accessory. And that's a good thing. Right - back to the picket line.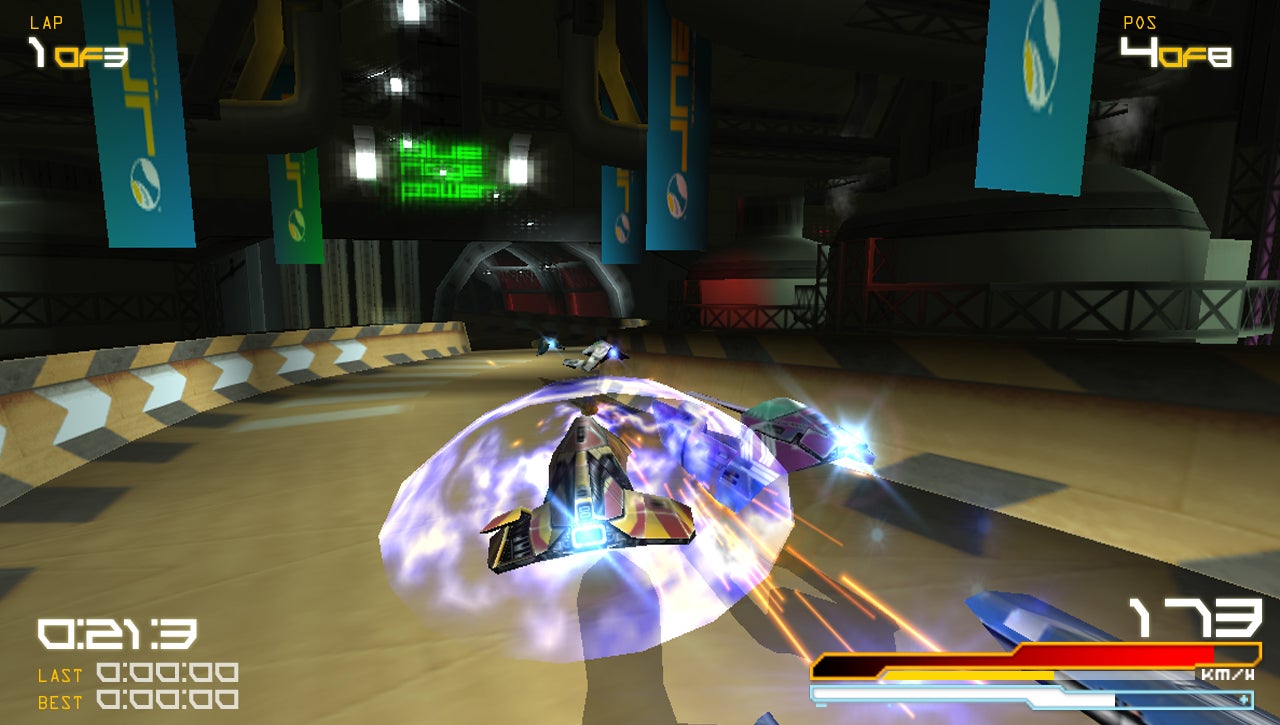 WipEout Pure (Sony/Liverpool Studio, screenshots)
European release date: TBC - estimated launch (pre-order from Simply Games)
After the disappointment of the PS2 instalment, you could be forgiven for dismissing WipEout Pure out of hand, but to do so would be a mistake. The team has changed more or less completely since Fusion, and learnt many lessons. On the surface it does sound like more or less what you'd expect - high-speed, futuristic hover-racing with the sort of twisty-turny-soary-divey tracks that made it such a popular fixture early in the PlayStation's lifespan - but beneath the layers of dazzlingly fast visuals and high-tempo dance soundtrack lurks a much more thoughtful endeavour. For a start, the team has dumped the dynamics system from Fusion, so ships are no longer tethered to the track and can happily (or unhappily) bounce and leave the track entirely if you're not careful, signalling a return to the feel of earlier PlayStation WipEouts. Furthermore, you no longer have to limp around tracks when low on energy in search of a pit-lane, as the energy system is bound to weapon pick-ups; when you grab something - missiles for example - you can choose to either fire them or absorb their energy and replenish your ship's health somewhat as a result. It's an interesting balance and strikes us as a much better dynamic. There's also a new side-shift manoeuvre for each race craft, as well as an airborne move that Sony isn't discussing yet.
It's not all change though. As well as 12 new tracks we'll also see four hidden classic tracks, giving fans of the series a chance to race old haunts using new toys - including brand new ships - and WipEout Fusion's Zone mode has returned complete with purpose-built tracks. On top of all that, there's also the inevitable inclusion of eight-player wireless games and tournaments, and Sony's Liverpool studio is making an effort to take full advantage of the PSP's wireless connection options, promising post-launch downloads giving access to new circuits, race craft, personalised skins and music, and including the option to swap ghost data and synchronise lap records and the like with other users via WiFi. And the latter strikes us as a great idea for a racing game, as we're sure it will you.
All in all, WipEout Pure seems to be living up to its name, and not the "WipEout Poor" moniker that we rather cynically imagined we might end up using if the series continued its downward trend. On the evidence of what we've heard and seen, though, if it was heading downhill it's just hit a really, really big jump and now seems to be speeding towards a summit again. We've said it already but we'll say it again: the PSP is shaping up to be the handheld for racing games. Pure and simple.